Architects and those who closely follow their work rarely get excited about a new self-storage building.
But the one going up at 35 Walnut St. is being hailed by Charleston officials as proof of how well the city's freshly overhauled Board of Architectural Review ordinance seems to be working.
It's one of the first new buildings taking shape after City Council approved the first major overhaul of the BAR since it was created as the first of its kind in the country. What began as a conventional self-storage building — not unlike the oft-criticized one at 810 St. Andrews Blvd. — evolved into something much better, said Jacob Lindsey, director of Planning, Preservation and Sustainability.
The new five-story brick building — visible from Interstate 26 near where it ends downtown — will more closely resemble a smaller version of the city's Cigar Factory, a self-storage building that looks as if it could easily be adapted one day into apartments or office space.
"The truth is, this building may be better designed than some of the new housing projects in the city," Lindsey said.
But it also reflects only one aspect of the BAR's overhaul, the results of which will be seen far more clearly in the years to come.
Preservation Society Director Kristopher King agreed that 35 Walnut "is going to be the nicest self-storage building in the Southeast.
"If we can get that same quality in our apartments and hotels, we're rocking and rolling."
Designed for predictability
The city rewrote its BAR ordinance in 2016, a few years after it became clear that the new big boxy buildings going up along upper King and Meeting streets didn't fit into the character of the city — and just weren't as good as they could be.
That's partly because the city's design review protocols had changed little since they were adopted in 1931. The city had expanded the geographical area covered by the BAR but did little else.
"That ordinance never could have predicted those types of buildings," Lindsey said. "It was time for an update after 80 years."
The lowest hanging fruit was the decision to split the board in two. The BAR-S for small projects, such as new houses and corner store renovations, and the BAR-L for larger ones like those along King and Meeting streets. It also helped lighten the workload on volunteer board members. In 2014, the city had 2,059 BAR applications, of which 389 went before the board.
Another change was to create an "approval matrix" that provided architects, developers and property owners with more specific guidance about what features define the city — and what more modern features, such as dark glass, shorter ceiling heights and horizontal proportions  will receive tougher BAR scrutiny.
"It was designed to give predictability to the applicants and to the board by stating what was more appropriate to downtown Charleston," Lindsey said.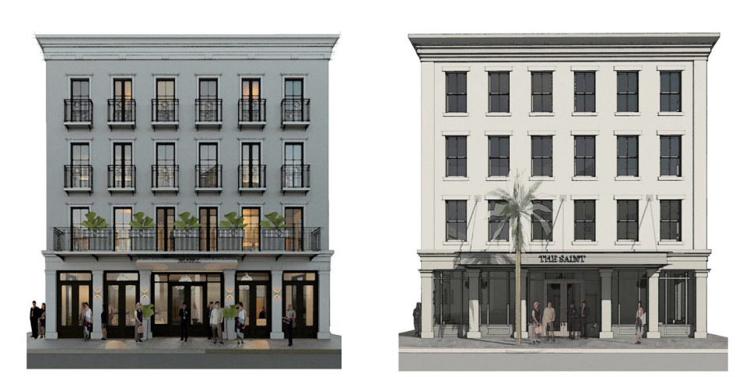 Providing that matrix to the architects working on the self-storage building changed the  game in that case. But King said not enough other lessons from the city's great older buildings are being applied to the new ones.
"A big building doesn't have to be a bad building. I would personally argue the output we're seeing post-BAR for big buildings are less successful than maybe we were seeing prior," he said. "There have been a lot of very mediocre big buildings."
Still terrible, but better
Another big change was to rewrite the city's height rules so they referred to building stories, not feet — giving architects and developers an incentive to create the taller floors that traditionally are found in the city's older buildings.
Mayor John Tecklenburg said he sees the BAR rewrite as a success, adding, "I think the conversion to height by floors, long-term, is a very positive thing for us to do."
Charleston architect Eddie Bello, who previously served as the city architect giving recommendations to the Board of Architectural Review, said limiting height by floors rather than feet was a great idea recommended by the city's earlier preservation plan.
"I don't know how the buildings are turning out yet," Bello said, "but certainly from our side, the professional side, it's a good design tool."
Winslow Hastie, CEO of Historic Charleston Foundation, agreed the change has given new buildings more gracious first floors, "which is huge."
Still, it's not all been smooth. One wrinkle to the new height limits was the BAR's ability to give an extra half-story to buildings with "architectural merit."
King said determining which buildings should qualify has proven problematic, particularly with plans for 82 Mary St., a large building proposed near Mary and King streets not yet under construction.
One version had a large glazed opening facing west toward King Street that was so unpopular some began referring to this version as "the jumbotron." King said the new design is better, but still not good in his opinion — and it will be one of King's tallest, most noticeable buildings. 
"If that building goes up, I think people will understand what our concerns were," he said. "The most egregious aspect is they got awarded an extra floor."
Hastie agreed: "I still don't like it," he said of the 82 Mary design, "but the way that started to where it is today is way better. It's still terrible, but it's way better."
'Always changing'
The rewriting of the BAR ordinance further cemented the city's plan for downtown, which emphasizes urban growth along its core spine, Meeting and King streets, while protecting historic residential neighborhoods closer to the rivers.
That has cemented the trend toward larger buildings in the city's center, and Hastie acknowledged, "There are still people uncomfortable with nine-story buildings."
But the city also took steps that help preserve the ambiance in residential neighborhoods, including stricter limits on demolitions there.
The city had seen a problem with owners demolishing homes bit by bit, stripping off siding, removing windows and junking other historic fabric, but the new ordinance requires more review there.
"Essentially, if you tore down 49 percent of your house, that wasn't considered demolition," King said, adding that addressing that "is without a doubt one of the most positive changes."
Lindsey said another change to the BAR ordinance addresses so-called "rocket houses," new homes unusually skinny by Charleston's historical standards — skinny homes designed to maximize square footage on small downtown lots.
The new rule says homes might not be more than twice as tall as they are wide. 
King said he welcomes the change regarding rocket houses, but added it has been unclear exactly how a proposed home's width and height are measured: "The intention of that is great, but the interpretation is very challenging. Unfortunately, a few more rocket houses did get through."
Lindsey said City Council soon will be asked to consider some tweaks to the BAR, clearing up language and other details. Meanwhile, in the next few years, the city will begin seeing the first new buildings approved under the new rules of review.
"Cities are always changing," he said, "and Charleston is no exception."