Charleston police are on the hunt for a 29-year-old man accused of gunning down an acquaintance early Saturday.
Javon Isaiah Brown, of North Charleston, was last seen fleeing the scene at 9 Harris Street around 4 a.m., police said.
Steven Lavonta Buie Jr., 23, died of a gunshot wound shortly after officers arrived at the scene, according to the Charleston County coroner.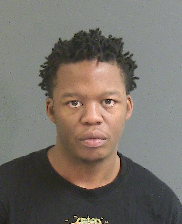 Patrol officers and a SWAT team roped off several blocks as they went door-to-door in search of Brown, Chief Luther Reynolds said.
Officials said they believe the shooting was an isolated incident and that Brown and Buie knew each other.
"Every time there's a loss of human life we feel it's a tragic thing in our community," Mayor John Tecklenburg said at the scene. "(Police) are hot on the case."
Brown faces charges of murder and possession of a firearm during the commission of a violent crime.
In August 2012, he faced the same charges in connection with a fatal shooting at a Romney Street apartment complex about a mile northwest of Saturday's shooting. Police said he'd been arguing with the victim, 24-year-old Jarvon Dowling of Ladson, before shots rang out.
He was acquitted on both counts in 2015, when witnesses who'd helped lead police to Brown recanted their original statements, officials said.
Tecklenburg asked that anyone with information call Crime Stoppers at 843-554-1111.