Armed with software that ferrets out illegal short-term rental properties, local governments have been going after people who use popular websites to rent houses and apartments by the week, or weekend.
Charleston, one of the nation's most popular tourist destinations, currently has three full-time code enforcement officers who do nothing but investigate and prosecute unpermitted short-term rentals. And there are more than enough to keep them busy.
The result has been subpoenas, court hearings and $1,087 fines. In some cases, houses that were illegally used like hotels are going back on the real estate market, according to Dan Riccio, director of Charleston's Department of Livability and Tourism.
Prosecution of unpermitted short-term rentals has also led to the discovery of properties that were under-taxed. A house used as a rental property would have roughly triple the property tax bill of an owner-occupied home, with most of the additional tax going to fund public schools.
"We find properties all the time that are not taxed correctly," Riccio said.
It was software that made it possible for countless people to rent homes and rooms to strangers through websites such as Airbnb and VRBO, and it's software, in this case STR Helper, that's helping local governments track down illegal short-term rentals.
"The software is great," Riccio said. "Charleston County has it, we have it, Folly Beach has it, Mount Pleasant is looking at it."
"They are able to get the information that you and I can't see," he said. "They have a group of technicians that are just assigned to the city of Charleston."
In South Carolina, primary residences may be rented for up to 72 days with no impact on the property's tax treatment, but towns and cities have rules as well. Under city of Charleston's rules that took effect in August, only homes occupied by the owner and qualified for the owner-occupied tax assessment rate may be used as short-term rentals, and there are additional restrictions in the city's historic area. 
About 175 properties have been permitted for short-term rentals in Charleston, but on any given day, 10 times that number might be advertised on short-term rental websites. The city initially found 2,055 listings, before enforcement of the new rules began.
Riccio said that of the first 500 short-term rentals examined by the STR Helper software and support team, only 73 had permits. Hundreds of advertisements have gone offline, dozens of summonses have been issued, 30 cases have gone to court, and hundreds more await review.
"We don't just use the reports," Riccio said. "We are actually going behind them and checking tax records, state records, physically going to the property, doing knock-and-talks at the door."
That sounds like good news for a city aiming to eliminate illegal short-term rentals, and for the traditional hotel industry, which competes with short-term rentals. For property owners who were counting on income from renting homes or apartments by the night or week, it's a different story.
Retiree William Fogarty bought a house in West Ashley, near the plantations on S.C. Highway 61, in May 2018. He said he was unaware of the city's regulations at the time, and the current rules were adopted months after he bought the property in August.
In between, Fogarty said the house generated tens of thousands of dollars in rental income, at $300 per night. It was part of his retirement plan, the former Marriott hotel company executive said.
"They (the city) sent me a letter saying they would fine me if I kept doing that," Fogarty said. "Had I known that, I would not have bought my house in West Ashley."
Fogarty said his solution would be to live in one bedroom in the house, and continue to rent the rest of it out, while his wife continues to live in the couple's other home nearby.
"I follow the rules — that's how I was brought up — but I don't want to give up this income," he said. "I'm trying to do it properly, and I'm not going to proceed with buying another house, because I would have to live there (too), and I can't live in two places."
The problem is, if Fogarty lives in the rental house and his wife remains in their other house, that would not qualify the rental property for owner-occupied home status with the county assessor (a married couple can't have two such residences). And without owner-occupied tax status, Charleston won't permit a short-term rental, rules on the city's website explain.
There's lots of money at stake. According to Airbnb, 306,000 guests arrived at Airbnb properties throughout Charleston County in 2018, generating $54.9 million in income for the hosts. That's more guests, and more money, than Airbnb recorded in Horry, Beaufort, Greenville and Richland counties combined. 
Charleston County adopted short-term rental regulations for unincorporated areas in mid-2018. They are generally more lenient than the city's but in every case require a zoning permit and business license. The county is preparing to ramp up enforcement of those rules, with help from the same software program the city uses.
County Revenue Collections Director Tami Fralick said the Charleston Area Convention and Visitors Bureau, which gets a share of hotel taxes, is helping with the effort. An initial search found 222 short-term rentals, but only 63 are licensed in Charleston County.
In Mount Pleasant, where complaints about short-term rentals are a regular feature at Town Council meetings, the town staff is working on regulations that could be considered later this year. In December, some council members were shown a map generated by the STR Helper software and Charleston County.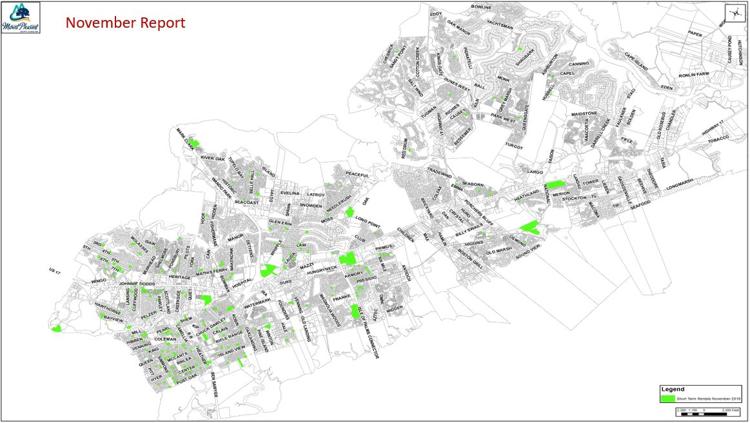 "At this point, we weren't looking at it as an enforcement tool, but more for information," said Mount Pleasant Planning and Development Director Jeff Ulma. 
The map showed short-term rentals all over town, including subdivisions and condominium complexes that don't allow such rentals.