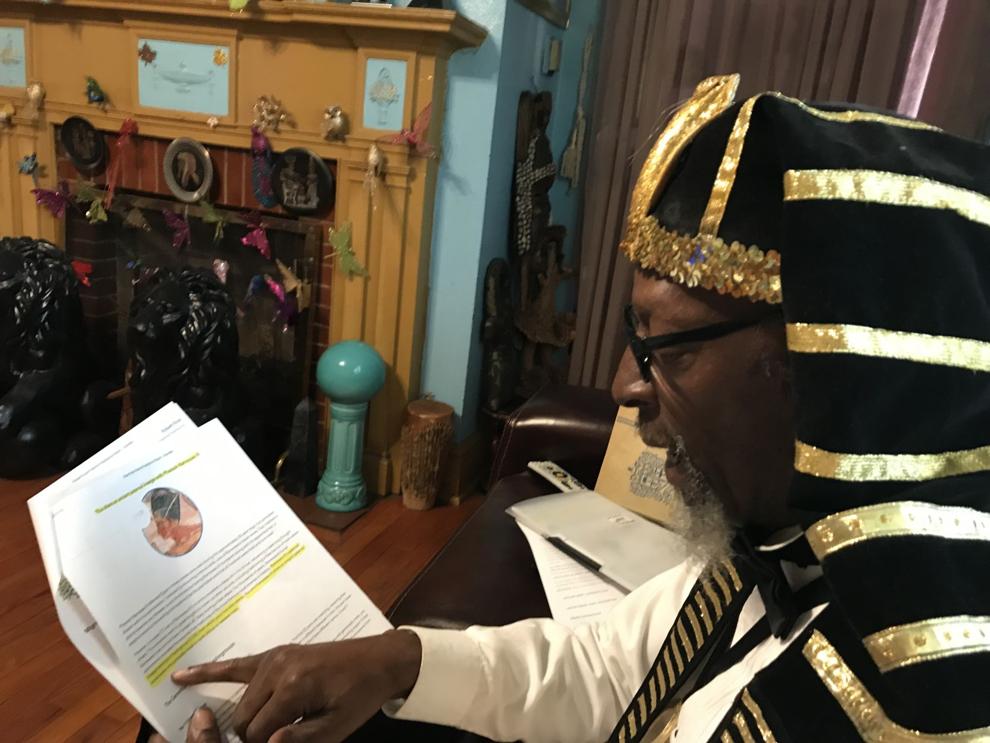 Robert Ross retired as a management analyst with the U.S. General Accounting Office in Chicago, moved back to Charleston and currently works as a sexton at Morris Street Baptist Church.
But most people probably recognize him for the distinctive black-and-gold Pharaoh headdress he often wears around town to express his passion for ancient Egypt.
In other words, he's been wearing it long before a 23andMe letter arrived in January analyzing his DNA — a letter that would move him to tears and confirm his many years of work.
"You share an ancient paternal lineage with Pharaoh Ramesses III," it read. "You and Ramesses III share an ancient paternal-line ancestor who probably lived in north Africa or western Asia."
Ross was ecstatic.
"When I first read it, I was so happy, and I was just so glad," he said. "Then I thought, 'No wonder I'm re-enacting and doing certain things that's sort of unexplainable. It's all part of the gene!'"
It's a small world 
Ross said his passion for ancient Africa began to stir several decades ago, when he visited the King Tutankhamun exhibition in Chicago.
Until then, his impression of Egypt was that it was racially and culturally linked more to Europe than Africa, a perception he said was created by Hollywood stars in movies such as "The Ten Commandments."
But when Ross saw King Tut's gold death mask, he said, "It was like seeing myself. Something just came over me, and I started crying."
He began reading books and taking classes to learn more. He started collecting Egyptian items, such as art, miniature pyramids and vases. He even commissioned a portrait of himself juxtaposed with Tut's famous mask. And he eventually began to take his collections to local schools and colleges to share his passion and to try to instill it in a younger generation.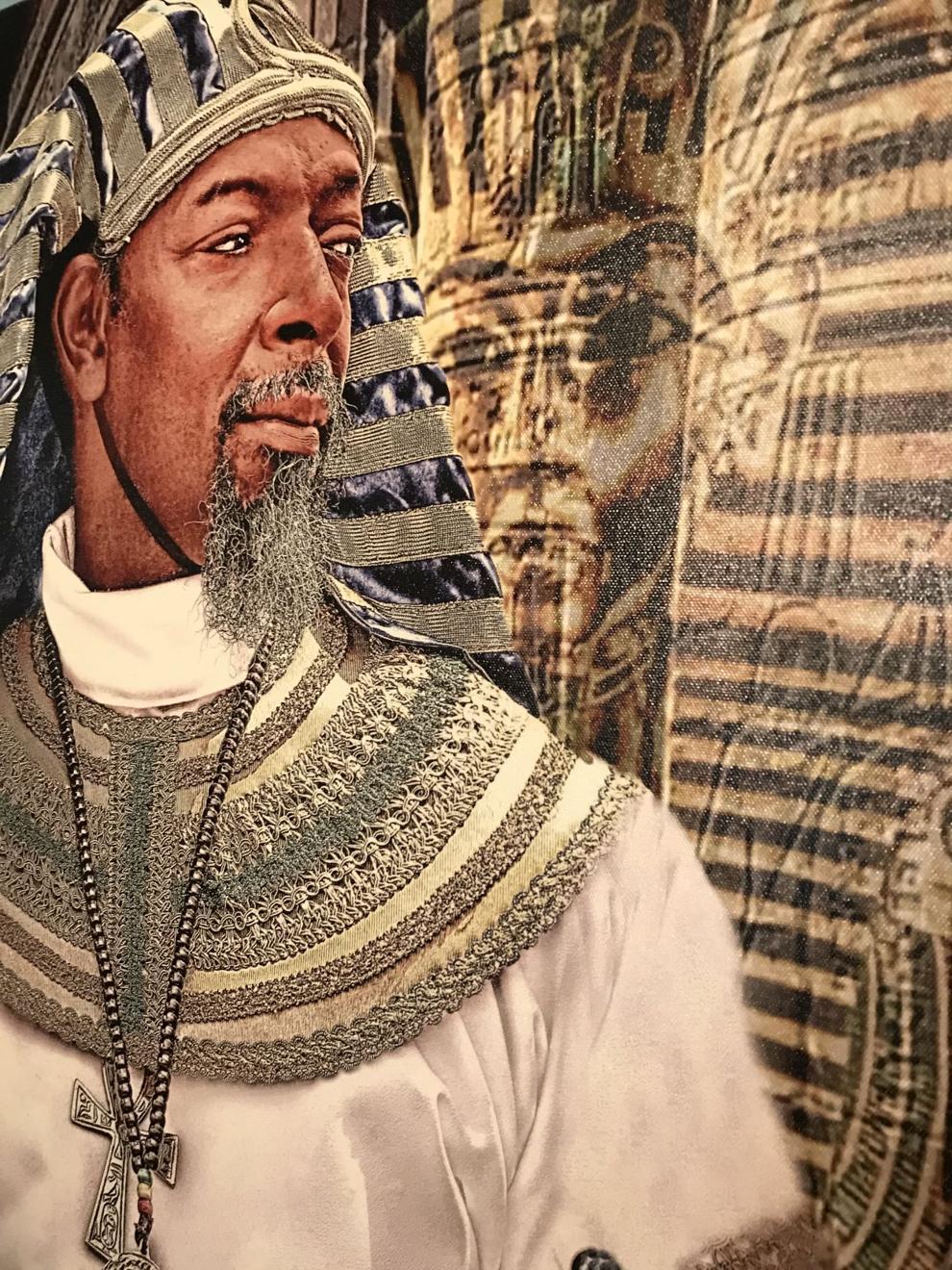 And he had the Head Crown made and began referring to himself as "King David," a blend of his middle name and a childhood nickname bestowed by his great-grandmother.
"I am not a cult figure. I'm not trying to change anybody's religion," he said. "I'm an artist. I do a re-enactment, just like Glenn McConnell," a former state senator and College of Charleston president with a well-known passion for Civil War re-enactments.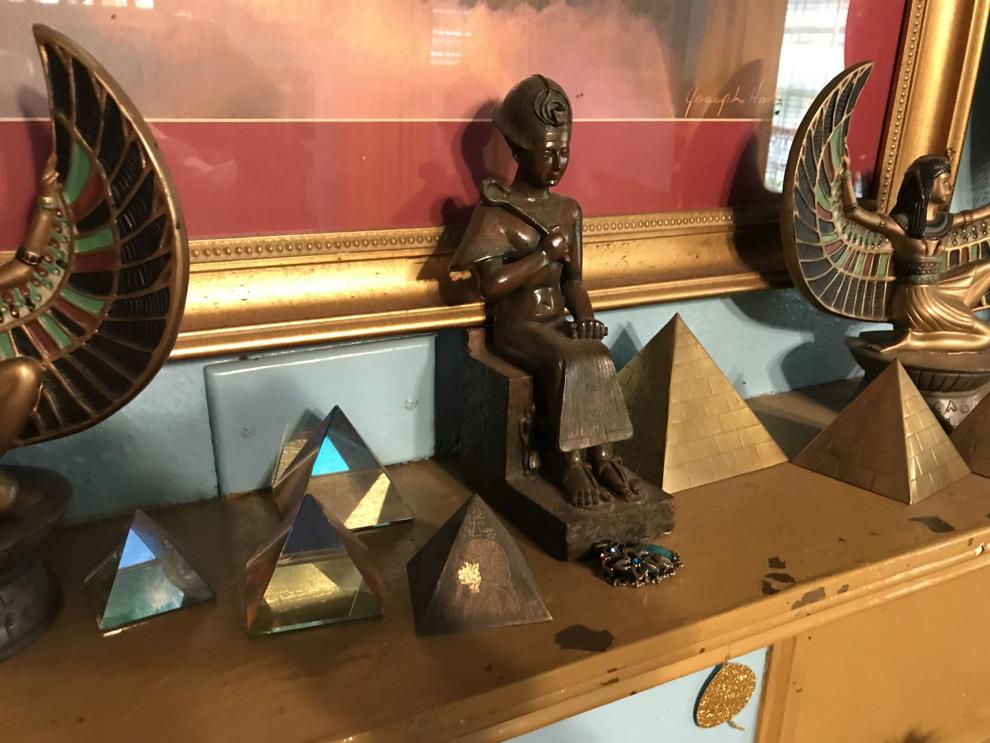 A bone to pick
Unfortunately, Ross's DNA might not help him with his longstanding passion of trying to get more of the history of ancient Africa told in Charleston's new International African American Museum.
Specifically, Ross would like to see a replica of the Ishango bone inside the museum or on its grounds.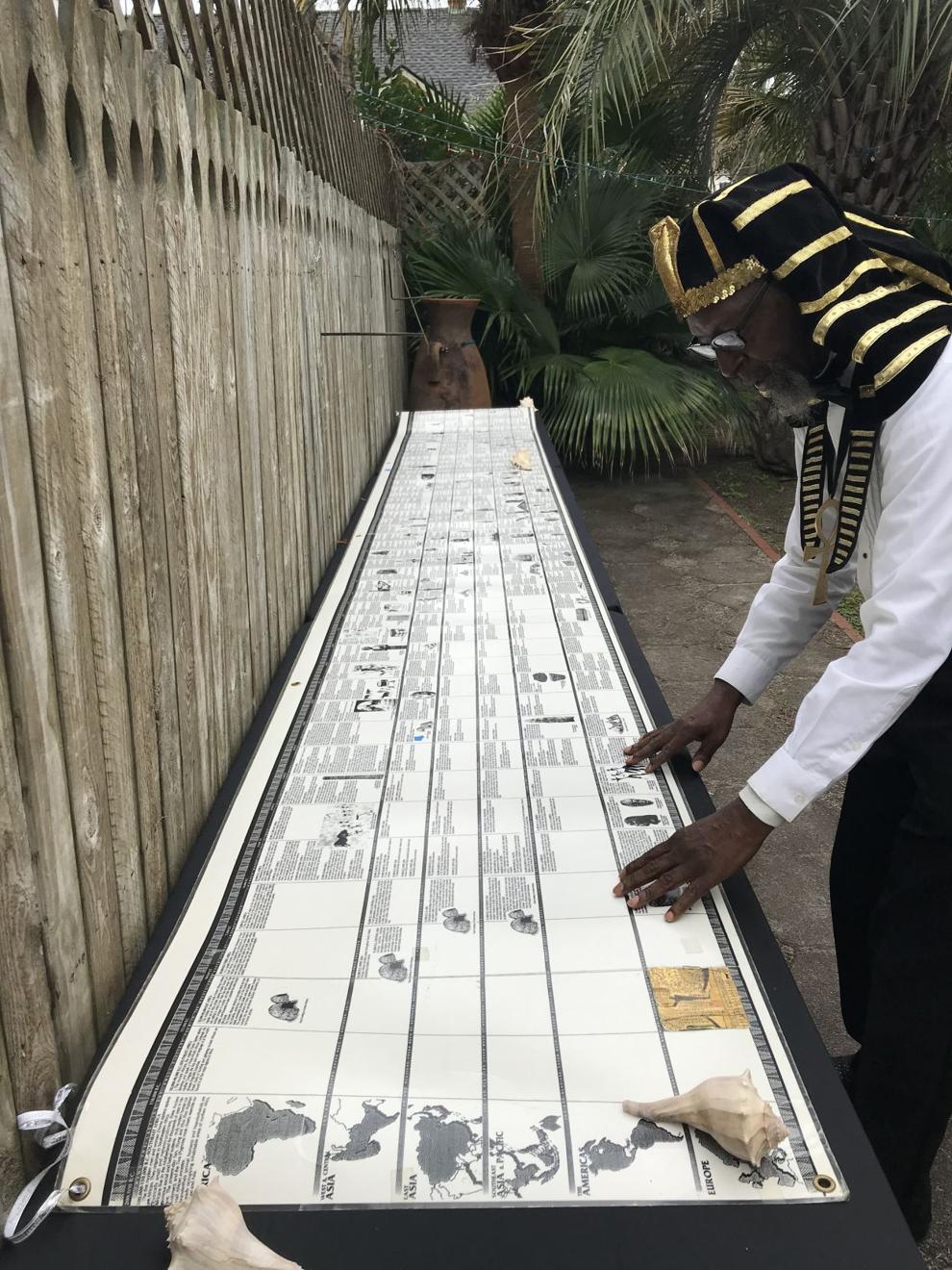 Archaeologists discovered the bone — a 20,000-year-old baboon fibula with a series of carvings and a piece of quartz embedded at one end — in 1950 in Africa's Great Lakes area. It's on display at the Royal Belgian Institute of Natural Sciences in Brussels, and it casts doubt on the notions that Mesopotamians, Egyptians or Greeks were the first to develop sophisticated math.
Ross said more African history would help instill pride in the museum's African-American visitors. "There has to be an Africa foundation established before we get to the core, which is subjugation and slavery."
"If people in Brussels can build a 23-foot-tall replica of the Ishango bone in front of their museum of culture and science, then we can have one in front of our museum to motivate our African American youth to learn mathematics because their ancestors invented it," he said.
But he has pressed his case with little success so far. 
Bernard Powers, a former College of Charleston history professor who has worked with the IAAM, has worked on the question of how much the museum should focus on Africa versus Africans in America.
"That's one of the most challenging aspects of doing any African-American museum: How do you do the Africa background, which is so long and so complex, you have to be selective?" he said. "We can't go back to Nubia and Kush and the invention of metallurgy."
But Ross said he's not giving up on his efforts to spread the word about African accomplishments before the international slave trade, especially because he believes it will inspire students today.
"We have to motivate our children. We invented mathematics!" he said. "I'm not putting on airs or anything like that. Our history is more than art and enslavement. We have to have an African foundation."
And while Ross's DNA results aren't particularly rare — one in 120 23andMe customers share his haplogroup assignment, according to his letter — he will continue to draw inspiration from the link between his ancestors and his modern work.
"I have to celebrate myself," he said. "I have to be my own drum major."