Charleston Mayor John Tecklenburg said he won't try to remove any of the city's many Confederate-related monuments but will seek to have them tell a broader narrative — warts and all.
"The whole story of our history needs to be told," he said Wednesday. "I intend to be complete and truthful about our history and add context and add to the story instead of taking away."
Tecklenburg cited monuments to John C. Calhoun and Wade Hampton, both in Marion Square, as well as the Charleston Defenders of the Confederacy monument at White Point Garden, as examples where the city could add new plaques and language.
He said the process likely would start first with the Calhoun monument. Earlier this week, NAACP and National Action Network officials called for the monument's removal in the wake of last weekend's violence when white supremacists and counter-protesters clashed in Charlottesville, Va.
At 115 feet, the Calhoun monument towers over Marion Square and is one of the tallest in the state. But it contains few words aside from Calhoun's last name, years of birth and death, and "Truth, Justice and the Constitution."
"He was an advocate for slavery," Tecklenburg said of Calhoun, a former vice president whose writings provided the intellectual underpinning for states' rights and the Confederacy's creation. "Most people who are calling for the statue to be removed know that. But it doesn't say that at the statue, and it's part of the whole story."
"Some of that story isn't pretty," he said. "Some of it is very ugly, but it is part of where we came from and we need to learn from history and not fall into repeating something that we shouldn't."
A plan predating Charlottesville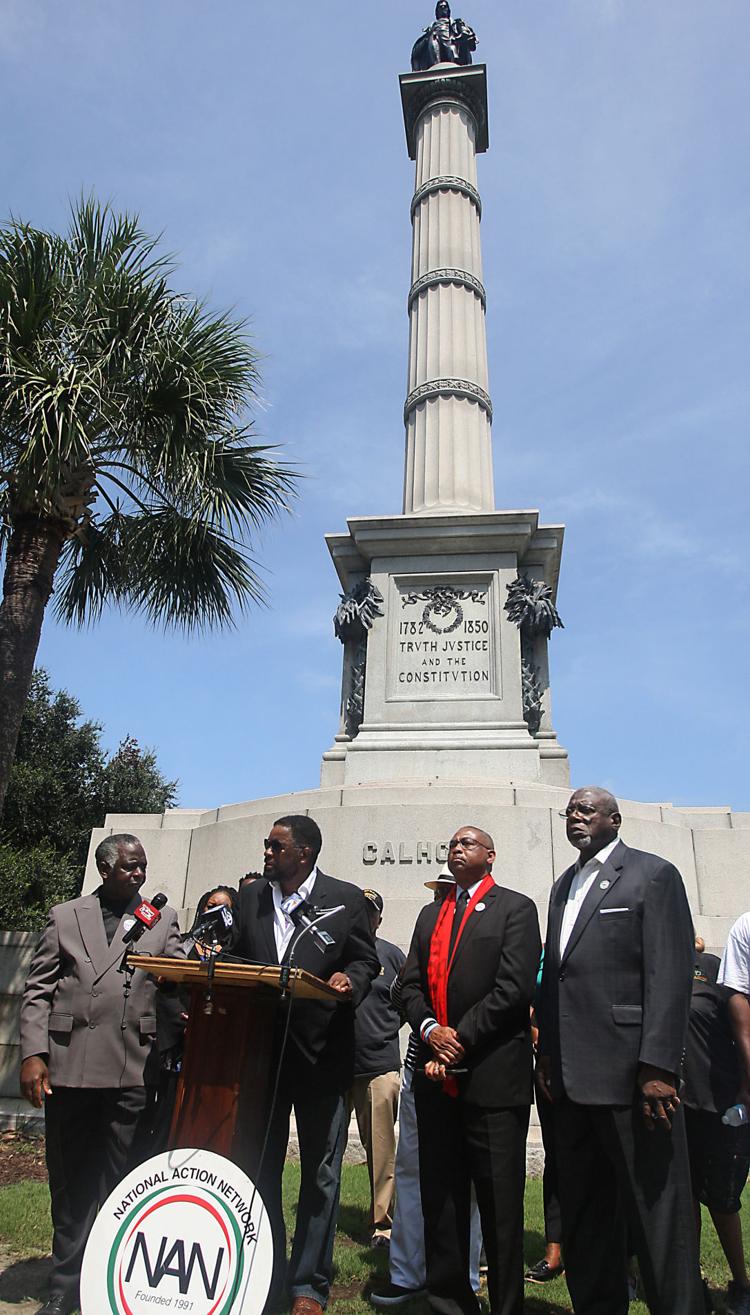 Tecklenburg said he was pursuing this idea of amending the monuments earlier this summer, weeks before the Charlottesville violence, after he visited Marion Square and was struck by how its monuments honor Calhoun and Wade Hampton, a Confederate general.
"I don't believe we've done a good job of telling the whole story of slavery and Reconstruction and what happened there and Jim Crow," he said. "One hundred years from now, you want people to know the great lengths the white folks who were in charge around here went to try to put racial barriers back into place." 
"They got rid of Reconstruction and they started putting the barriers up again, to education, voting rights and full participation in our democracy. It was wrong, and we shouldn't forget that that happened."
The city's changes could require the Legislature's approval under the state's Heritage Act, a 2000 law that requires a super-majority vote from lawmakers to remove or alter a Confederate-era monument.
Tecklenburg said Wednesday he hoped the act would not come into play. A spokesman for House Speaker Jay Lucas did not respond to a request for comment about whether the act might apply. The act did appear to apply when officials in Greenwood wanted to modify a 20th century war memorial that had soldiers listed by their race.
The changes still would be reviewed by several parties, beginning with the city's History Commission, a volunteer board that approves public monuments and plaques. Also, the Washington Light Infantry and Sumter Guards actually own Marion Square, and Tecklenburg said that they would be consulted. Carl Beckman, vice chairman of the group's Marion Square committee, said Tuesday that the city owns the Calhoun monument.
Robert Rosen, a Charleston lawyer and longtime member of the city's History Commission, said Tecklenburg asked him earlier this summer to draft language that could contextualize the Calhoun and Hampton monuments.
"The mayor has been trying to get me to get this done since late July," he said, adding that he has been talking to several historians around the country.
Rosen, who has served on the commission for decades, agreed with the mayor's approach.
"I feel very strongly that taking monuments down is really depriving people of education," he said, adding the monuments not only speak of those honored but of those who put them up. "We don't want to subtract. We want to add."
A lasting solution?
It's unclear if adding new plaques to the monuments would satisfy those who want them to come come down.
State Rep. Wendell Gilliard said amending the monuments would be "a positive step in the right direction," but he would like to see still more action on the Calhoun statue, which Gilliard said has always offended him.
"If I was mayor of this city, I would bring those statues down," Gilliard, D-Charleston, said. "Not to erase anything, but I would put them in a museum. To me, that's the answer to all of this."
The Rev. Joe Darby, first vice president of the Charleston NAACP, said he thinks adding new language to the Calhoun and Wade Hampton monuments could be a positive step, but it would depend on the details of the language.
"If you put in 5-foot letters, 'Racists who pushed the Civil War,' that might be a possibility," he said. "It couldn't be a small plaque but one that could be largely seen. ... An egregious statue really ought to go, and I lean toward Calhoun being egregious."
Darby also said amending those statues wouldn't change the NAACP's call for the Legislature to repeal the Heritage Act.
Randy Burbage, past division commander with the S.C. Sons of Confederate Veterans, said he didn't want to commit until he saw more on what Tecklenburg was proposing about explainer plaques, but he was initially positive.
"I think that is a solution," he added. "I think it may be suitable for us. It may not be for someone who is opposed to it."
Burbage said he supported seeing more such plaques around the city about Charleston's history. 
Amend, not remove
Tecklenburg's plans are somewhat similar to recent advice provided by the National Trust for Historic Preservation's President and CEO Stephanie Meeks.
In a message on the trust's website, she noted that Civil War-era memorials shed important light on history, not just on the war but on the decades of suppression of blacks that eventually followed.
"Put simply, the erection of these Confederate memorials and enforcement of Jim Crow went hand in hand," she said. "They were intended as a celebration of white supremacy when they were constructed. As recent rallies in Charlottesville and elsewhere illustrate, they are still being used as symbols and rallying points for such hate today."
But she also said such decisions on offending memorials should be made on a case-by-case basis at the community level.
"Some memorials can be moved, others altered, and others retained as seen fit," she said. "Whatever is decided, we hope that memorials that remain are appropriately and thoughtfully 're-contextualized' to provide information about the war and its causes, and that changes are done in a way that engage with, rather than silence, the past — no matter how difficult it may be."
Tecklenburg's approach mirrors that of Richmond, Va., Mayor Levar Stoney, who has said adding context to the Confederate statues on that city's famous Monument Avenue is preferable to moving them.
"The way those statues stand currently, they're a shameful representation of the past that we all disagree with," Stoney told the Richmond Times-Dispatch on Monday. "(But) I don't think removal of symbols does anything for telling the actual truth or changes the state and culture of racism in this country today."
Such revisions can take time. Tecklenburg said the city will begin with the Calhoun monument and then consider how to treat others, one at a time.
"It's not an overnight thing," he said.
Schuyler Kropf contributed to this report.