Charleston has the highest measured concentration of spilled plastic pellets anywhere outside the Gulf of Mexico, where they're produced, according to a Texas academic who spearheaded a study into the pollution. 
Jace Tunnell, reserve director of the University of Texas Marine Science Institute at Port Aransas, has led an effort to track the loose pieces of raw plastic, also known as "nurdles." After a spill along the Texas coast in 2018, he founded nurdlepatrol.org, a website where participants across the country can submit their findings as they search for the pellets. 
The search effort hasn't expanded beyond the Gulf Coast and Southeast yet, but Tunnell said the amount of plastics found in Charleston — in some cases 200 pieces in just a 10-minute search — were surprising. 
"Those are pretty high concentrations," Tunnell said. 
The transport of nurdles, small plastics about the size of rice grains, has become a growth opportunity for the Port of Charleston. Produced in the petroleum products industry located along the Gulf, the plastic pellets are moved by rail car to the Holy City, where they're shipped overseas and melted into all sorts of consumer products. 
S.C. Ports Authority Chief Operating Officer Barbara Melvin recently told a group of Mount Pleasant council members that U.S. nurdle production is expected to grow by 10 million tons by 2023, and the port expects to capture half of that business in the Southeast.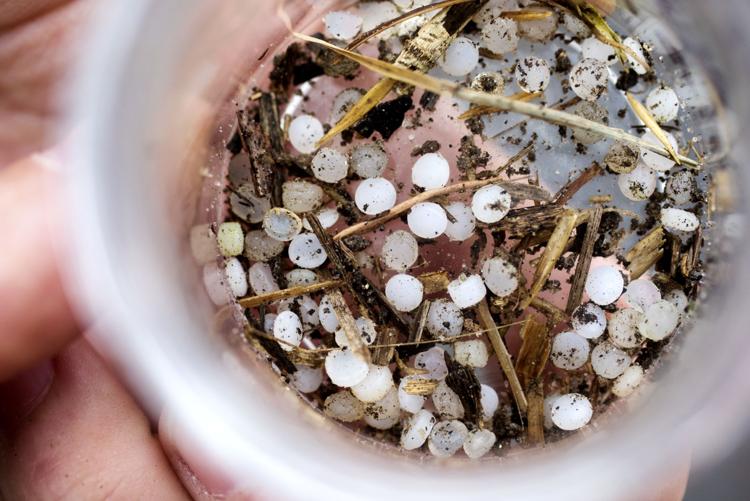 The transport is also efficient for cross-ocean shipping firms. Ports Authority CEO Jim Newsome said in a statement the plastic resins help carriers fix their "equipment imbalance." In other words, it allows them to put exports in containers that could sit empty after bringing in imports. 
A spill over the summer put a spotlight on the growing sector as drifts of milky white plastic pieces started appearing on the Sullivan's Island beach and elsewhere. 
"I suspect they were littering our beaches and waterways long before that spill, and we just didn't notice them before that bigger event," said Sarah Church, a Sullivan's Island councilwoman. 
Charleston Waterkeeper, a water-quality watchdog, has asserted that nurdles are being continually released into area waters. The group and others have filed a legal notice against one nurdle mover, Frontier Logistics, which is the first step before filing a federal lawsuit. 
Frontier is the only company that handles nurdles in a facility that overhangs water, at the Union Pier Terminal on the downtown Charleston waterfront. The highest concentrations of spilled pellets have been measured nearby at Waterfront Park. 
The company asserts it can't be definitively connected to the spill, and has said that some of the nurdles found don't match the products they handle. State environmental regulators inspected Frontier's facility and said they potentially broke state pollution law but eventually closed the matter.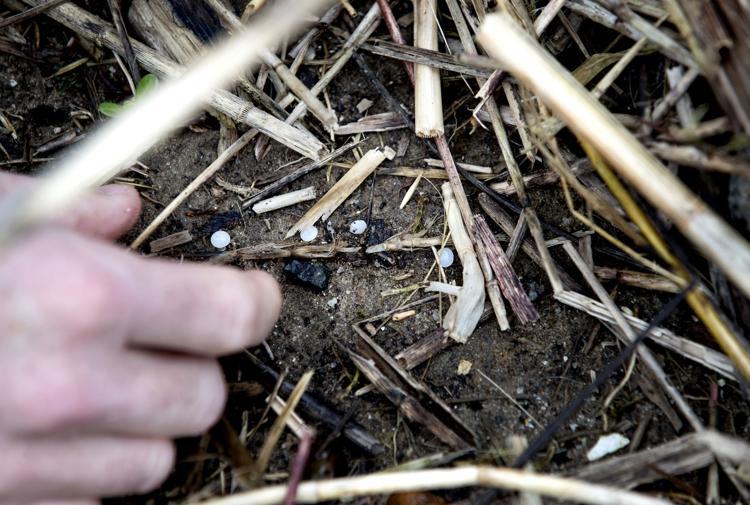 In Texas, Tunnell described a similar scenario. 
After the September 2018 spill, he said, Texas regulators were unable to determine where the tiny plastics came from. They even suggested the spill might have drifted in from Mexico or South America. 
Tunnell doubted that. If the nurdles came from foreign shores, they would collect in higher amounts on barrier island beaches than interior banks of estuaries. Tunnell's sampling program showed the nurdles concentrated inside those coastal bays, near plastic producers. 
It's proved challenging to connect the dots by linking the plastics to their manufacturers. Their recipes are considered trade secrets, so chemically analyzing the nurdles won't immediately make it clear who made them. Tunnell hopes to start doing some chemical analysis soon, however. 
One company in Texas has pledged stricter nurdle control. In October, manufacturer Formosa Plastics paid $50 million to settle a lawsuit and committed to zero discharge of loose plastics, the Texas Tribune reported. 
Tunnell wants to expand his monitoring program to the Boston area, another locus of plastic production, and Long Beach, Calif., where there's been another documented spill. The citizen science effort, which allows anyone to submit a result to his website, is the best way to track the problem, he said. 
"If you have a bunch of volunteers going out, you can really get a better picture of what's going on," he said. 
David Slade contributed to this report.