Dr. Patricia Williams-Lessane opened the Charleston Forum not with an emotional speech. 
Instead, the director of the Avery Research Center talked data. 
She addressed a packed Charleston Music Hall on Thursday night with statistics from the 2017 "The State of Racial Disparities in Charleston County, South Carolina." The report was published by the Avery Research Center for African American History and Culture and the Race and Social Justice Initiative.
The report analyzed statistics from 2000–15. Its findings, Williams-Lessane said, reveal the conditions that have led to gentrification and economic inequity.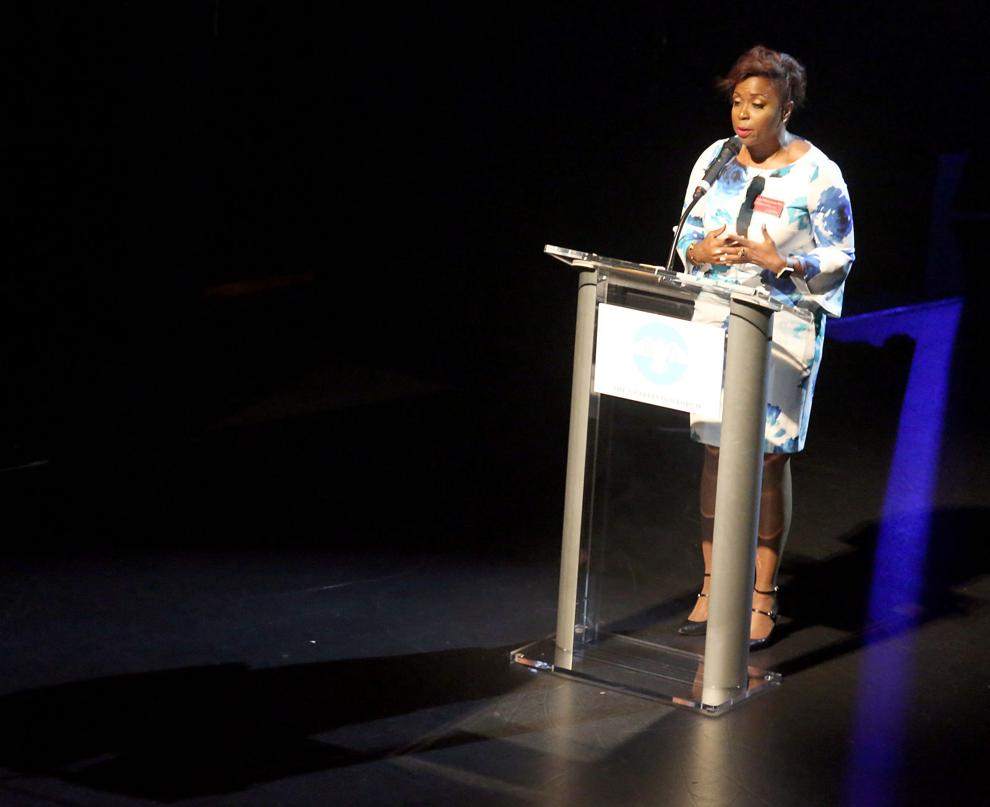 "It is a deliberate and detailed roadmap," she said of the report. "So we don't get mired down in the minutiae of conversation." 
This approach differed from the inaugural event in 2017, co-organizer Brian Duffy said. Last year, the speakers talked about racist symbols. This year, speakers read the Avery report and discussed concrete changes that could help lift African-Americans in Charleston County and across the state out of poverty. 
Those who could not come to the forum are encouraged to participate by submitting videos in which they describe their ideas. The submissions must include ideas for tangible solutions, Duffy said. People can submit videos online at thecharlestonforum.com/online-forum/. 
Economy
While unemployment rates in Charleston County have declined since 2008, the rate for blacks remains more than double that of whites, according to the report. African-Americans in the county earned 60 percent of what their white counterparts make. 
Michael Moore, president and CEO of the International African American Museum, opened the conversation about the economy by saying he was glad Charleston City Council voted to apologize for the city's role in slavery. Robust changes in policy, he said, can help lift African-Americans out of systemic poverty.
That can happen at the state level, said Sue Berkowitz, the executive director of the S.C. Appleseed Legal Justice Center. Predatory lending keeps needs to be reined in by state lawmakers so homeownership can be easier, she said.
"It's really expensive to be poor," Berkowitz said, noting South Carolina's skyrocketing eviction rates. 
In a growing tech-based economy, wage growth and increased funding for skills-based apprenticeships could help teenagers, said Stephen Warner, vice president of global competitiveness at the Charleston Regional Development Alliance. If minorities had access to more apprenticeships while in high school, they could have a jump-start at those jobs and some money in the bank, Warner said.
Lilyn Hester, Southeast public affairs director for Google, described the data center the company opened in Berkeley County. Google wants to hire a local workforce, but first, kids in school need to be excited about the theorems they're learning in math class. 
Paris Dennard, a CNN commentator and director of strategic communications at the Thurgood Marshall College Fund, said changes in federal policy can help, too. The Department of Labor, for example, is considering rolling back requirements for licensers, he said. Such a change could relieve hair braiders of the burden of mandatory traditional beauty school.
Education 
The report showed that black students in Charleston County graduated from high school at a rate of 75 percent while white students graduated at a rate of 91 percent.
Elliot Smalley, superintendent of the S.C. Public Charter School District, added that in Charleston County, seven out of 10 white third-graders can read at a third grade level while only two out of 10 black third-graders can read at that level. 
"The educational attainment mirrors what it did 200 years ago," Smalley said. 
CNN commentator and South Carolinian Bakari Sellers moderated the panel. He asked Faith Rivers James, assistant provost at The Citadel, if Charleston County was preparing its black students for college.
"When you're in the neighborhood school because you don't have a choice," she said, "is that a good 'choice'?" 
Alana Simmons, a former educator and creator of Hate Won't Win, credited standardized testing as a source of major setback. She also said single parents often can't, or won't, attend parent-teacher conferences.
"If our children are being raised on rocky foundations, it's always going to be an uphill battle," she said.