Many downtown Charleston streets become filthy Petri-dishes of bacteria in flooding rains, with fecal levels dozens of times above safe limits, according to a Post and Courier analysis and research by College of Charleston. 
During the drenching rainstorm June 8, the newspaper sampled eight streets on peninsular Charleston for fecal coliforms, a common measure of human and animal waste. Targeted areas included streets near schools, stores and hospitals.
Analyzed immediately by Trident Labs in Ladson, a certified lab, these samples showed dangerously high levels of fecal bacteria on Charleston's East Side.

On Harris Street, across from Sanders-Clyde Elementary School, a sample contained an estimated 160,000 fecal bacteria colonies. Near a church at Cooper and America streets, a sample contained 92,000. For years, local limits for sewer effluent were just 400.
High readings also were found near Ashley Hall, a private girls school, and the Medical University of South Carolina.
Meantime, more extensive sampling by College of Charleston students over the past two years revealed the same troubling result: Floodwaters during and after heavy storms are crawling with potentially dangerous microbes.
"We don't know if people are getting sick from this," said Vijay Vulava, a College of Charleston geology professor who supervised one sampling project. "I really think it is a public safety issue."
Together, these findings raise new questions about the city's lagging efforts to keep floodwaters at bay at a time when sea rise and climate change have led to a dramatic increase in flooding in the Charleston area. The city now sees more than 50 days of tidal flooding each year, and that number is only expected to surge in coming years. 
Residents have pleaded with the city to do more to protect their properties.
But the bacteria samples show floodwaters also could pose a risk to those who walk through these mucky pools.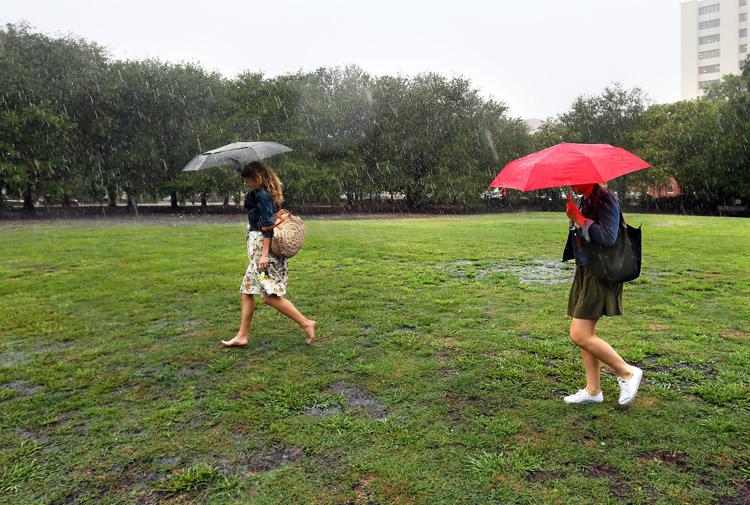 A storm parks over the city
Flooding in Charleston is as predictable as an itch from a no-see-um. Land here is spongy and close to sea level. Some areas of downtown once were streams and marsh. Over time, builders dumped dirt, garbage and sawdust, building up the land, which often sank anyway.
As a result, our lowlands flood like stopped-up sinks. The city mostly depends on gravity to drain these soppy places, but its system of tunnels, some dating to the mid-1800s, often can't keep up.
That's what happened June 8.
It was a typically steamy June day. The Spoleto Festival was in full swing. A low pressure system off the coast caused warm air to rise over the city. At noon, that moisture-laden air mixed with cold air, condensed and fell as rain, slow at first, and then with a vengeance.
By 12:45 p.m., water coursed through the city's streets. It poured into storm drains on King Street, creating whirlpools over the grates. It rushed along Calhoun Street toward low spots by Cannon Park. And it kept coming, thanks to the absence of any strong offshore winds.
"When you don't have a system that moves, it pulls the moisture off the ocean and land, and you get shower over shower over the same area," said Doug Berry, a meteorologist with the National Weather System in Charleston. "It can happen any time of the year."
The city's old drainage system soon filled. By 1 p.m., a moat formed around the city's medical district. On Jonathan Lucas Street, in front of the Hollings Cancer Center, health care workers loaded an elderly woman into an ambulance, her bare feet in about 3 inches of brown water. Water rushed toward a low spot near a side entrance to the Children's Hospital. Across the city, traffic slowed to a crawl.
It was a soggy mess, but what exactly was in all this water?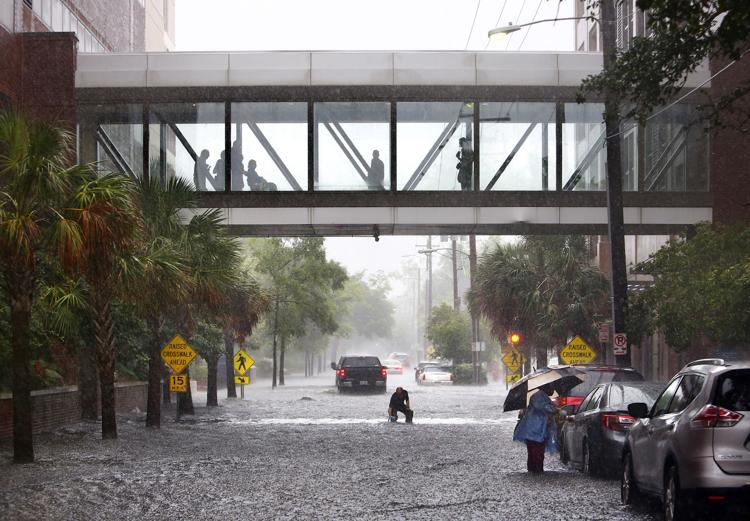 Testing the waters
Some strains of fecal bacteria generally aren't harmful themselves, but their presence is a signal that other disease-causing bacteria and viruses are present, the Environmental Protection Agency says. Put another way, if you eat shellfish or swim in waters with high fecal bacteria levels, you're exposing yourself to other pathogens that could make you sick.
Scientists and health officials measure bacteria levels by estimating the number of cell colonies in 100 milliliters of water, a little less than half a cup. They typically look for several kinds of bacteria, including fecal coliforms, E. coli and enterococcus.
Until 2012, the S.C. Department of Health and Environmental Control's limit for fecal coliforms in recreational waters was 400. Now, DHEC keeps track of multiple bacteria strains. Limits depend on the type of water body.
For example, the state limit for fecal coliforms in shellfish harvesting waters is 43. In freshwater lakes, DHEC focuses on E. coli and will close swimming areas with a reading of 349. On saltwater beaches, DHEC measures enterococcus and will issue an advisory when it gets two consecutive samples above 104.
Charleston's streets aren't technically bodies of water — until a downpour turns them into one. But severe floods can leave large pools of standing water on streets and properties for several tidal cycles, with bacteria growing by the minute.
Despite the danger, DHEC does not test the city's floodwaters.
Likewise, city officials couldn't recall doing any sampling.
Ashleigh Kirker, a College of Charleston student, thought the absence of such data was surprising given the constant exposure of floodwaters to residents and tourists.
So Kirker spent 18 months testing stormwater in downtown streets for a research project. She took nearly 70 samples during 10 heavy rains. Sometimes she arrived to her classes sopping wet. What she found was stunning: "There's a lot of junk in our water — sometimes 20 times the (state) standard."
"All it takes is one bacteria cell to make you sick," said Vulava, the College of Charleston professor who supervised her research. "People who wade through these bacteria-fouled water can track bacteria into their homes and beds. "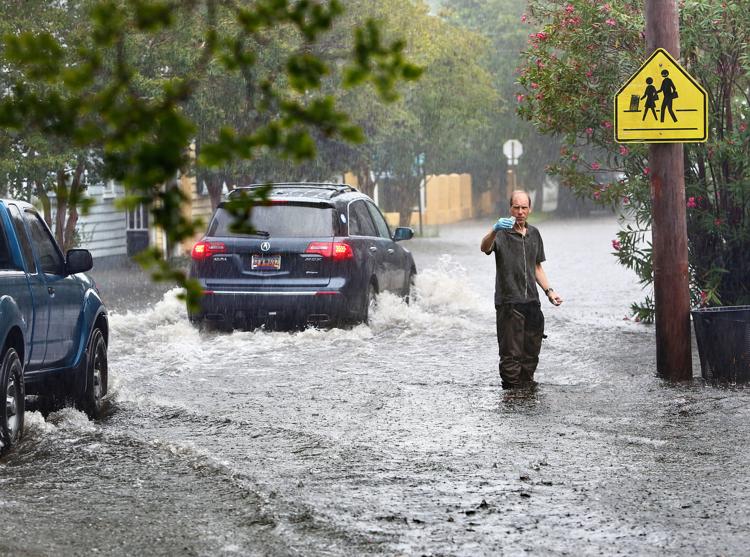 Newspaper deploys reporters
With Kirker's results in mind, The Post and Courier did its own tests. During the June 8 deluge, two reporters and a photographer sought spots with histories of frequent flooding and heavy use by pedestrians. 
By 2 p.m. on Ashley Avenue, near the side entrance to the Children's Hospital, water was thigh-deep as Betty Lessington drove by.
She was in a sedan with her sister, who was scheduled for some medical tests. As she inched through a pond, a truck passed, generating a wave that washed over her hood. Her car stalled.
"It was scary," she said several days later.
A sample of water swirling near her car showed 4,900 fecal colonies.
"I should never have been out there," she said.
Several blocks away, on Vanderhorst Street near the Ashley Hall school, Hanna Carol, a student at MUSC, tended to a Jeep parked in her driveway. She said she'd left the top off and was on her way to get it vacuumed. Water pooled knee-deep in the street.
"It's probably like sewer water, so it's not super fun to walk through."
She wasn't exaggerating: A sample there showed 24,000 colonies of bacteria.
To put that in context, for decades the Charleston Water System measured fecal coliform levels in its effluent. (It has since begun measuring for enterococcus). Under a 2010 permit, its Plum Island Wastewater plant's treated-effluent could contain no more than 400 fecal colonies. The sample steps away from Carol's Jeep was 60 times greater than that old 400-count limit.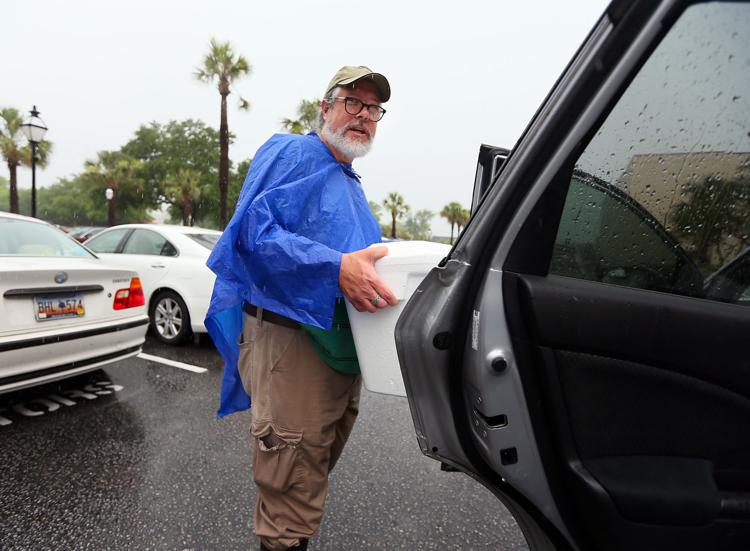 The lowest reading was a sample collected in the City Market area, which had 3,300 fecal coliform colonies. But that was still eight times the limit long considered safe. And dozens of people were observed wading through the calf-deep water wearing shorts, skirts and flip-flops. 
Notably, the eastern edge of the peninsula generally had much higher levels of fecal bacteria in the samples. This trend mirrored those found by Kirker and Vulava of the College of Charleston. They speculated that the East Side's higher residential density might be the cause.
Meantime, during the June 8 storm, another College of Charleston student, Manny Byas sampled for enterococci bacteria in two downtown locations. 
On Duncan Street, behind the college's science building, he found an estimated 7,556 colonies, about 72 times the state standard for that bacteria.
He also sampled Colonial Lake, where bacteria levels were 1.6 times above the state limit.
Barbara Beckingham, also a College of Charleston geology and environmental geosciences professor, said everything from faulty septic systems to pet droppings to wildlife can trigger high bacteria levels.
She added that the newspaper's findings were "concerning. I look at the numbers and think 'Wow!' but at the same time I am not surprised."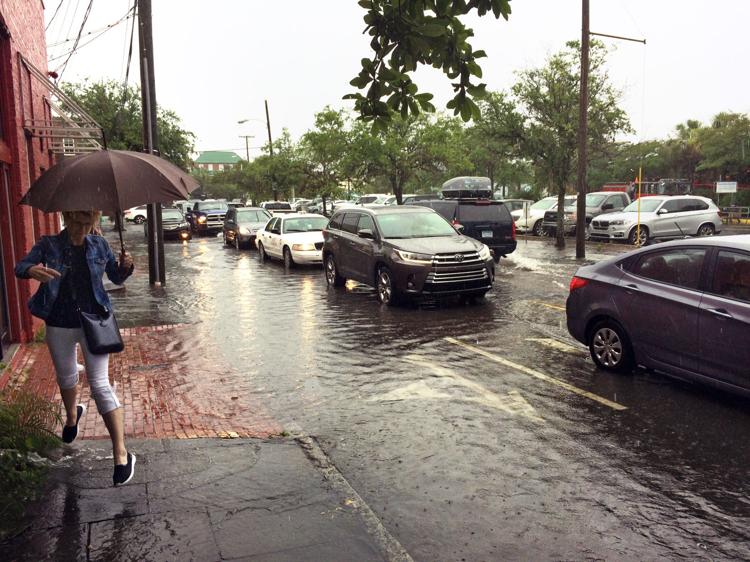 Cringe-worthy water
Andrew Wunderley, head of Charleston Waterkeeper, a group that monitors area creeks and rivers, described the newspaper's sample results as "striking" and "well above what would be considered safe for human contact or recreational use."
Yet, as with Beckingham, he wasn't surprised. His group regularly finds sky-high readings of enterococcus in area waterways, especially after flooding rains. Shem Creek and Ellis Creek on James Island are contamination hot spots, he said.
"Floodwater is very polluted, and each time it floods it's a disaster for our creeks and rivers and aquatic life," he said. "I cringe when I see pictures and videos of folks playing in floodwater after a storm." 
Mya Smith, 35, feels the same way now. She lives on Harris Street across from Sanders-Clyde Elementary, where testing revealed the highest levels of fecal bacteria. A couple of years ago, she made the mistake of frolicking in floodwaters that swamped the street. She soon developed flu-like symptoms and became very ill. Now, when the waters rise, she keeps her children indoors. 
"They don't come outside when it rains," she said. "I know what comes back up out of those drains."
A street sweeping truck rumbled by as she talked, narrowly missing a pair of swollen dirty diapers that lay by the curb next door, just a few feet from an open storm drain.
A few blocks away, 18-year-old Jahlia Drayton sat on the porch of her lifelong home near the corner of Cooper and America streets, chatting with a friend. A week had passed since the deluge, and the hot June sun had already baked away the floodwaters that streamed down her street and enveloped her yard. But she knows the waters will be back. The area seems to flood every time there's a storm or a king tide, she said. 
Drayton wishes the city would do something to improve drainage in the area, particularly since testing revealed fecal counts in the water about 230 times what many consider safe.
"You have to go through the water to walk anywhere," she said. "We have no choice."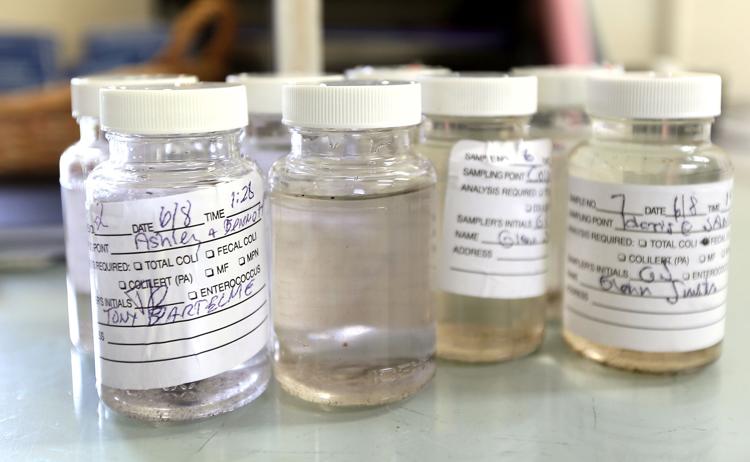 Rain bombs and rising seas
Managing this growing threat is expensive. The city already has more than $230 million in drainage projects underway, including a giant pump system to drain the City Market area and the Septima P. Clark Expressway, commonly known as the Crosstown.
But these projects are designed to reduce the quantity of floodwaters in the city, not the quality of water flowing into area waterways. So far, the city's main effort to lower bacterial contamination has been to install 28 animal waste cans throughout the historic district.
Properly getting rid of dog waste is "the front line of our defense to keep pollutants out of stormwater," said Jacob Lindsey, the city's planning director.
Mayor John Tecklenburg said flooding is "an ongoing focus of city government this year," and installation of check valves in some peninsula neighborhoods has helped reduced tidal flooding.
Those same valves may help prevent some contamination in the future. But he added that the newspaper's findings were a concern, and that the city may need to do some form of monitoring. Residents also need to be vigilant about litter and picking up after their pets, he said. 
Wunderley, the Charleston Waterkeeper, said people can do small things to reduce contamination levels.
Dog owners tend to be more diligent about picking up droppings in public spaces, but he's found that's not always the case in people's backyards, he said.
Clusters of homeless people also can generate higher bacteria levels, as well as sewer systems that overflow. Septic systems, especially in Mount Pleasant and James Island, need to go, he said.
"Little things like that can go a long way."
So far, the city's efforts to rein in its fetid floodwaters have been no match for the forces in our seas and sky. The storm on June 8 dumped 2.9 inches of rain on the city. The previous record for that date of 2.2 had been set in 1893. Though heavy, the storm was hardly abnormal. Many days have even higher rainfall records.
And heavier storms are likely to become even more commonplace. A rapidly warming planet is rising sea levels and producing fierce storms — rain bombs capable of dumping rain by the foot instead of inch, storms that turn streets into ponds packed with disease-carrying microbes.