The crowds hadn't yet arrived at Charleston 9 Memorial Park on Monday when Jacqueline Drayton introduced her son to the site where his grandfather died fighting a massive blaze 11 years ago. 
They stopped at the memorial for Drayton's father, Charleston Firefighter James "Earl" Drayton. And one by one, they visited the plaques honoring the other eight Charleston firefighters who perished on June 18, 2007. Drayton told 11-year-old Shawndell Davis Jr. that those men were like family to his grandfather. 
And she explained to her son how the park on Savannah Highway was once the location of the sprawling Sofa Super Store, where a small fire that started on the store's loading dock quickly grew to a raging inferno. 
"It seems so fresh like it just happened yesterday," Drayton said later. 
Monday evening, Charleston Mayor John Tecklenburg helped honor the nine men whose deaths "forever changed Charleston." Each day, they put on their uniforms and made a commitment to protect their fellow citizens, he said. 
"Those honorable decisions made every day require sometimes the unthinkable sacrifice, and it's not just made by them but by their families," Tecklenburg said to relatives, firefighters and members of the public who attended a ceremony at the park. 
In two weeks, the city will break ground on a new fire station next to the memorial site. Nine windows facing the park will serve as another reminder of the men who gave their lives, Tecklenburg said.  
The firefighters killed were Brad Baity, Mike Benke, Melvin Champaign, Michael French, William "Billy" Hutchinson, Mark Kelsey, Louis Mulkey, Brandon Thompson and Drayton.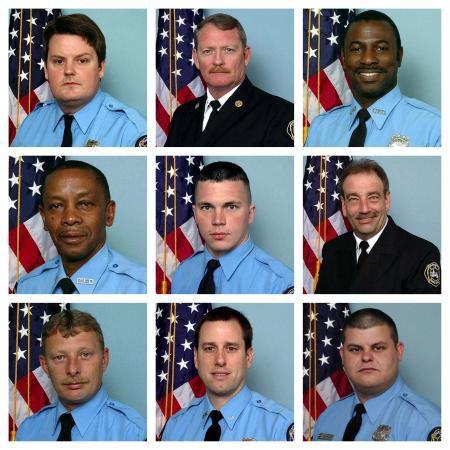 "It doesn't get any better," said Ann Mulkey, whose son, Capt. Louis Mulkey, was killed. 
Accompanying Mulkey to the ceremony was Deloris Gibson, her cousin's wife. The night of the devastating blaze, Gibson and her family showed up at the fire station to see what they could do to help as the tragedy unfolded. 
Help that evening came in the form of her husband holding a grieving stranger's infant boy. 
Gibson has since asked around every year but never learned the identity of the boy who she and her husband referred to as the "mystery baby."
Until Monday, when she was introduced to Shawndell Davis, the grandson of Earl Drayton who was only 2 weeks old at the time of the fire. 
"You wanna see the guy that held you that night?" Gibson asked Shawndell, pulling out her cellphone to show him a picture of her husband. 
Then Shawndell stood and smiled as Gibson snapped a photo of him to send to her husband at home. 
"Maybe one day y'all can meet," she said.
Sign up for our daily newsletter
Get the best of The Post and Courier, handpicked and delivered to your inbox every morning.