A long-awaited pedestrian and bike bridge over the Ashley River hinges on the city of Charleston's efforts to land a federal grant this fall.
City leaders have backing from more than 230 supporters, including businesses, neighborhoods and elected officials. A top city staffer traveled to Washington, D.C., to seek support from South Carolina's congressional delegation.
The hope is that the federal government will award $18.1 million for a 0.4-mile-long standalone bridge south of the existing T. Allen Legare Bridge and for improving the existing 10.5-mile West Ashley Greenway and 2.5-mile West Ashley Bikeway.
The total project is pegged at $22 million.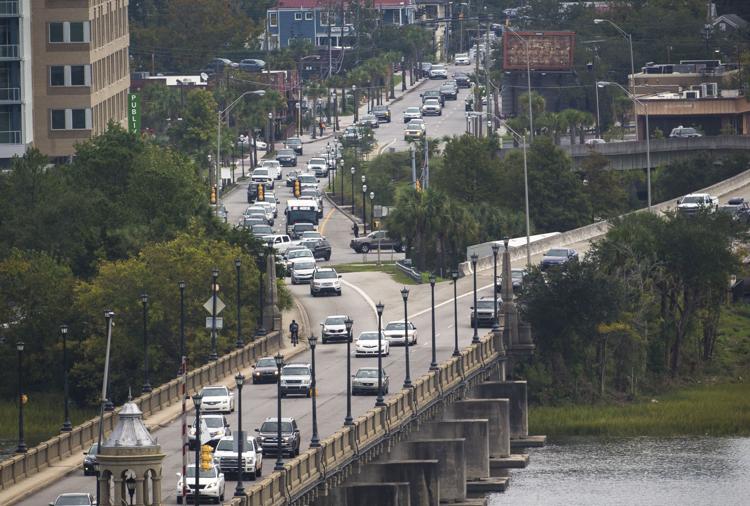 This is the city's third attempt to secure a federal BUILD (Better Utilizing Investments to Leverage Development) grant from the U.S. Department of Transportation. In its application, the city cites more than 100 bike and pedestrian crashes that have taken place during the past five years on the two U.S. Highway 17 bridges over the Ashley River.
Charleston Director of Traffic and Transportation Keith Benjamin said a safe bike and pedestrian crossing of the Ashley River has been identified on 19 different city and regional plans dating back to 1976 with little to show, so far. 
"We know it's a priority," Benjamin said. "We know it's something that needs to be addressed."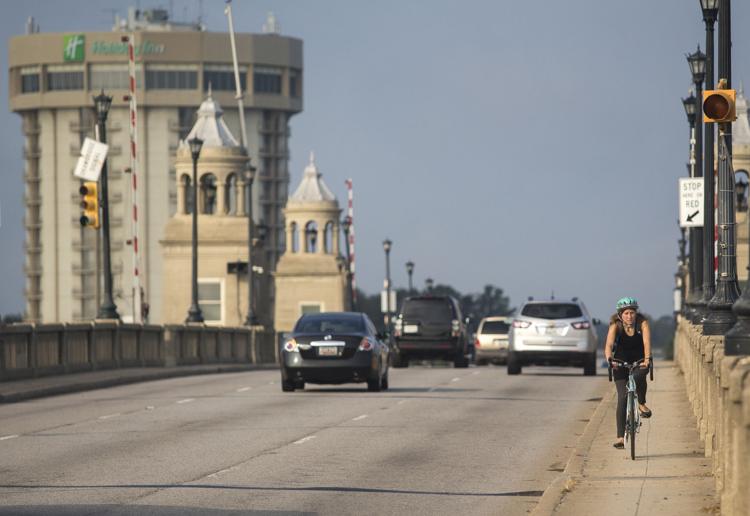 'Wild West out there' 
Pamela Ferguson has biked between her James Island home and her downtown job at MUSC for the past four years in what she says has been "a pretty horrific commute."
Her 30-minute ride involves traversing both the Wappoo Cut Bridge and the older Memorial Bridge over the Ashley. She has to get off her bike and cross a major traffic artery to get onto the southbound bridge, which has a wider, safer sidewalk. 
"It's such a perfect area for biking. It's flat, and the weather isn't horrible. Even in the heat, it feels cooler biking," Ferguson said. "But conditions are so bad. I feel like I could hand out dozens of tickets to people for speeding, running red lights, looking at their phones and not yielding on turns."
Ferguson said there's a lot of talk about how bad traffic is but her biggest fear is the high speeds that automobiles travel.
"It's like the Wild West out there," Ferguson said. 
She continues to bike and hopes that she doesn't become another statistic before her commute is made safer.
"I'm kind of just stubbornly determined that I'm not going to give in," she said. "I've survived over four years, and to me it's not that hard to put in some bike lanes."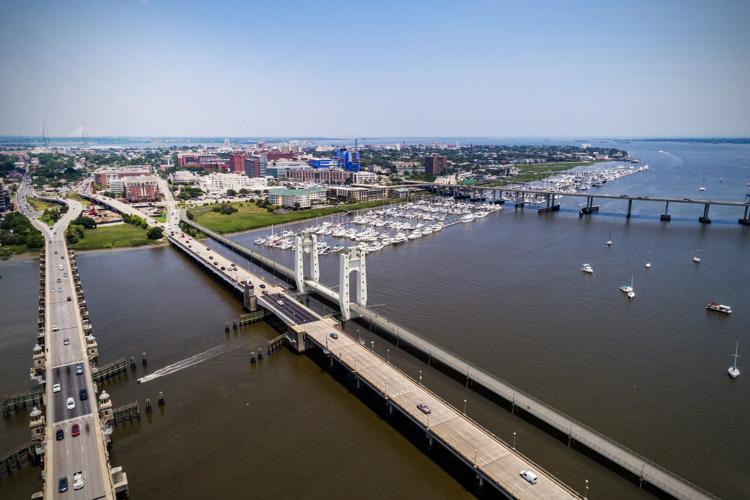 A series of starts and stops
A safe bike-pedestrian crossing over the Ashley has been in the works, off and on, for more than a decade.
In 2007, the county funded a feasibility study to modify the existing Legare Bridge to add a cantilevered path for bikes and pedestrians.
But, in 2010, the county's consultant found that the bridge's drawbridge portion could not handle the extra weight without a substantial rebuild of its machinery, extra work that would have raised the project's price tag to somewhere between $25 million and $70 million, according to Richard Turner, Charleston County Deputy Director for Operations in the office of Transportation Development. 
Charleston County backed off that plan, but, in 2011, it launched a new study to see if one of the Legare bridge's four lanes could be repurposed for bike and pedestrian use. In 2017, the county even put out orange traffic cones to simulate what a dedicated lane would look like if it were no longer in use for vehicles.
Test and traffic studies found there would be some delays for morning commuters driving onto the peninsula.
While City Council has supported the conversion, Charleston County Council cooled to the idea. And the county held the purse strings in the city-county-state agreement.
That's when the idea of a standalone bridge emerged and the city began seeking federal grants to help build it. 
Its current grant request envisions a project totaling a little more than $22 million, Benjamin said, and the city is seeking $18.1 million through the BUILD grant. The grant would require a 20 percent local match, and the city already has found that, including $1.5 million from the city, $3 million from the county and $100,00 from the Medical University of South Carolina.
But these grants are competitive, and the city's chances are unclear. It expects an answer by Nov. 12.
Beyond one bridge
Katie Zimmerman, executive director of Charleston Moves, has advocated for action on safe pedestrian and bike transportation over the Ashley River for years, and its petition "Stop Stalling — Bridge the Ashley" has more than 2,100 signatures on change.org.
But Zimmerman said even if that project is built, it would solve only part of the problem.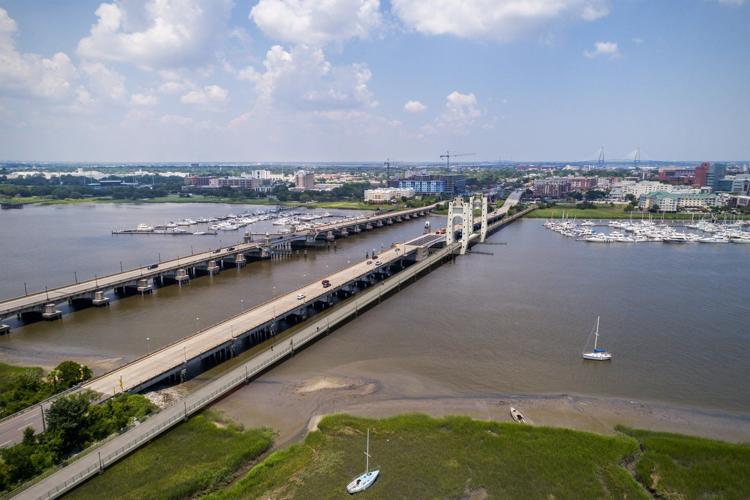 That's why Charleston Moves is also focusing on the other major crossings over the Ashley beyond the U.S. Highway 17 bridges. These include the James Island Connector and the Northbridge (S.C. Highway 7).
Zimmerman said proposals for bridging the Ashley often have become polarizing and highly political, and elected officials often have stalled progress, intentionally or not, by saying only one bridge should be studied at a time.
"What we would like to see is all the officials in one room agree to a strategy and prioritize all these bridges instead of quibbling over one bridge at a time," she said. "None of these problems have been solved, and in the meantime people are getting killed and seriously injured."
Zimmerman said the goal should be to identify a timeline, funding and which studies have been completed. If the federal grant falls through, she said, the group will focus on obtaining 100 percent local funding from some mix of the state, county and city.