Charleston County expects to demolish the former Charleston Naval Hospital and could spend at least $42 million more — and up to $74 million — constructing a new county building in its place.
Council Chairman Vic Rawl noted that the higher estimate works out to a sticker-shock price of $440 per square foot. If a 2,000-square-foot house were built at that price it would cost more than $880,000.
"Quite frankly, those are pretty dadgum serious numbers, as far as I'm concerned," Rawl said. "For $440 a square foot you ought to be able to build Trump Tower two or three times over."
And that's not counting the $35 million that a failed plan to redevelop the Charleston Naval Hospital has already cost county taxpayers.
The county paid $33 million in 2017 to settle a lawsuit with a company that was supposed to renovate the 10-story former hospital, and it spent millions more on consultants and maintenance. Donald Trump Jr., the president's eldest son, owned 10 percent of the bankrupt company that sued the county.
After taking ownership of the more than 23-acre property at Rivers and McMillan avenues in North Charleston, the county was told by staff and consultants that it would cost another $66 million to renovate the vacant former hospital.
At a meeting Tuesday night, Councilman Teddie Pryor questioned why County Council would consider demolishing the former hospital if a new building on the same site could cost up to $74 million for less space.
"I don't see why we would do that," said Pryor. "It seems to me it would be advantageous to go into the remodeling."
That's when the county's facilities director, Tim Przybylowski, clarified that renovating the entire former hospital, with 362,000 square feet of usable space, would actually cost about $100 million.
The county had planned to lease three floors of the building after a development group completed renovations, but it rescinded the deal in 2016 after repeated delays and concerns about workmanship. That's what prompted the Chicora Life Center group to seek bankruptcy protection and sue the county.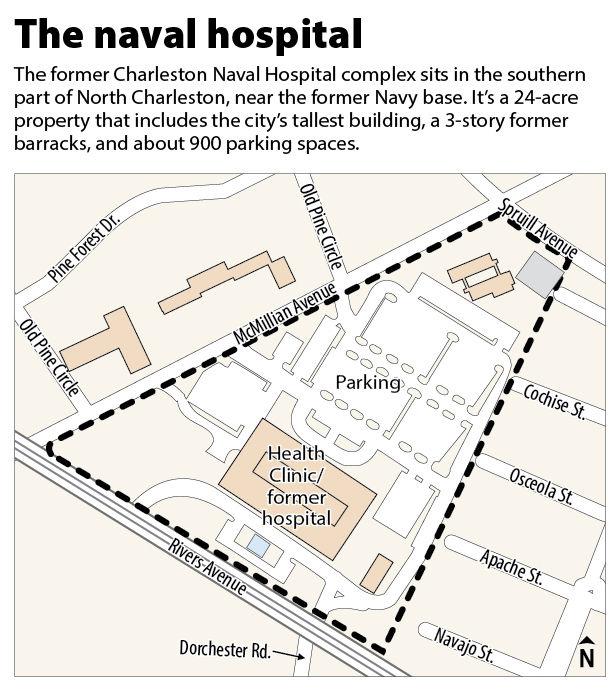 The county needs at least 87,000 square feet to move social services to the North Charleston site. Most council members have opposed renovating the hospital because, in addition to the price tag, the building is far larger than what the county needs.
"The risk of taking on that additional square footage, and the cost, was deemed to be a very challenging path," Przybylowski said.
In May, Councilman Elliott Summey said renovating the building would amount to trying to make "chicken salad out of chicken crap." On Tuesday, he advocated building new county offices on the site. It would house county services currently located in a downtown Charleston building that the county has discussed selling to Medical University of South Carolina.
"If it's going to cost $45 to $50 million, let's get it done," Summey said.
It could cost a lot more than that, depending on the option the county eventually chooses.
On Tuesday night, council members were given three estimates. Each assumed the hospital, the tallest building in North Charleston, would be demolished. The estimates ranged from an 87,000-square-foot building costing $42 million to a 168,000-square-foot building costing $74 million.
Councilman Herb Sass said he sees no reason to build a larger building than the county currently needs.
"Maybe we can end up building a smaller building over there and selling a piece of that land," he said.
Charleston County recently explored selling the hospital property but the highest of two bids received was less than $4.5 million.
Now the county hopes to occupy a new building at Rivers and McMillan avenues in the spring of 2021, more than six years after the county's leased space in the former hospital was originally supposed to be occupied. For now, the county staff will continue working on developing a plan for the site, with questions about what to build and how much it will cost left unanswered.