A controversial proposal for easing traffic in northern Mount Pleasant — running a new five-lane road through several subdivisions and a county park — has been taken off the table.
While some subdivisions, including Ivy Hall have been organizing petition drives in opposition to that proposal, Charleston County announced late Thursday that the plan had been eliminated mostly due to unforeseen expense concerns.
"The latest analysis of Alternative 5a revealed extensive utility relocation costs due to the power line and gas line easement, among other factors," a county statement said.
The county also said that plan would have had the greatest impact on properties, wetlands and Laurel Hill County Park. The concept called for building a new 5-lane road from U.S. Highway 17 to the Wando River Bridge, running along a power line easement roughly parallel to S.C. Highway 41.
That path would have taken the new road through the Ivy Hall, Park West, and Dunes West subdivisions, as well as Laurel Hill County Park.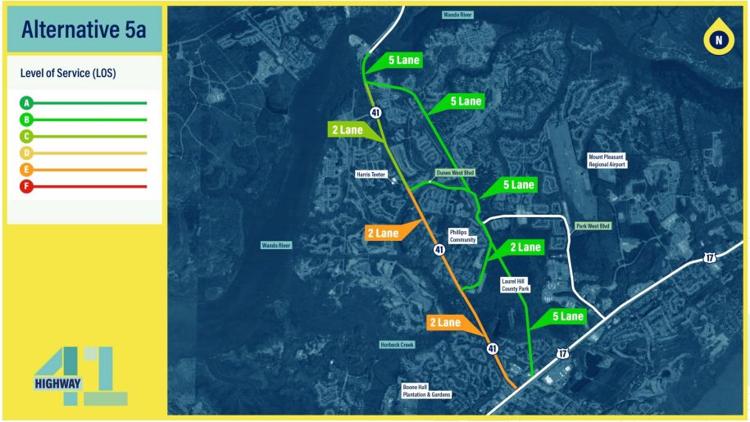 "As chairman of County Council, I want to thank staff for working through this process to identify the best and most cost effective route for Highway 41," said Chairman Elliott Summey, who lives in Mount Pleasant.
Earlier this week, the county and the town agreed on a short-term fix for Highway 41, adding one lane to a portion of the road between S.C. Highway 17 and Joe Rouse Road. Debate and study of the broader $129 million plan to improve traffic along Highway 41 continues.
With Alternative 5a eliminated, two potential plans remain, and they are highly controversial, as well. Those plans, and potentially others, will go through a federal review process that's expected to get fully under way this year.
Mount Pleasant's leadership and many subdivision residents along Highway 41, such as Dunes West and Park West, have supported an alternative that would widen the existing highway to five lanes, from Highway 17 to the Wando River bridge. However, Highway 41 runs through the center of the freedman's community of Phillips, a federally recognized historic resource, and residents there say it to 5 lanes would destroy the community.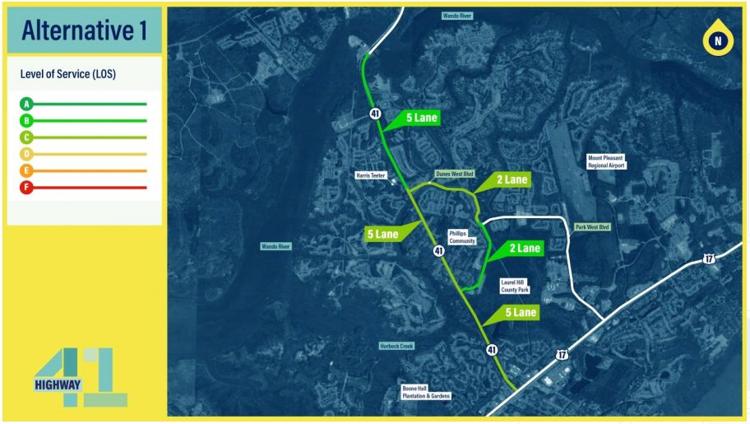 The other remaining alternative — one that Charleston County road planners have said would provide the greatest traffic relief — is controversial for the opposite reason. Alternative 7a calls for widening parts of Highway 41 to five lanes, but winding that five-lane path around Phillips, through Dunes West and Park West, parallel to Bessemer Road and continuing along Dunes West Boulevard.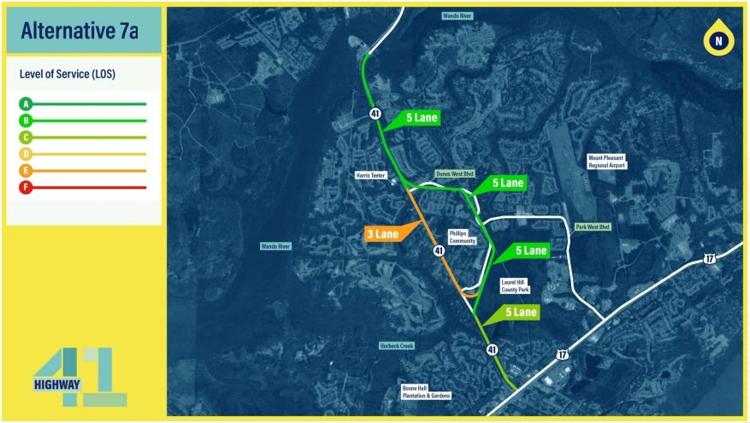 "Alternative 7a meets the purpose and need of the project and is also recommended for continued evaluation in the (federal environmental assessment)," the county said.