CONWAY — Horry County's recycling facility is just a stop along a longer journey. 
Soda cans will be sent to a plant in Alabama, soup cans to steel mills in Pennsylvania. Large stacks of cardboard will eventually land in China. A shipping container backed up to the building is bound for the Port of Charleston, and then on to India.
The cardboard boxes, milk jugs and tuna cans waiting to be lifted onto a conveyor belt for sorting already made a trip to get here, however — some from as far away as the Lowcountry.
Charleston County is shipping its recyclable material to Horry County as it waits for a new $24 million state-of-the-art recycling facility to open in North Charleston in spring 2019. The arrangement is a point of pride for the Horry County Solid Waste Authority, because Charleston took their recyclables for a year after an old facility burned down in 1996.
Charleston is also paying for the service, and spent roughly $1.4 million, including the cost of trucking, in fiscal year 2017.
But the agreement has forced the Horry plant to double the length of its workday and add workers as global forces are making the recycling market less financially stable. And the plant has to contend with contamination from items such as plastic bags.
It has also doubled the facility's residual rate, or amount of material that can't be processed and sold, from about 14 percent before the agreement with Charleston County started to roughly 34 percent now. 
That extra garbage, about a third of the 3,000 tons of material trucked two hours north every month, is then sent back south to a West Ashley landfill.
"It's been a learning process for both of us (counties)," said Danny Knight, executive director of the HCSWA.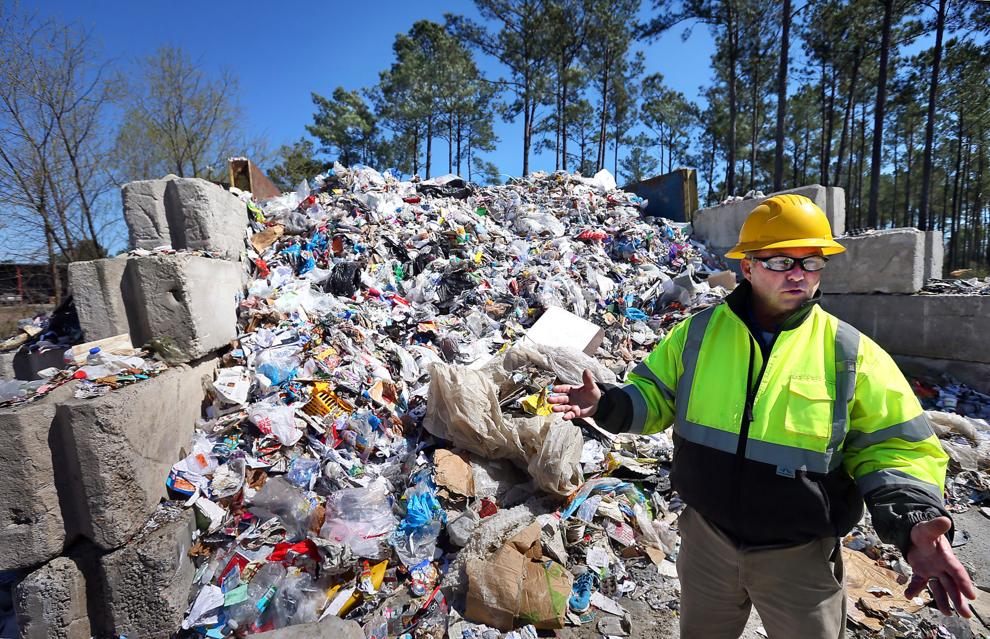 The right price
Horry County's waste authority bids out its paper fiber, cardboard, plastics, aluminum and glass every month, ensuring the facility gets the best price at the moment. 
But it is also susceptible to a fickle market for recycled goods. Many items that are recyclable — the plastic from a fast-food salad container, for instance — end up in a landfill because there's no market for that specific class of material.
That means putting more people onto the line to sort garbage from items such as aluminum beverage cans, which are 100 percent recyclable and can fetch $1,600 a ton. 
"If you have anything other than a can there, (buyers) will ship it back to you," said Mike Bessant, who oversees the HCSWA's recycling facility. 
The recycling market nationwide has been challenged lately in part because China, one of the biggest international importers, has put harsh restrictions on some materials and stopped accepting others altogether, such as mixed rigid plastics. That class of material includes items like kitty litter boxes and buckets.
Nearly 200 bales of the plastics were sitting outside the Horry County facility until officials were able to find a taker in Marion, who picked up the material for free. 
Charleston County Councilman Brantley Moody said that recycling is still valuable even if it doesn't yield a lot of money. Reusing the material is a societal good, he said, and saves space in landfills. Charleston County's primary landfill, on Bees Ferry Road in West Ashley, has 20 to 25 years left before it's full, county spokesman Shawn Smetana said. 
"It's not a moneymaker," Moody said. "When commodities do shift and you can sell some of this stuff, to me, that's found money."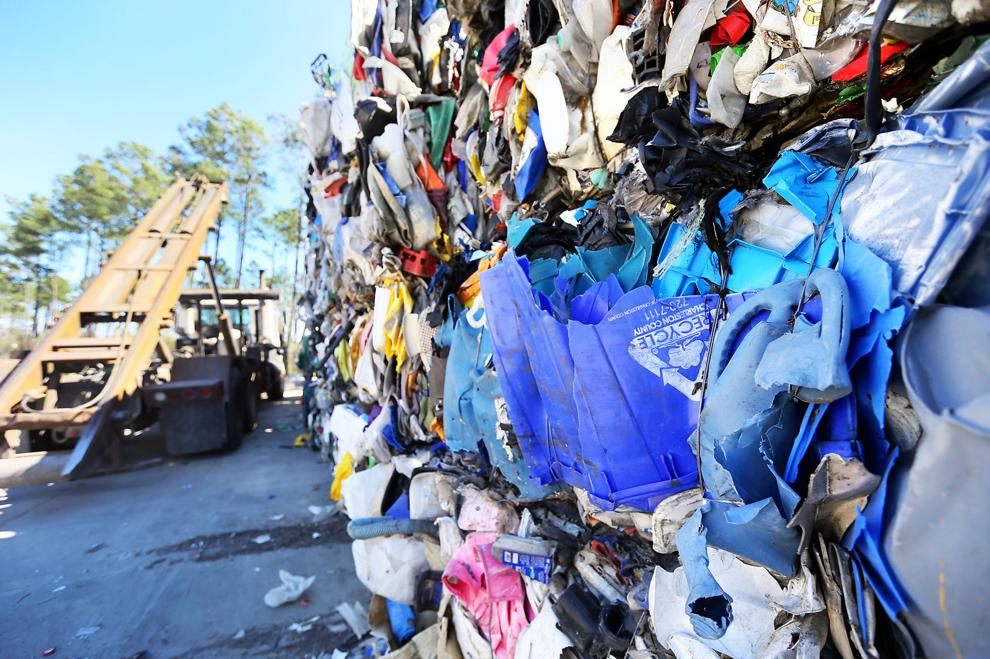 Banning the bag
Several coastal municipalities in South Carolina are considering or have passed bans of single-use plastic bags, such as the ones used in grocery stores, because of their tendency to end up in waterways and the potential to harm marine life.
Mount Pleasant, the state's fourth-largest city, moved a ban of the bags and polystyrene containers forward in an initial vote on Tuesday night.
Banning the bags could also have a positive impact for recycling plants, Bessant said. 
For 30 minutes twice a day, the sorting machines and conveyor belts in Horry County's facility are shut off, and workers have to climb into heavy machinery to pluck out the bags by hand. Four people have to venture inside a"v-screen," a valley of rotating plates that sort paper and cardboard, and unwind the bags from in between the disks. 
Bessant said the plant could process 11 tons of material during that hour of lost work every day. The plastic bags are "murder to the system," he said.
But there's opposition at the state level to cities and towns banning the bags, and the S.C. House approved a bill last month that would make the process more difficult for municipalities. If passed in its current form, a cutoff date would invalidate the ban in Mount Pleasant, which is expected to be enacted in April. 
Lawmakers who voted for the legislation cited concerns with raising costs for consumers and the effects on the plastics industry in South Carolina, including Hartsville packaging giant Sonoco.
Bessant and Knight were pessimistic that the bill could be stopped. 
"The plastic organization, they've got money, and they will put the lobbyists in and they will fight you every way they possibly can," Knight said. "There's a damn battle going on."