Charleston Mayor John Tecklenburg will ask City Council on Tuesday for a six-month moratorium on residential developments on Johns Island, which could delay the construction of about 2,000 homes planned within the city's limits.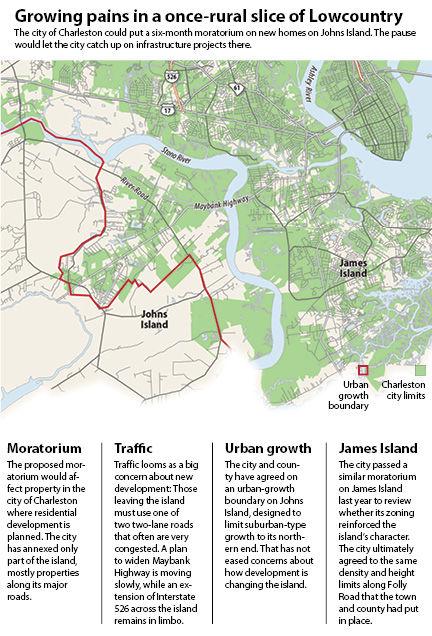 Charleston has annexed only a small slice of Johns Island, but it's growing faster than any other part of the city. In 2008, the city permitted the development of 1,083 residential units. Last year, it issued nearly three times as many permits. 
The moratorium would not delay all new housing units in the pipeline: About 816 residential units in 17 different projects already have final plat approval and would still be able to get a building permit and break ground.
The proposal comes on the heels of a similar moratorium on James Island, which expired in late December.
City officials say the pause on development across the Stono River will give them a chance to catch up with the infrastructure projects that were envisioned more than a decade ago to support Johns Island's rapid growth.
They agree with residents and some City Council members who say those projects, which mostly address traffic congestion, should have been done a long time ago. 
"There may have been better coordination with the county to prioritize these projects and keep them on the forefront of conversations to bring them to fruition," said Josh Martin, senior adviser to the mayor.
City Councilman Marvin Wagener, who represents Johns Island, said there's plenty of blame to go around, but what's important is correcting the problems.
"The city, the county, the state have not kept up the infrastructure," he said. "I've never been a fan of moratoriums, but sometimes they absolutely have to happen."
Planning manager Christopher Morgan said the holdup with the projects has been finding the funds and establishing a path forward with the county.
However, some are skeptical that the moratorium is really necessary to achieve those goals.
Councilman Bill Moody heard about the proposal Thursday afternoon and was critical of the idea.
"Moratoriums are another word for bad leadership," he said. "That's your job, to get this planning done. It should have already been done. Putting a moratorium there for six months is not going to solve anything."
Best-laid plans
The Johns Island Community Plan adopted in 2007 was to be the city's blueprint for accommodating future housing developments in what has historically been a rural community with scarce infrastructure.
The 46-page document established Johns Island-specific zoning codes to ensure developments fit the island's character. It called for a new grid system of secondary streets so local residents could move between neighborhoods without having to clog up the island's primary roads, most of which still have only two lanes.
The plan also envisioned new parks, sidewalks and a new fire station.
The concept heavily relied on the county's plans to widen the capacity of Maybank Highway with a "pitchfork" design to keep motorists from backing up at key intersections.
Right now, the county is in the second phase of the three-part plan. It is adding another inbound lane between the Paul J. Gelgotis Bridge from James Island and the intersection with River Road.
Most of the plan's other ideas haven't been realized. Meanwhile, developments are going up and traffic is piling up.
That's why a group of residents, the Johns Island Community Association, petitioned the city for help. Many of its leaders have met with city planning staff and the mayor over the past six months. 
They learned this week that the moratorium was on City Council's upcoming agenda, according to Brad DeVos, one of the group's founders.
He said the proposed moratorium signals that the administration is taking their concerns seriously, but he's cautious about what difference the moratorium might make.
"To be honest, the track record's not very good," he said. "But the conversations we've been having over the past six months have gotten better and better, and they're much more in tune with our concerns, and this is a big step. So we want to at least give them that before we start doubting this again."
What about James Island?
After a backlash from James Island residents last year, the city halted new apartment projects for six months to slow down growth, particularly along Folly Road.
The goals were ambitious. Tecklenburg pitched that moratorium as a way get the city's zoning codes more in-line with the island's suburban character. City Council supported it, but several council members said they wanted to be sure the time would be spent collaborating with other James Island jurisdictions on a comprehensive plan for future developments.
What resulted was a new zoning measure called the Folly Road Overlay, which was relatively narrow in scope. 
It was meant to match new zoning passed in 2014 by the town of James Island, Folly Beach and Charleston County for their portions of Folly Road. For most properties along the commercial corridor in the city's jurisdiction, it lowers the allowed residential density from 26.4 units to eight units per acre.
There were no new development rules established for the rest of the island.
Martin said the city focused on Folly Road because that was the main area of concern for residents.
"While we didn't do a master plan per se for James Island, we did do planning activities around the Folly Road Overlay that produced zoning that is respectful and calibrated for James Island," he said.
That island's moratorium only covered commercially zoned properties and very large developments. Morgan said Thursday that at the time it was proposed, the city didn't have any applications for new apartments, and none have been proposed since it expired. 
The city issued 119 new building permits for housing developments on the island last year, 80 fewer than in 2016. 
"The goal of the moratorium should have looked further into the residential communities," said Jason Crowley, the communities and transportation program director with the Coastal Conservation League. "They needed to see how neighborhoods connect or don't connect, looking at the roads, the drainage systems, then how you can improve that."
Martin said the city does have a drainage study in the works on James Island, but it's not exactly a coordinated effort with the town or the county.
Clear-cut goals needed
Crowley said he's hesitant to support another moratorium on Johns Island, but if it's approved, he thinks City Council should establish clear-cut goals.
"There needs to be a timeline showing what the deliverables will be throughout this process," he said. "Otherwise, you are getting people's hopes up with no results."
DeVos said Johns Island residents realize what needs to be done. 
"The moratorium solves nothing at all, really," he said. "We need a long-term, very specific plan moving forward."
Martin said the city shares that objective.