Charleston Black Lives Matter leader Muhiyidin d'Baha, whose legal name is Muhiyidin Elamin Moye, was arrested Wednesday after he attempted to snatch a large Confederate battle flag from a protester in downtown.
Moye, 31, was charged with disorderly conduct and malicious injury to real property, according to jail records.
The incident was captured on video that shows Moye running and taking a flying leap across yellow police tape in his bid to grab the flag.
Showing Up For Racial Justice in Charleston has organized an online donation site to raise $2,000 for Moye's bail.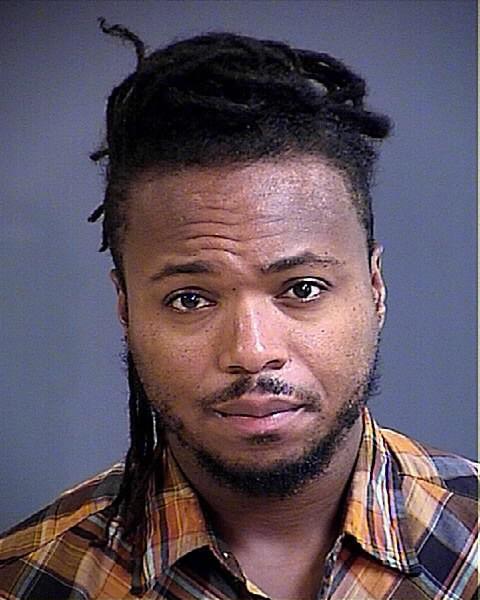 The protest occurred outside near the Sottile Theater at the College of Charleston where Bree Newsome is speaking about social justice and activism at an event titled "Tearing Hatred from the Sky."
Newsome, an activist and filmmaker, was arrested after she climbed a flagpole in June 2015 to remove a Confederate battle flag from a monument outside the Statehouse in Columbia. 
Following the event's announcement, the South Carolina Secessionist Party called for it to be canceled. On Sunday they relocated their weekly Confederate flag-flying rally from the Battery to the college campus.
Since September 2015, a member of the party has waved the flag at White Point Garden every weekend for several hours.
Moye also was charged with disorderly conduct in July after he disrupted a North Charleston City Council committee meeting. He was found guilty in his absence in August by North Charleston Municipal Judge Thad Doughty and forfeited $232 bail.
He and other BLM members went to City Hall to speak at the Public Safety Committee meeting to renew their demands for a citizens' review board with subpoena powers and community oversight over the police department.
They signed up to speak, but at committee meetings, input is allowed only on agenda items or committee business. The review board was not on the agenda. Before the meeting, committee Chairman Bob King told him he would not be allowed to speak.
At the end of the meeting, Moye stood to speak and continued to talk, despite being gaveled down by King, until he was forcefully removed from the meeting by several police officers.