What once started as a way to feed 75 needy families out of a parking lot for Thanksgiving has now expanded to serving more than 3,000 families out of the Charleston Area Convention Center. 
On Tuesday morning, many Charleston area residents continued their annual tradition of assembling and distributing meal boxes to families throughout the tri-county area for the holiday. 
Though there were a few first timers, the room was packed full of veteran children and adult volunteers all deeply focused on putting together meal boxes under the banner of the Charleston Basket Brigade. 
"It's really the community feeding and servicing each other," said Pam Hartley, co-founder of the Charleston Basket Brigade. 
Led and founded by Hartley and Michelle Scarafile, the nonprofit started back in 2008 in the parking lot of Carolina One Real Estate. Since then, the event has grown with more community partners, and more families being served.
"It's such a gift to have the spirit of giving alive in Charleston," Hartley said.
Since its creation, the organization has raised more than $700,000, all of which is used to feed families. Some of the group's community partners include Carolina One Real Estate, Piggly Wiggly, the Coast Guard and Oceanside Collegiate Academy. 
Jayne Pardus, who is close friends with Scarafile, said she and her family have been participating in the event since it's Carolina One parking lot days. 
"My kids, they love it," she said. 
Pardus said it's exciting to see how much the event has grown since its creation. And she hopes to teach her children the value and necessity of giving through participating. 
Pardus' 16-year old daughter Kaila Pardus, who also spent a part of the morning in a Piggly Wiggly mascot costume, said she looks forward to the event every year. 
"There's no way I would miss this for the world," she said.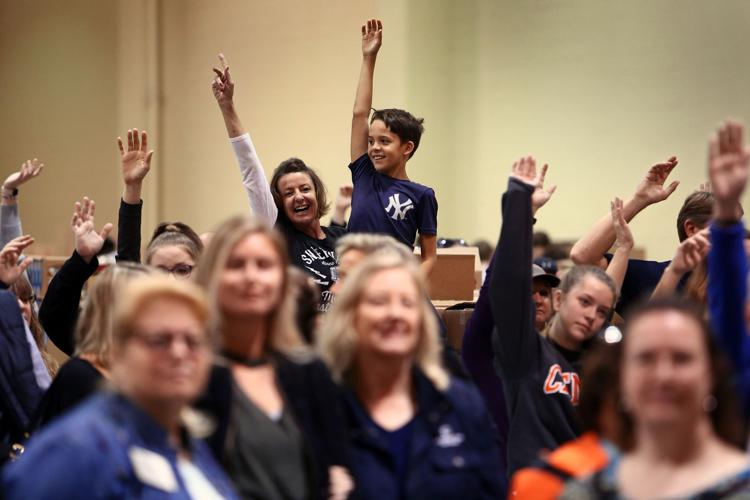 Within each meal box is enough to food to feed a family for Thanksgiving. The boxes include a turkey, stuffing, green beans and various other Thanksgiving dinner items. 
Through their partnerships, they've been able to locate needy families, acquire discounted groceries and raise money and volunteers. 
In the future, they're hoping to partner with a company that can supply buses, Harley said. 
First-time participant Shanayra Ulmer said what she's looking forward to the most is seeing the families' reactions when the food is delivered. After volunteers finished packing the boxes at the convention center, they spread out to deliver boxes to needy families. 
"I'm excited about seeing those smiling faces and things like that," she said. "You never know, one day it could be you."