A Charleston-based artist says a "Southern Charm" star plagiarized his artwork for a mural painted at Shem Creek restaurant Saltwater Cowboys. 
Naomie Olindo, the "Southern Charm" star in question, painted the mural — which features a contemporary depiction of a palmetto tree, the Arthur Ravenel Jr. Bridge and a lighthouse — for her family, which owns the Mount Pleasant restaurant.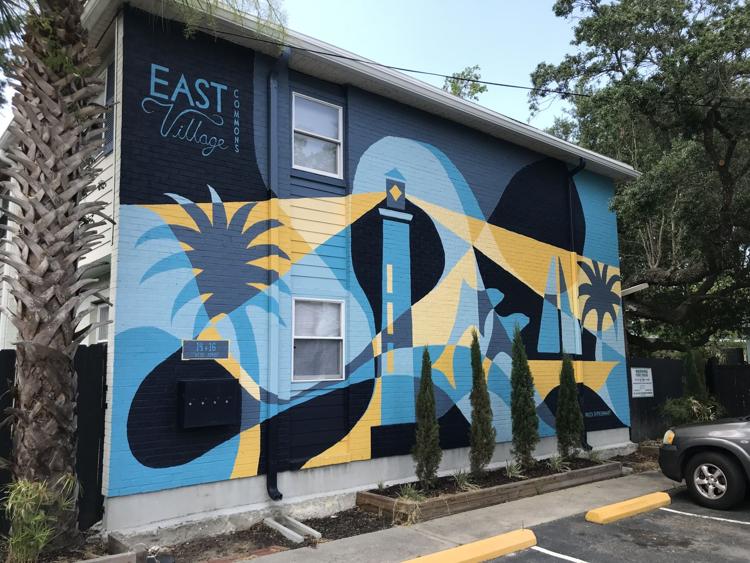 Olindo told both artist Nick Rypkema and The Post and Courier that the manager of the restaurant provided her with a printed photo of one of Rypkema's murals that features the same subject matter and color palette, which she then used as inspiration to create the piece at Saltwater Cowboys' outside deck. She also said she was not paid for the mural. 
"I very openly used inspiration from his mural, having no idea who painted it or that it would ever even be an issue," Olindo said. "I never claimed it was all my work because I see nothing wrong with it. Art is inspired from art all the time." 
Saltwater Cowboys did not respond to The Post and Courier's attempts to reach out for comment.
From Rypkema's perspective it was blatant plagiarism of art he was paid $10,000 to create on the exterior facades of rental property buildings on Amherst and Reid streets in downtown Charleston.
"I was kind of in disbelief," Rypkema said of when he first saw the image of Olindo's mural, which was posted on Instagram. "It was extremely obvious it was derivative of my work, and she gave no credit at all."
In Instagram direct messages between the two Sunday evening, Rypkema said Olindo offered to give him credit as inspiration for the mural, to which he responded that a social media shout-out would not be fair compensation for replicating his artwork.
He said she retorted by saying that nobody cared about his "3 followers" on Instagram and threatened to take legal action against him if he didn't stop tagging Bravo and "Southern Charm" in his posts. 
"That struck me the wrong way," Rypkema said. "Just because somebody has a lot more followers and has money, they shouldn't be able to bully artists who are a lot smaller."
Olindo said she never purposefully set out to harm anyone or take away from a local artist's revenue. As of Wednesday afternoon, she said the mural had been painted over, with plans to replace it with a new original piece that she would create with some help from her friends. 
"I respect the hell out of local artists and would never intentionally upset anyone," she said.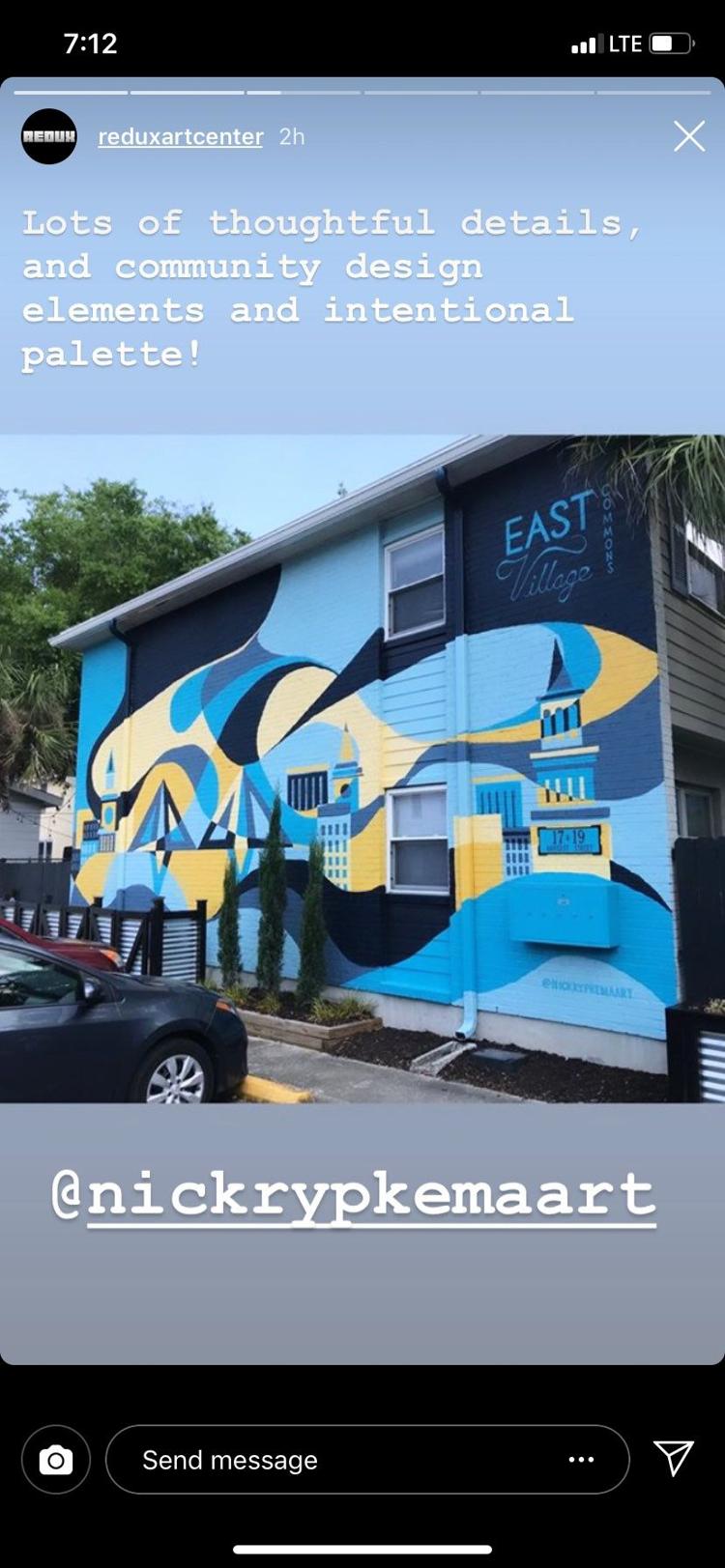 Cara Leepson, executive director of the Charleston arts organization Redux Contemporary Art Center, chimed in on the social media conversation, supporting Rypkema.
Leepson told The Post and Courier that, from her perspective, the resemblance of Olindo's work to Rypkema's was "uncanny" regarding the specific design elements.
"That's not inspiration. That's copying," she said.
Leepson said part of Redux's mission is to educate the community on contemporary art best practices, which is why she took a stand in this case. 
"I'm not for punishing people or shaming people, but I do think it's important for people to know you can't do this," Leepson said. "You should give artists the same respect as you would a contractor to build a bar or the staff of your restaurant. They deserve that recognition and payment."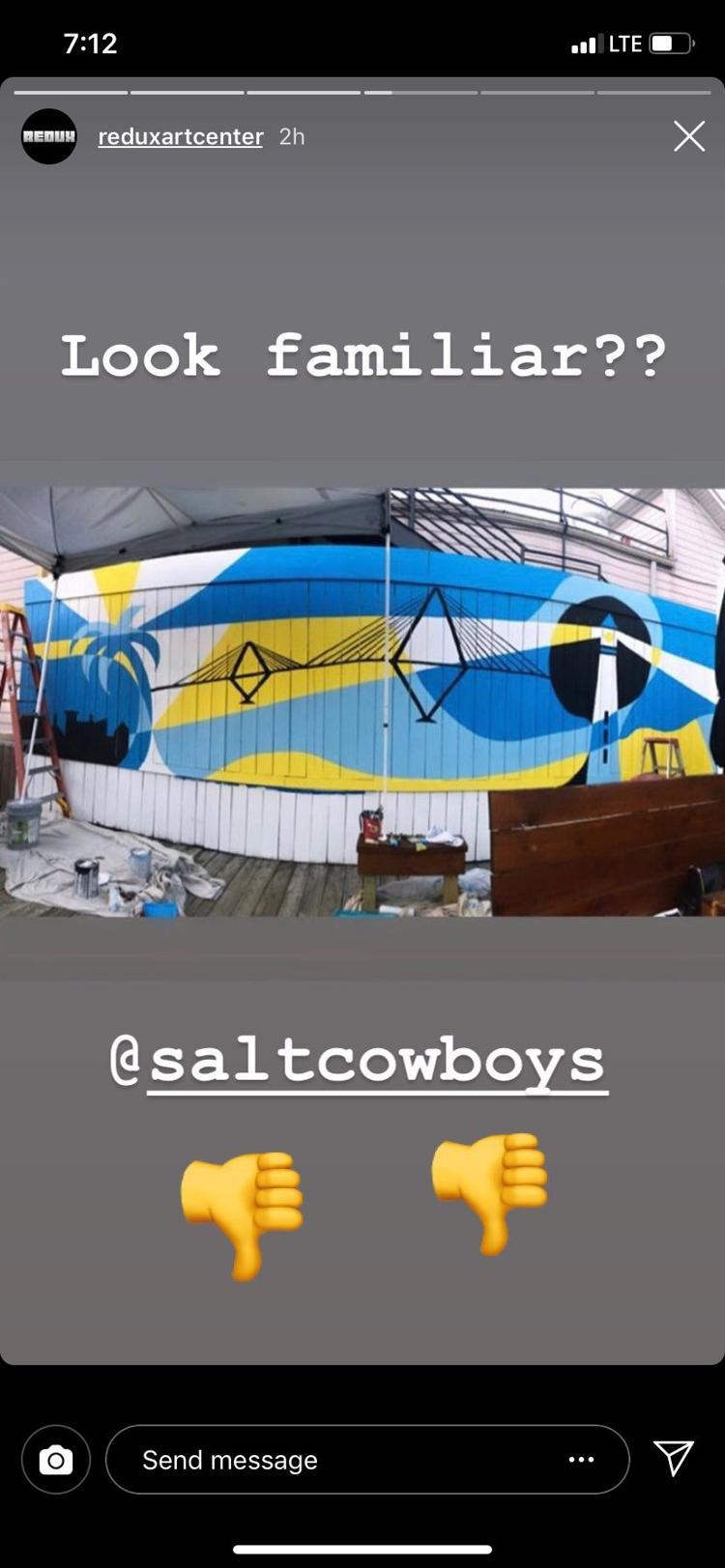 Leepson said she got Rypkema in touch with lawyers Monday in case he wanted to pursue legal action. 
Since Olindo has painted over the mural as of Wednesday, Rypkema said he was satisfied with this response and would not pursue any legal action. 
"I think that's a nice acknowledgment that they were in the wrong for sure," Leepson said of painting over the mural. "Do that if you want, but at the same time, you're not utilizing the talent that exists in our community. The best thing to do, I think, would be to hire an actual artist to create something unique and individual. But that's ultimately up to the restaurant." 
Leepson said an online resource called Wage For Work can help businesses calculate what they should pay an artist for a commissioned project based on their annual budgets and the extent of the project. 
"I will say it was very cool to see the art community come together, and not just locally," Rypkema said. "People reached out from all over the country to share their support."