Just before major Hurricane Michael made landfall upon northwest Florida, Gov. Henry McMaster on Wednesday extended the State of Emergency status that was originally ordered during Hurricane Florence.
Michael crashed ashore as a potentially catastrophic Category 4 hurricane, with maximum-sustained winds of 155 mph, early Wednesday afternoon along the Florida Panhandle.
The extension of the order comes in anticipation of tropical-storm conditions expected to affect the Palmetto State beginning later Wednesday in addition to continued flooding from Florence in the northeast portion of the state.
Forecasters predict Hurricane Michael will weaken to a tropical storm after landfall.
Meanwhile, ahead of Michael likely careening northeast as predicted, tri-county and school officials outlined on Wednesday emergency operations procedures as well as updates on area school closings.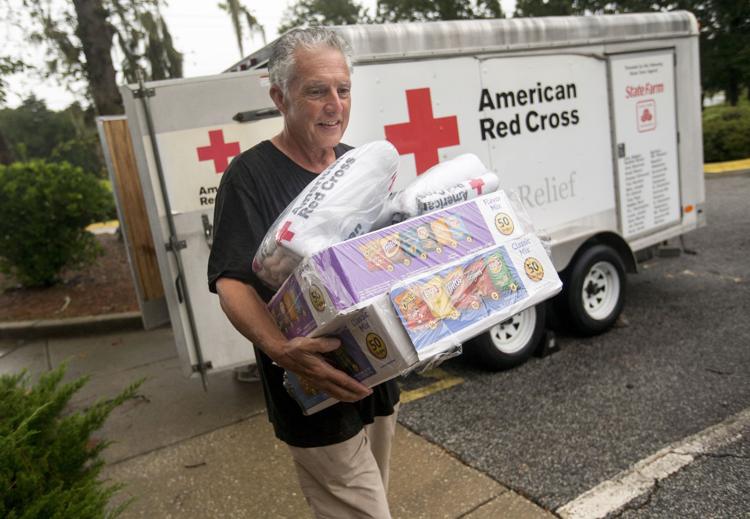 At a news conference at the Charleston County Emergency Operations Center, authorities said a shelter, located at 3765 Leeds Ave. in North Charleston, had been opened and would remain active, including pick-up services, through 7 p.m. Wednesday. Charleston County government offices and services, including the libraries and judicial complex, will close Thursday, said Jason Patno, director of the Charleston County Emergency Management Division.
Convenience centers will also be closed, and recycling pick-up will resume Friday, he said.
Berkeley and Dorchester county government offices will also be closed Thursday.
In Columbia, organizers announced they would close the South Carolina State Fair on Thursday before resuming operations on Friday.
Schools and facilities across the following districts will be closed Thursday: Charleston County School District, Dorchester School districts two and four and Berkeley County School District. Determinations about whether to resume operations Friday would be made at some point Thursday, officials said at the news conference.
"The idea here is we want to make sure our kids are safe," said Chris Staubes, CCSD boad member, "so we're doing this out an abundance of caution."
The College of Charleston, Charleston Southern University and Trident Technical College canceled classes for Thursday and planned to reopen on Friday. Beyond the Lowcountry, University of South Carolina, K-12 public schools in Columbia and Clemson University have also canceled classes for Thursday.
Coastal Carolina University officials said they were continuing to monitor Michael's progress but that the campus would not shut down on Thursday.
South Carolina will likely be up against tropical storm conditions Wednesday afternoon into Thursday with flooding rains and winds, or gusts up to hurricane force of 74 mph. Dangerous surf and coastal flooding is forecast.
The city of Charleston also announced Wednesday it would be closed for business Thursday and that it would expect to reopen Friday. 
City crews were at work Wednesday pre-positioning pumps and ensuring local ditches and drains were clear of debris, officials said. The Parks Department was also at work lowering water levels in Colonial Lake and Lake Dotterer.
City officials also are opening the South Carolina Aquarium parking garage, located near 100 Aquarium Wharf, free of charge during the storm.
"We know that Hurricane Michael is going to mean high winds in parts of the state and will bring the possibility of dangerous flash flooding along with it," McMaster said in a prepared statement. "Team South Carolina is ready, but every South Carolinian needs to prepared to drive safely and listen to local officials' direction regarding personal preparedness and potential impact to your areas."
The stormy conditions could be strong enough, officials advised, to snap trees, damage houses and make driving perilous. Isolated tornadoes are also possible, particularly in areas closer to the coast. 
Winds closer to Charleston were expected to come in up to 40 mph, with likely higher gusts as strong as 50 mph.
"So we're prepared, and we'll continue to monitor (the storm) closely," McMaster said in a news conference Wednesday. "Please pray for those people in Florida."
Jamie Lovegrove and Gregory Yee contributed to this report.