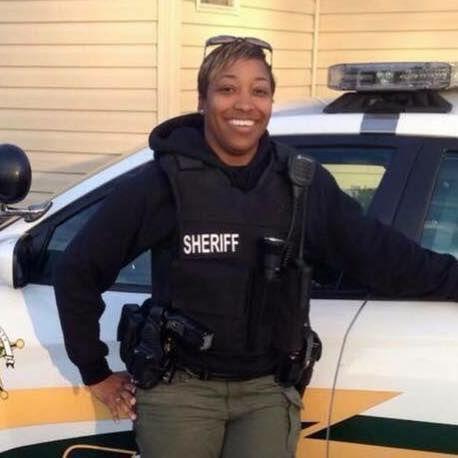 For nearly three weeks, there was hope as Farrah Turner fought for life. 
The Florence County Sheriff's Office investigator was one of seven law enforcement officers shot during an Oct. 3 confrontation that also claimed the life of Florence Police Sgt. Terrence Carraway and wounded five others. She endured at least eight surgeries, including the amputation of both her feet. 
But on Monday, Turner, 36, succumbed to her injuries.
Condolences poured in from around South Carolina and the nation as Turner's family, and a law enforcement community already coping with Carraway's death, began to grapple with her loss.
Awaiting with @NCFDSC to honor the life and service of Officer Farrah Turner. pic.twitter.com/9sLm7kpxXO

— North Charleston (@NorthCharleston) October 23, 2018
Our deepest sympathies to Florence County Sheriff's Office, S.C., and the family of Investigator Farrah Turner, who suffered fatal gunshot wounds during a home interview of a suspect. She was transported to the hospital where she succumbed to her wounds 3 weeks later. #LODD #EOW pic.twitter.com/tyG4PUAyZL

— ATF HQ (@ATFHQ) October 23, 2018
For Terry Gainey, president of the S.C. Fraternal Order of Police, the death of another officer is an unthinkable tragedy.  
"Your heart just sinks," Gainey said, recalling getting the news of Turner's passing. "This has been a day by day by day battle since Oct. 3. We had hoped so much that she had gotten better. Each day was a little more progress, and then you get kicked in the teeth."
On Tuesday, condolences came in from around the state with law enforcement agencies pitching in to escort Turner's body from Medical University Hospital in Charleston, where an autopsy had been conducted.
The procession left the hospital around 3:25 p.m. and made its way toward Lake City.
Messages of support using the hashtag #FightFarrahFight appeared across social media platforms and on the GoFundMe page set up to help cover her medical expenses. On Tuesday, a new hashtag appeared: #FlyFarrahFly.
The Richland County Sheriff's Department, which is investigating the shooting, has upgraded criminal charges against the suspect: 74-year-old Frederick Hopkins. He now faces two counts of murder and five counts of attempted murder, according to the department.
The Oct. 3 ambush was one of the worst officer-involved shootings since five policemen were killed in Dallas in 2016.
Since the Oct. 3 incident, three law enforcement officers have been killed by gunfire in the U.S., according to the Officer Down Memorial Page, a nonprofit organization that tracks officer deaths. 
N.C. Highway Patrol Trooper Kevin Keith Conner was fatally shot while conducting a traffic stop for a speeding vehicle on Oct. 17. In Georgia, Gwinnett County Police Officer Antwan DeArvis Toney was fatally shot while he and another officer investigated a suspicious vehicle. 
Turner was the third.