Pastor Thomas Ravenell paused for a moment, preparing for words now all too familiar to him.
The community activist stood at the center of a mourning crowd two days before Christmas. They had gathered outside the North Charleston home where 29-year-old Odessa Fleming-Williams was fatally shot while checking on her children three nights before — the two windows facing the street bore a pair of jagged holes where the bullets that claimed the young mother's life punched through.
"Look around us," Ravenell said. "Another senseless shooting right here in our community."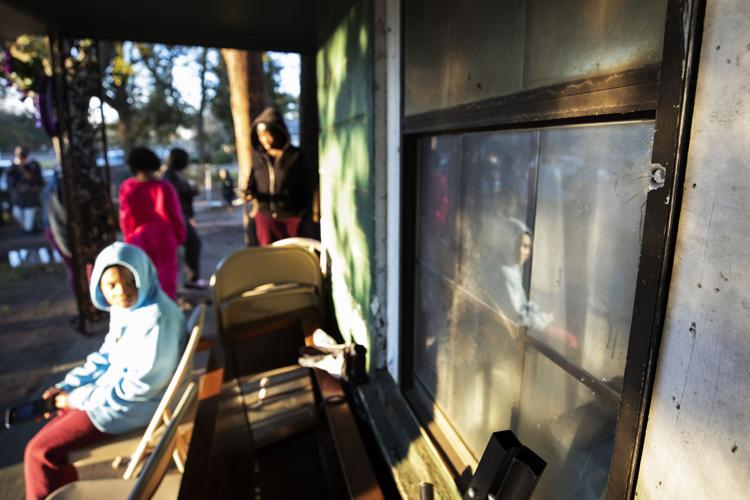 But behind their grief, activists like Ravenell could find some cause for optimism: In 2018, the tri-county area saw a sharp decline of people killed during acts of violence.
After two years of record-setting homicide rates, North Charleston experienced 22 killings in 2018 — the least since 2015 when there were 21 homicides. With 58 homicides, the tri-county had its least deadly year since 2013, when there were 49.
Community activists and law enforcement officials say the improved numbers are a testament to hard work put into building trust. That effort focused on combating the so-called "no snitching" mentality that has persisted in certain neighborhoods for decades. 
But deaths like Fleming-Williams' are a reminder that despite statistical improvements, their work is far from done.
"There is no celebrating for us because one murder is still too much," Ravenell said. "That's the core of the issue." 
'All about relationships' 
A Post and Courier homicide database shows 2018 began more slowly than 2017, when the first deadly shooting occurred only one hour into the year in North Charleston. The first homicide of 2018 occurred Jan. 17.
Incidents continued at a pace far below the previous year, when North Charleston set an all-time record of 35 homicides and the tri-county saw 73.
The tri-county's deadliest incident of 2018 occurred on March 10, when 22-year-old Lovequawn Scott allegedly killed his grandparents, aunt and cousin at a home in unincorporated Charleston County near Mount Pleasant. The quadruple homicide sent shockwaves through the community.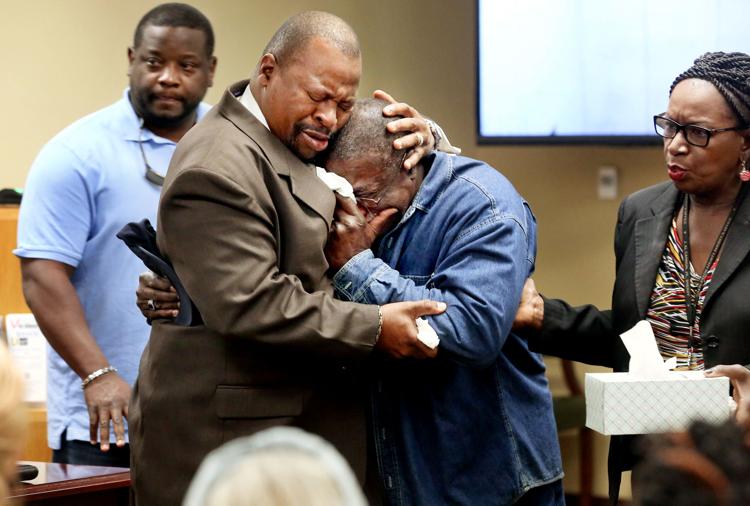 "A precious soul and wonderful person is no longer with us," Wando High School principal Sherry Eppelsheimer said at the time in a statement regarding the teenage cousin and her family. "We were so fortunate to have Faith Manigault as part of our school community, and now we are struggling with the fact that we will not see her in our hallways and classrooms, or on the basketball court, anymore."
The summer months saw violence pick up somewhat, with five people killed in North Charleston over a five-day period, a series of shootings in James Island's Greenhill Road area, and an argument among teenagers at a West Ashley basketball court that left two dead and another charged with murder. 
The final months of 2018 also saw an uptick in violence: Fifteen of the tri-county's 58 homicides have occurred since November, according to a Post and Courier database.
Amid the violence, local officials also grappled with drunken and drugged driving crashes that authorities stated are claiming lives at roughly twice the national average. These incidents came to the forefront in July after an accused drugged driver fatally struck 11-year-old Danish tourist Selma Akguel in downtown Charleston.
After each incident, activists, residents and law enforcement rallied to try to find ways to stem the bloodshed. 
For Charleston Police Chief Luther Reynolds, who took over the department in April, positive signs abound.
"Thankfully, in almost every category, we're underrepresented in crime," Reynolds said. "Of course, we want to keep it that way.
"It's all about relationships," he added. "It's all about working together, so a lot of what we do is leveraging our relationships with our communities and the folks we work with every day."
The chief said community outrage in the wake of incidents such as the West Ashley double homicide involving teens helped drive a strong sense that something needed to be done.
"When you look at mothers who've lost a child to violence, it's pretty sobering, it's pretty humbling, and it's something that I'll never get used to," Reynolds said. "There's nothing like (having) a mother who's lost a child look you in the eyes and say this never should have happened."
'We have to be consistent'
Amid falling homicide rates, local law enforcement agencies explored new strategies and resurrected old models meant to increase involvement and cooperation from residents. Agencies hoped to build trust by incorporating their officers deeper into the communities they serve. 
North Charleston Police Chief Reggie Burgess, who assumed his position in January 2018, said officers attend neighborhood association meetings regularly, but under his tenure they started bringing crime statistics and incident breakdowns specific to the neighborhood.
"Now they're showing the community the crimes that have occurred in the last month," Burgess said. "Give them what's going on in their neighborhood. Let them know the street, the time, everything. When we share the information with the community, they may have information that they can share."
Burgess and other officers also took to the streets with regular Stop the Violence marches, which have transitioned into a model known as Rebuilding Every Community Around Peace, or RECAP — a national program that first took root in Boston during the 1990s.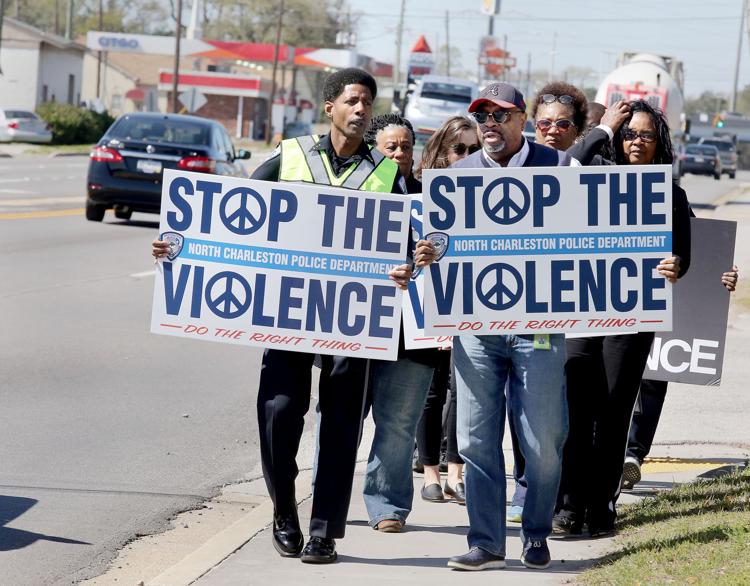 Under the RECAP model, community members march in the Dorchester-Waylyn, Dorchester Terrace and Chicora-Cherokee neighborhoods on Friday and Saturday nights, when police crime analysts have concluded that crime suppression is most needed, Burgess said.  
"We have to be consistent and constant with our law enforcement initiatives," he said. "We can't just go into a neighborhood one month, do things and then they don't see us for another four or five months."
Marching for justice
For Ravenell and elected officials such as Charleston County Councilman Teddie Pryor, stopping the violence begins on the streets. 
In addition to peace walks and other events, the pastor and others have taken to social media to spread the message through the group Parents Against Gun Violence Charleston.
Drumming up a strong base of community support is key because working with law enforcement is not the whole solution, Ravenell said.
"Cleaning up the neighborhood doesn't mean flooding it with police," he said. "We can no longer wait on the police to do all this work."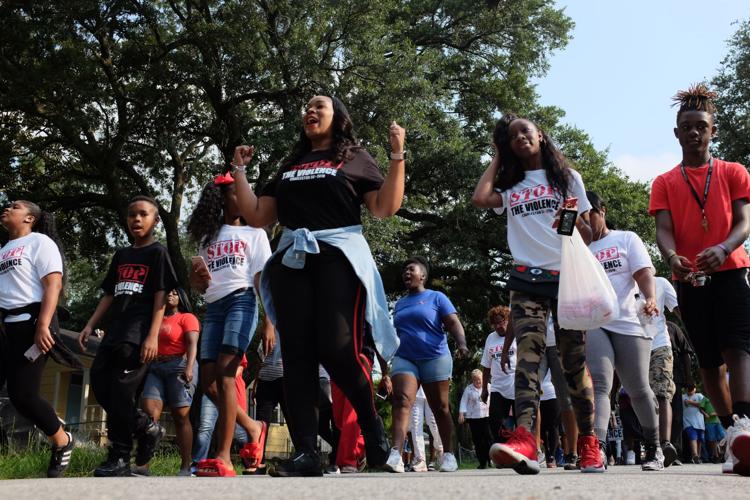 Pryor, who has been involved in community-building efforts in North Charleston, said he noticed more involvement from residents in 2018 than in previous years.
"When you get community buy-in, that puts more eyes on the street," he said. "You've got people out on their porches. Now, when they see something, they say something."
In the coming year, Pryor said he plans to work with others to provide more resources for youth, particularly during after-school hours and over the summer. 
"The idle mind is the devil's workshop," the councilman said. "These kids, they choose the street because they have nothing else to do."
Meanwhile, both Pryor and Ravenell expect to find themselves at more marches like the one held for Fleming-Williams in the days before Christmas.
Seeing the pain felt by that family and others is powerful motivation to keep up the fight, Ravenell said.
As the group marched around the streets of North Charleston's Liberty Hill neighborhood where the shooting occurred, residents came out of their homes to voice their support and to join in.
"Justice for Precious," they chanted, using Fleming-Williams' nickname. 
Among them, dressed in pink, her 8-year-old daughter Dollaysia chanted something different:
"Justice for momma."