When it floods, water doesn't flow along city or county lines. 
Yet the 30 local governments in the Charleston region have their own stormwater policies and drainage systems that can vary widely between jurisdictions, even though they're often dealing with the same water from the same storms, sometimes in the same general areas.
Even in places like James Island, where there's a patchwork of municipalities, they don't always communicate about development decisions or drainage maintenance that could affect the flow of water throughout the entire landscape. 
That alone is one of the culprits of the Lowcountry's escalating flooding problems.
Amid mounting public pressure, some efforts are emerging now to foster more collaboration among governments on flooding issues. But some think it's time for Charleston-area leaders to consider an even more unified approach.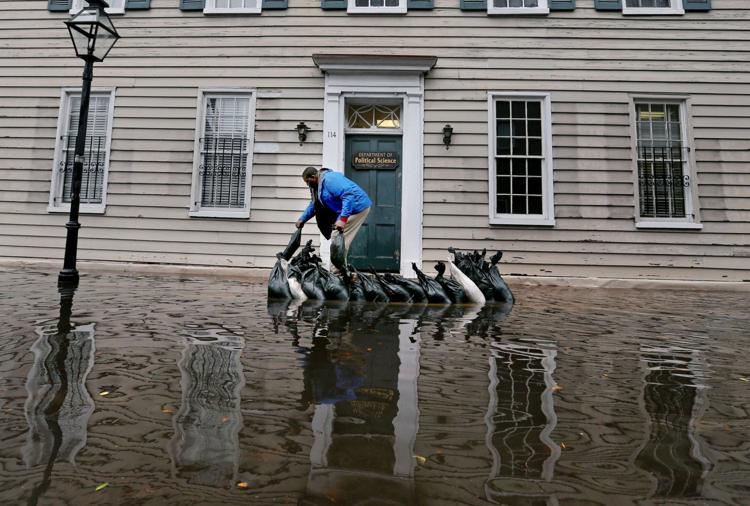 One idea is to form a regional authority to oversee drainage, in the same way the Charleston Area Regional Transportation Authority oversees public bus service throughout the region. It could manage infrastructure, plan for major investments and standardize how municipalities regulate stormwater, among other things.
While it would mark a drastic change in South Carolina, the concept has worked in other places in the United States and around the globe.
When a delegation of Charleston leaders went to The Netherlands earlier this month, one of the things that impressed Mayor John Tecklenburg was the system of "water boards," local elected bodies that represent each watershed. They include multiple municipalities but operate as the higher authority when dealing with water. 
A watershed is a piece of land where the network of streams and rivers feed to one outlet, so anything that changes the flow of water can have impacts elsewhere in that same system. For instance, say a cluster of shopping centers are built in the northern part of a watershed with only one small stormwater pond. In a major rainstorm, excess water would spill into the streets and eventually head downstream, potentially flooding another community farther south. 
In the United States, it's common for cities and counties to control pieces of one watershed. The problem emerges when there's no collective understanding of how it operates, which experts say is pretty common.
"From a water perspective, we are making decisions that have cascading impacts on other communities and other parts of a single community," said Josh Sawislak, a resilience expert with the Center for Urban and Environmental Solutions at Florida Atlantic University.
He said communities have to look beyond municipal boundary lines to get to the root of their flooding problems. 
"The more you can bring the money and the decision-making together, the more effective it's going to be," he said. "We've seen this with regional transportation authorities that have been fairly effective at building out and managing large transportation systems that, like the water, are regional."
Charleston's piecemeal approach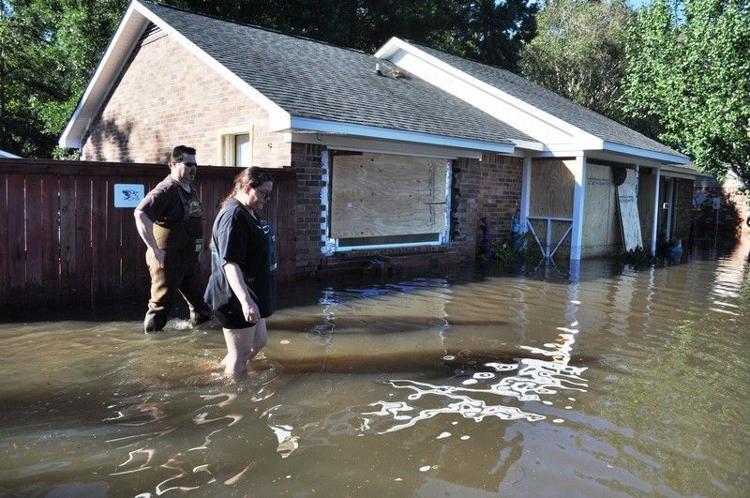 When large properties are developed, municipalities have to require that the projects include stormwater systems to handle their runoff on-site. As a result, a major portion of the region's drainage infrastructure has been implemented on a case-by-case basis with little regard to the overall watershed. 
In areas with multiple jurisdictions, the continued march of development has rendered many older drainage systems insufficient, but it's often difficult to sort out what exactly needs to be updated, which pipes and ditches need to be cleaned, and who's responsible for what.
Now, residents routinely line up in council meetings to complain about new developments flooding their properties that never flooded before, or neglected drainage systems that fill up and send water into their yards and garages.
And there's growing concern about how local governments will meet even greater challenges facing the region, such as rising seas and worsening storms. 
Earlier this year, a coalition of residents, historic preservationists and conservationists started the Fix Flooding First movement to pressure local leaders to collaborate on solutions.
Jason Crowley of the Coastal Conservation League, who helped form the group, said one of the goals was to stress that flooding is a regional problem even if it doesn't affect every single person living here.
"For example, if you live in West Ashley and you don't experience flooding, you might work downtown and can't get to work if it's flooding," he said. "What is happening to us is a regional issue and we need to be working together."
State legislators are starting to say the same thing.
The new Countywide Intergovernmental Flood Prevention Task Force Committee, comprised primarily of state senators and representatives, was formed a few weeks ago to work with residential groups to resolve minor drainage problems in their neighborhoods.
While S.C. Sen. Sandy Senn, the chair of the group, has stressed that it's not set up to tackle the larger flooding challenges facing the region, other members said those tasks shouldn't be left to municipalities alone.
"Flooding, I think, is a problem for all of us, whether we have big flooding in our districts or not," said S.C. Rep. Leon Stavrinakis. "Part of that problem is that lack of thoughtfulness in planning regionally."
Could a regional approach work here?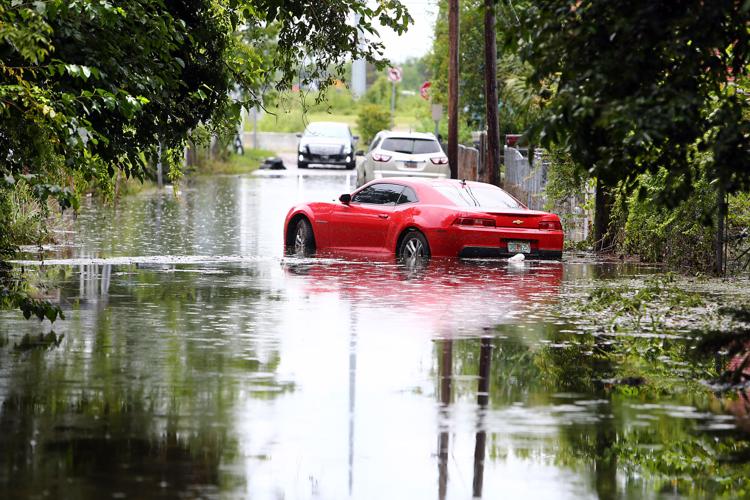 It's not just small countries in Europe seeing success with watershed-level authorities. In Eastern Texas, The Harris County Flood Control District helps steer land-use decisions and manages flood control infrastructure across municipalities. 
The district spans more than 1,700 square miles and includes about 30 municipalities, including the city of Houston. The Harris County Commissioners Court appoints the executive director, which oversees the district staff of about 380 people.
While it doesn't have sole jurisdiction over drainage infrastructure or floodplain decisions, Steve Fitzgerald, the district's chief engineer, said the structure offers the community several advantages. 
On the planning level, it has issued watershed master plans and design manuals to help municipalities implement consistent standards for new developments.
"A city or a county can't do that on their own and get everybody involved," he said. "If you have an overarching district like ours, it's a lot easier."
Fitzgerald said it's also made it easier for the region to coordinate with federal agencies such as the Army Corps of Engineers, and to provide any local matching funds required. With Federal Emergency Management Agency grants, the district has coordinated more than 3,000 buyouts of flood-prone properties since 1989. 
"It's a federal bureaucracy and there's lots of twists and turns. It's hard to figure that out, so it's good to have someone like us who's been doing it a long time across jurisdictions," he said.
Sawislak, the resilience expert, said these regional entities are the strongest when they have the power to make regulatory decisions and to raise funds, which is probably the trickiest part about creating them. 
"The ability to make decisions about land use — it gets very political. That is an authority that most municipalities and other political subdivisions don't want to cede to anyone," he said. 
Charleston City Councilman Mike Seekings said politics is often what holds up decisions on the municipal level, so dealing with drainage regionally might be a way to distill some of that tension out of the process.
"I think the further you take it away from the people who are squabbling internally and put it on a regional level, the closer you get to the financing ability and more you take the squabble out of it," he said.
He added that's why the CARTA board, which he chairs, is a structure worth modeling. 
"We look regionally at the transportation issues. We need to do the exact same thing with water. I think it's a great idea and I wholly endorse it," he said.
Ross Appel, a land-use attorney and member of the Charleston Board of Zoning Appeals, said regional bodies without enough regulatory power often can't do much more than conduct studies and ask municipalities to consider them.
"The problem with regional planning in South Carolina in general is that it has no teeth," he said.
But in Southeastern Florida, one of the places most threatened by sea level rise and hurricanes, cities and counties are collaborating voluntarily through the South Florida Regional Climate Change Compact to explore best practices for resilient infrastructure and land-use decisions. 
Lee Feldman, city manager of Fort Lauderdale, said the compact shows it's possible for cities to maintain their control of land-use decisions and still find common ground with other municipalities.
"I think the fact that it's voluntary adds to its strength. You join the compact and you follow the framework because you know that these are decisions that will help every community," he said.
Regardless, Sawislak said coastal areas like Charleston need to seriously consider these options now before the effects of climate change get worse. 
"We're running out of time to just kind of fake it," he said.