Construction is underway in North Charleston for what Charleston's mass transit system expects will be a network of nearly two dozen new or "enhanced" park-and-ride lots, making it easier for people to commute by bus or carpool. 
Currently, CARTA's park-and-ride options are limited to seven locations where commuters use spaces in shopping center parking lots. The parking lots, which the transit system does not pay to use, are primarily pick-up and drop-off spots for express bus service.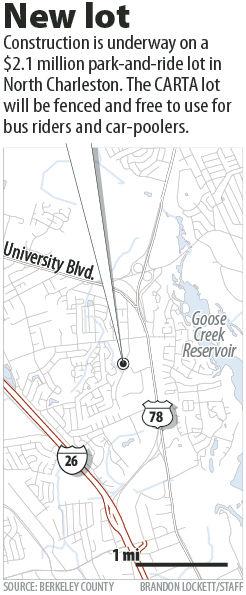 Charleston City Councilman Mike Seekings, chairman of the Charleston Area Regional Transportation Authority, said the new park-and-ride will be the first facility purchased by CARTA.
"We'd love to have as many as we can," he said. "You can't have two until you have one."
The lots are seen as one more piece of the puzzle to improving traffic and daily commutes for Charleston-area residents. Other pieces include the planned 23-mile Lowcountry Rapid Transit route from Summerville to Charleston, and the existing HOP shuttle system on the Charleston peninsula.
"One step at a time — we have to keep chipping away at it," Seekings said. "We're not there, we've never been there since 1670, but we're starting to have a transit system that gives people what they want."
The second planned park-and-ride will be at Mount Pleasant and King streets in Charleston's upper peninsula, where CARTA already owns land. That location is expected to be used for the Lowcountry Rapid Transit system and the HOP shuttle, and will provide a way to connect the two.
The $2.1 million price tag for the North Charleston park-and-ride, most of which was used to buy the undeveloped 5.5-acre property from a Kentucky company, is being paid with federal funds. It will have 289 parking spaces.
"It's very hard right now to find dirt, and dirt is expensive," Seekings said. "Up there along Rivers Avenue, that's a commercial corridor where land is very valuable."
The new park-and-ride lot is just off Rivers Avenue near Otranto Road, at Melnick and South Antler drives, and it's expected to open in June. It will replace parking that CARTA currently uses in a shared lot, where a Kmart used to be. The transit agency is losing access to that lot because its parking spots are needed by a company now operating there.
"There's most certainly a distinct advantage in owning the site, in terms of security and amenities," said Daniel Brock, a spokesman for CARTA. "It's going to be fenced and lighted, with bathrooms and bike facilities."
The lot will be free to use, and carpoolers may use it as well as bus-riders. It's located behind the Texas Roadhouse restaurant off Rivers Avenue.
"There are no immediate plans for additional sites, at the moment," Brock said.
The current CARTA park-and-ride locations are:
Two in North Charleston — Rivers Avenue and Festival Centre.
Two in Mount Pleasant — Walmart at Wando Crossing; Walmart at Oakland Plantation.
West Ashley — Citadel Mall.
James Island — Walmart on Folly Road.
Summerville — Dorchester Village Shopping Center.
"Many of the existing locations at shopping area parking lots are permitted by owner permission," said a park-and-ride study prepared for the Berkeley-Charleston-Dorchester Council of Governments. "While these options are convenient and affordable, they may not be secure in the event of revitalization or redevelopment."
In addition to the CARTA park-and-ride lots, the transit system uses a dozen TriCounty Link lots.
Future potential CARTA park-and-ride sites include an Interstate 26 rest area in Berkeley County that's no longer in use and is owned by the state, and a privately owned large parking lot at North Charleston Center near Aviation Avenue in North Charleston. That's according to an in-depth study conducted for CARTA.
Longer-term plans include multiple site owned by local governments, public agencies and private companies. Funding has not been identified for such plans.