Three Charleston City Council members are running for mayor, and this week the council voted to approve an audit of the mayor's office.
City Councilman Harry Griffin, who is among those running, called for the review Tuesday after he said he learned Mayor John Tecklenburg ordered business cards with his wife Sandy's contact information and the city seal on the back. Griffin called it a misappropriation of city money. 
"We're giving Ms. Tecklenburg some credibility here and an opportunity to mislead our residents with any sort of say-so she may have in our government when giving out this card," Griffin said.
"A non-elected, non-hired person has access to resources and means that no other resident has," he added. "She obtained that by a blatant abuse of power by her mayor-husband, and then to top it all off, he expended it back to the taxpayer."
City spokesman Jack O'Toole said the city ordered Tecklenburg business cards with only his contact information in July 2017 and they cost $152.06. The city ordered two-sided business cards in April with both his and his wife's contact information, which cost $162.63.
Both sides of the card bear the city logo. Underneath Sandy Tecklenburg's name is the title of "First Lady."
At Tuesday's meeting, Tecklenburg distributed a business card to each council member and said his wife serves in "an honorary position."
Tecklenburg read from the Bible and listed his wife's accomplishments in her service to the post-prison population looking to re-enter society.
Tecklenburg described his wife as a "one person social service agency." Tecklenburg said he welcomed the audit. The vote was unanimous.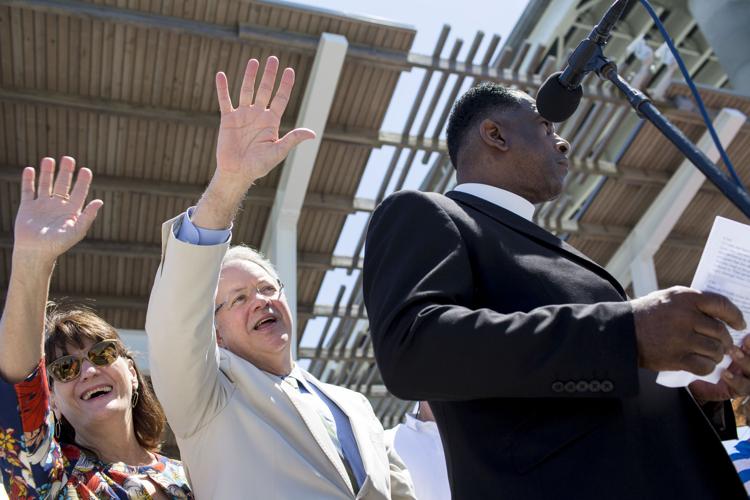 Councilman Gary White, who also is running for mayor, admonished Tecklenburg for allowing his wife to drive his city-issued car. Councilman Mike Seekings, another candidate, offered no specific criticism and said he favored letting the process work itself out. 
City Attorney Susan Herdina said Tecklenburg's actions did not violate state or local law and is not considered an ethical violation. Herdina said she reviewed state law and could not find anything that covered the use of business cards by a spouse of an elected official. 
Herdina said she specifically studied a provision in which public officials have authority to use public materials if they are incidental in nature. Since the price to include Sandy Tecklenburg's name on the business card did not exceed the $50 limit, she said it did not violate ethics limitations.
Herdina said she also reviewed the use of the city seal on the business card and found an outdated city ordinance that didn't address who may use the city seal.
While the differential in the price of the business cards is $10.57, Herdina said it's unclear what the audit will cost. 
A core staff of four city employees, including the city's Internal Auditor Robert Majernik, Chief Financial Officer Amy Wharton and Herdina, will work on the audit. Herdina said additional staff from the finance and legal departments may help.
Herdina said the review will go back to 2016 and include purchases made by the mayor's office, any reimbursed expenses Tecklenburg has received, purchase orders through the city's procurement department or through purchasing cards. 
During Tuesday's nearly hour-long discussion, Tecklenburg told City Council his wife has driven his city-issued car, and they have reimbursed the city for any travel expenses incurred when he brought his wife on trips. Herdina said legal staff will include that in its review.
Herdina said she believes it is realistic to meet the 60-day deadline imposed by the city.
"We're going to be devoting resources to this," she said. "We're taking this very seriously."
Former Councilman Maurice Washington also said he plans to run for mayor, along with residents Will Freeman and Sheri Irwin. The election is Nov. 5.