The westbound lanes of the James B. Edwards Bridge over the Wando River on Interstate 526 were closed Monday 14th after a weekly inspection discovered a rupture in a corroding area of one of eight main cables that support it.
Can the bridge be saved? If only the answer were a simple yes or no.
Here's a primer to help you understand.
What happens when support cables holding up a bridge start to corrode?
The rusting keeps getting worse, according to NACE International, a worldwide association of corrosion engineers.
Repairs and maintenance can slow down how fast it gets worse but they won't stop the acceleration (see graphic).
"If we see 2 percent damage this year, next year we may see 3 or 4 percent, to bring the total (damage) to 5 or 6 percent," the association wrote in its 2012 Corrosion Plan for Bridges.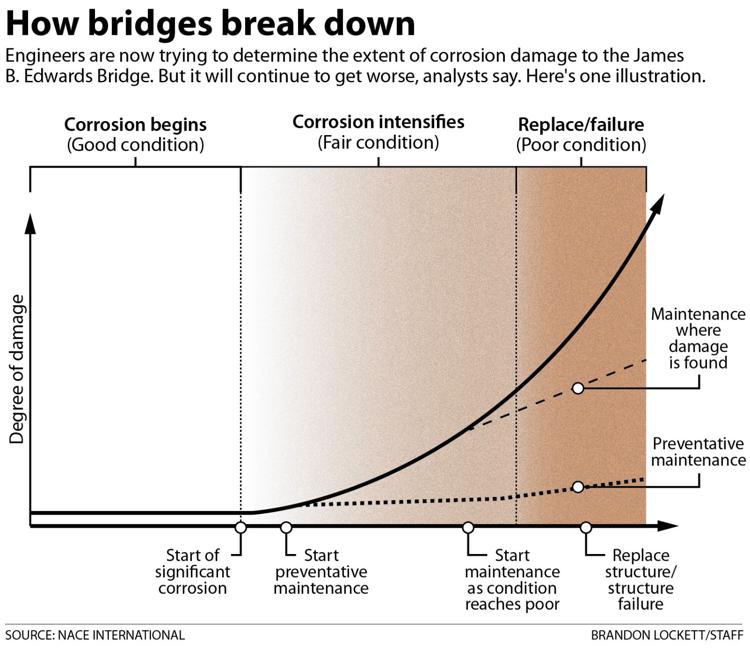 How bad is the Wando River Bridge?
Pretty bad, if repairs have had to be made twice in two years (a cable nearby was replaced in 2016) and inspections of the cables on both the eastbound and westbound spans are taking place weekly.
"Healthy" bridges are inspected annually, according to federal guidelines, then more frequently if damage is found.
Anything more frequent than six months is a clear sign of chronic trouble, according to bridge experts.
What can be done about it?
The Wando bridge cable is being replaced and work is expected to take four weeks. That should solve the immediate problem but not the heightened concern for eventual support failure.
How much will repairs/replacement cost?
No estimates had been given on the current repair as of Friday. But according to NACE, as corrosion gets worse the cost to keep it repaired gets worse at about the same steep rate.
Meanwhile, "the closer you get toward the end of the lifespan of the bridge the more maintenance you have to do," said S.C. Department of Transportation Deputy Secretary for Engineering Leland Colvin.
The $32.1 million price of the bridge in 1989 would be equal to $63 million today, with inflation.
State Sen. Larry Grooms, R-Charleston, said the ifs and whens on any replacement would depend on what engineers tell them after the current work is done. A bond to pay for a new bridge would cost more as interest rates rise.
The Senate's transportation committee, which Grooms chairs, already is exploring alternative financing for large scale projects, such as public-private partnerships, he said.
Can the 30-year-old bridge be saved?
Questions exist for its full 50-year life span.
The former Cline Avenue Bridge in East Chicago, Indiana — a construction type similar to the Wando bridge— was closed and then demolished in 2009, nine years after corrosion problems first were spotted, when the corrosion became so widespread it couldn't be repaired.
That was 37 years after it opened, according to media reports.
For now, there is no immediate push by DOT to consider a tear-down and re-do.
"We have no intention at this time to replace the structure," Secretary of Transportation Christy Hall said Friday. "It is not in a condition where it needs to be fully replaced."