In the backwoods of Newberry County, Michael Bedenbaugh waded through thick brush and stepped over tree limbs in his rubber-soled sandals.
His hand touched the crumbling, reddish brown brick facade of a late 19th century building. 
This was likely a general store, or maybe a bank, the statewide preservationist said. It's just down the hill from where ruins of an old gas station, a dark wooden home and an abandoned mill fade away in the forest. 
Behold: the abandoned town of Chappells.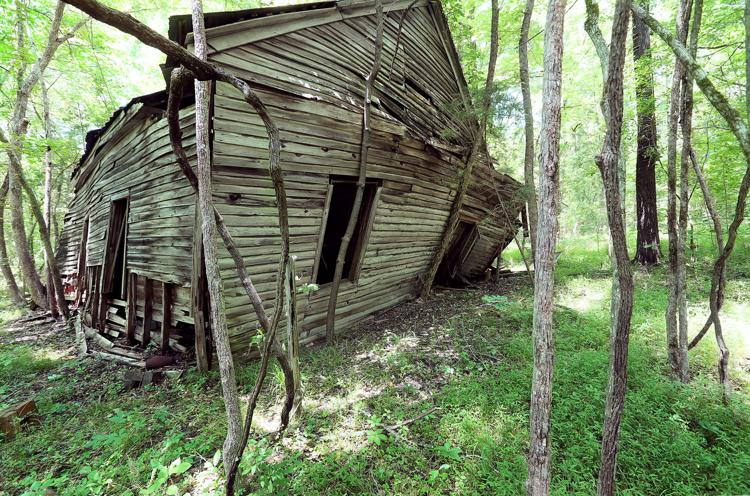 Before and after the 20th century, this brick-lined downtown suffered one calamity after another. A tornado tore through the Midlands in the 1880s and ripped the town to shreds, forcing it to be entirely rebuilt. A flood inundated the rebuilt town in 1920. The Great Depression didn't help.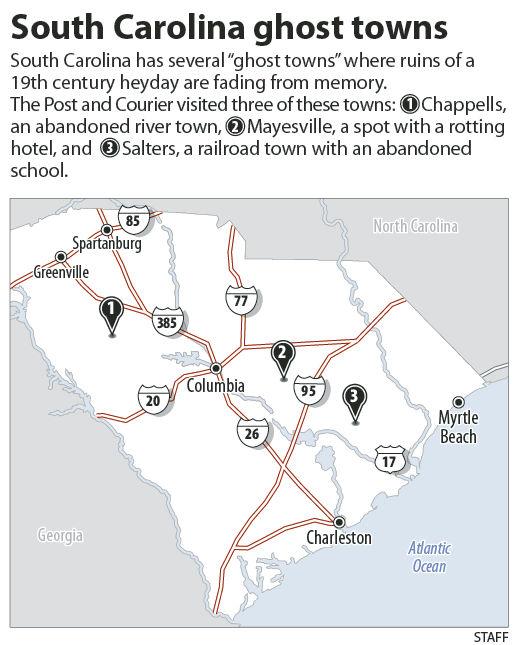 Finally, in 1935, the greatest blow was dealt to the forsaken river town: a brand-new steel bridge was built over the Saluda River a few miles away, taking Chappells off the local transportation grid. 
"This little dead-end cul-de-sac wasn't going to survive," Bedenbaugh said of old Main Street. Deeper into the woods, he studied a lopsided dark wooden home, enshrined with a six-panel screened door reminiscent of 1920s decor. 
If revitalized, off-the-beaten path "ghost towns" like Chappells could capitalize on the growing market for historical tourism. They also could also bolster investment for the local communities. The old battered school could become an artists' space. The antebellum house could become a coffee shop or craft brewery.
People just need to care, Bedenbaugh said. And have some imagination.
A race against time
Hidden in the backwoods, unknown to most and forgotten by many, entire South Carolina towns are fading from existence. Today, these towns are hollow shells of what they once were, busted out windows and decaying brick facades hanging in the shadows of South Carolina's struggling rural communities. 
Unlike the ghost towns of the Wild West, which — poof — disappeared overnight, these towns suffered a more gradual decline that followed the timeline of changes in transportation and infrastructure. 
Rivers to railroads.
Railroad to roads.
Roads to the interstate system's "super highways."
Bedenbaugh is the executive director of Preservation South Carolina, a nonprofit that aims to use tax credits and advocacy to save these abandoned buildings from extinction. Even though the number of applications for preservation projects has doubled in recent years, many sites across the state remain in dire need of attention.
There is some sign of hope. Each year the S.C. Department of Parks, Recreation & Tourism surveys visitors to the Palmetto State to get a sense of what they like to do.
While the SCPRT does not track consumer interest in "ghost towns," tourists are asked about their interest in "rural sightseeing." 
About 9 percent of tourists surveyed last year reported enjoying rural sightseeing, just trailing the 10 percent of tourists who sought historic sites and churches during their vacation. (The most popular activity in 2017, which about 30 percent of tourists said they participated in, was visiting a beach.)
But some ghost towns will need work before they can compete for visitors' attention. The state offers two kinds of tax credits to help preserve abandoned sites, and applications have been rising steadily.
But to save places like Chappells, which are one natural disaster away from disappearing forever, Bedenbaugh feels he is racing against time.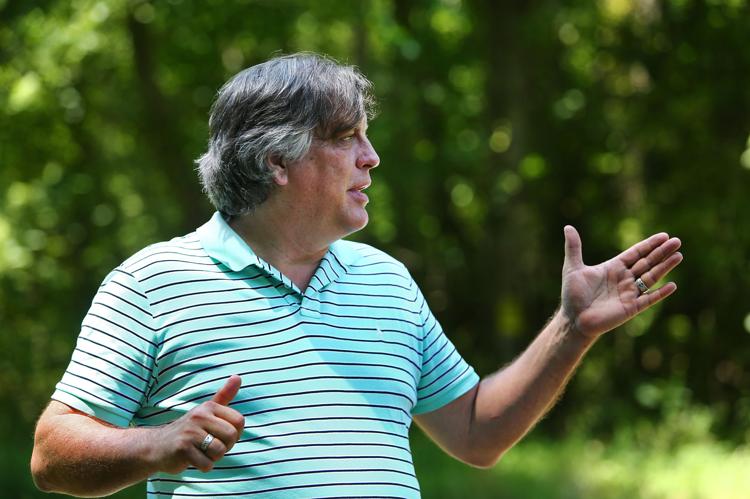 Preservation 'takes intention'
Across the state, some ruins and neighborhoods are historic but have not been nominated to the National Register of Historic Places, a list of sites across the country recognized for their historic and archaeological value. Sites on the National Register, such as the old Admiral's House at the former Charleston Navy Base, are eligible for a 20 percent tax credit. 
In 2013, South Carolina legislators passed the Abandoned Buildings Revitalization Act, offering a tax credit to investors willing to revitalize an abandoned building. One of the qualifiers is that a site must be 66 percent vacant. This bipartisan bill received unanimous support, and then Gov. Nikki Haley signed it into law. 
In places where ruins have been completely forgotten, the ABA is a critical piece of legislation, Bedenbaugh said. 
Investors can now find value in flipping the bottom floor of an abandoned three-story building. Developers could be willing to turn that floor into retail space. A small business, such as a coffee shop or clothing store, could rent it out, making the second and third floors even more appealing to investors. 
In 2017, Preservation South Carolina began tackling what will be a nearly $3 million restoration of the Plantation House, a 30,000-square foot hotel in Edgefield that dates back to 1787. 
Roughly 70 percent of the restoration will find its funding through a combination of historic and ABA tax credits, Bedenbaugh said.
Before developers can utilize the federal Historic Tax Credit, the sites in question must first get itself on the National Register if they are not there already. The first step in listing a property on the National Register is applying to the S.C. Department of Archives and History for the designation.
From June 2014 to June 2018 the number of these applications rose from 20 to 40, said Brad Sauls, a supervisor in the State Historic Preservation Office.
'Just fix it up'
As Bedenbaugh stood inside the ruins of Chappells and reflected on how hopeless it can be to convince people to care about old buildings, Charity Green, 10, came racing down old Main Street on her mountain bike. 
Swim goggles wrapped around the girl's forehead, holding her long blond hair in place as she carried an inner tube saddled over her shoulder. Her brother Caleb followed her on foot as two dogs barked and ran ahead. 
On hot summer days, the siblings whose mother rents the house at the top of the hill will walk down to the river to swim. Sometimes, they detour into the mysterious woods and play in the ruins. Charity said she wished the buildings could come back to life so she and her siblings could play inside. 
"There are some that have holes, but if you could just fix it up, you could go in there," she said. 
As she talked, Bedenbaugh shook his head in disbelief. He's not the only one who feels the presence of these long lost pioneering communities, he said.
"A lot of people cared at one time," he said. "Places that had the hand of love and intention and energy ... that doesn't go away."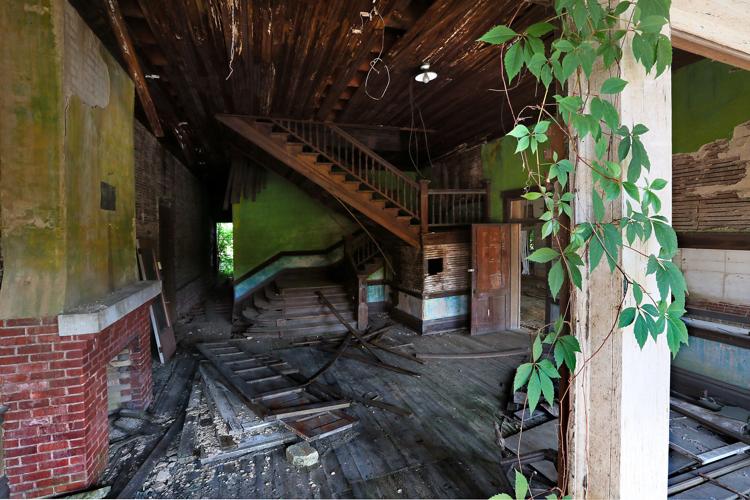 Other ghost towns
In Mayesville in Sumter County, the remnants of the Kineen Hotel, once a bustling social scene in 1911 are visible; the sunken-in wooden steps of the staircase, the peeling yellow wall paint, the wooden bar in the ballroom. 
All of this visible from the sidewalk on Main Street, where one can peer in to see eroding concrete and trees growing out of the floorboards. JF Bland Sale and Feed sits empty across the street. Trees sprout through the ruins of several other abandoned brick storefronts. 
These ruins look like those in Chappells, but unlike that ghost town, Mayesville is surrounded by neighborhoods. About 700 people still live in the town. The mint-colored Mayesville Town Hall, established in 1878, is still in use. Cars zip along Main Street and pass the ruins. 
Similarly, in Williamsburg County, the old railroad town of Salters is a lived-in community with an abandoned, rotting school and an old wooden depot that is fading away.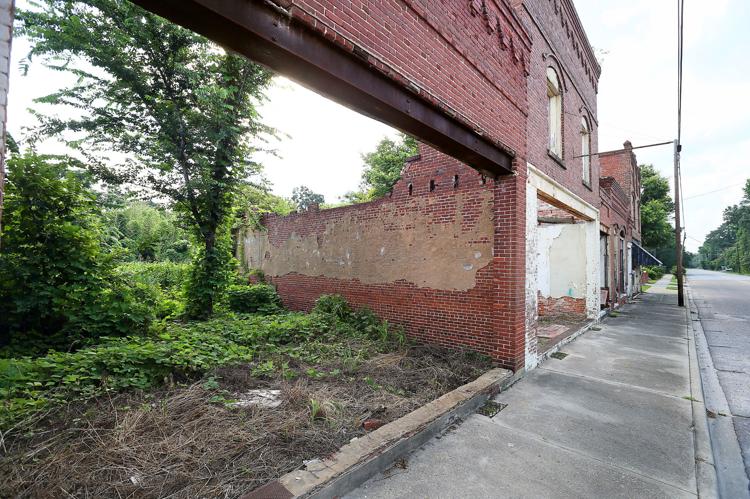 This juxtaposition is sad, Bedenbaugh said, especially considering that both Mayesville and Salters are recognized as historic districts in the National Register. Despite access to tax credits and a growing interest in historical tourism, Preservation South Carolina can't save everything. 
The organization's budget of $150,000 can only keep its current projects in motion, Bedenbaugh said. 
Sauls noted that the state's economy has shifted from rural areas to more urban areas.
Meanwhile, the Abandoned Buildings Act is not guaranteed to continue on: It's up for renewal. What was meant to be an extension of an existing tax credit, passed by the Senate this summer, was altered to the point where Gov. Henry McMaster vetoed it last week. 
Bedenbaugh said he looks forward to working with the Statehouse and the governor to sustain the tax credit. 
"This tax credit is too important to be lost," Bedenbaugh said. "Our small communities that have been bypassed by capital investment desperately need this incentive."
The act's future may be all that stands between today's ghost towns and future towns that live on only in memory and dusty records.