MOUNT PLEASANT — An application for state and Charleston County funds has been submitted to secure a conservation easement to protect Boone Hall Plantation, a more than 600-acre rural oasis in the heart of a town where 1,800 homes could potentially be built.
The property at Long Point Road and U.S. Highway 17 is a historic plantation founded in 1681 and one of the nation's oldest working farms, a tourist attraction and Civil War site, a festival and wedding venue. It's been the set of several movies and is "America's most photographed plantation," Boone Hall's website claims.
Located between several huge subdivisions that were once plantations — Snee Farm, Longpoint, and Brickyard — the future of the privately-owned property has been frequently mentioned in discussions about Mount Pleasant growth and development.
The property is 618 acres, plus 105 acres of marsh, according to county records.
"This is a 'now' opportunity to conserve something," said Ashley Demosthenes, president and CEO of the Lowcountry Land Trust, which applied for the funding. "It would be a big win for the community."
The board of the State Conservation Bank has recommended $2 million in funding for the deal, and Charleston County's Greenbelt Bank Board is being asked for millions more. The details will be revealed at a meeting next week.
"Boone Hall is very unique, and it's an exceptional piece of property," said Catherine Main, director of the East Cooper Land Trust, which expects to play a role in the conservation arrangement. "For it to still be intact, after all these years, and to be able to protect it, is a wonderful, wonderful thing."
The Charleston County Greenbelt Program has $8 million to spend on urban greenbelt projects, including Boone Hall. Another pool of funds is dedicated to rural projects. All the money comes from a portion of the half-cent sales tax imposed in Charleston County, mostly to finance road construction projects.
What the Lowcountry Land Trust is negotiating is an easement on the Boone Hall property, with the owner's approval. An easement doesn't change the ownership, but it would put permanent restrictions on property's future use. Typically, such easements prohibit or greatly restrict development.
"We don't have a contract," Boone Hall owner Willie McRae said Tuesday. "At this point all it is is a proposal."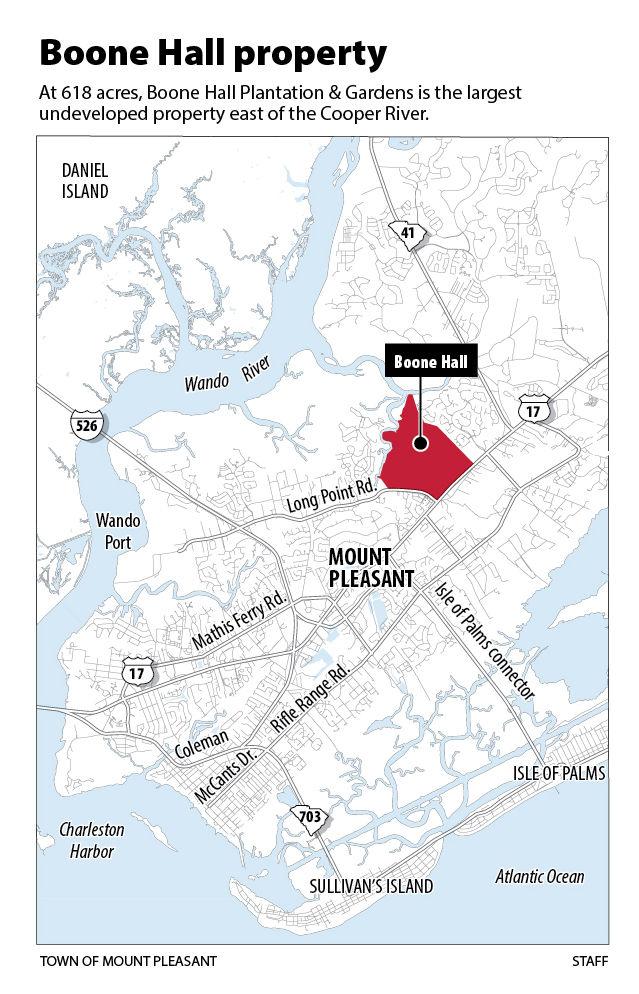 Greenbelt applications were due Feb. 28. It's not uncommon for contractual details to remain in discussion among land owners, nonprofit groups and local governments between the application deadline and the first review by the Greenbelt Bank Board.
"We're talking about preserving as much of the site as possible, if not all of it," Demosthenes said. "Frankly, any land conserved there would be great."
"I think Boone Hall is iconic," she said. "It is one of those highly recognizable and celebrated properties."
Boone Hall was purchased by the McRae family in 1955.
"I developed this into an international tourism destination and agri-business, and one of the largest green spaces in the area," McRae told The Post and Courier in March. "I plan on being here awhile."
Some conservation easement deals involving greenbelt funds have been controversial, because they involve public money, but most don't provide for any public access to the land.
Much of Boone Hall is already open to the public — paying visitors may tour there; a farm stand sits there off Highway 17; portions of the farm are open seasonally for customers to pick their own fruits and vegetables; and thousands attend events there such as the Lowcountry Strawberry Festival that begins April 25.
On April 10, the six-member subcommittee of the Charleston County Greenbelt Advisory Board will review the six project applications for urban areas, consisting of 637 acres and totaling $13 million in greenbelt fund requests. Boone Hall accounts for most of the acreage.
"Mr. McRae owns a very valuable property," said Demosthenes. She described the easement deal, still under negotiation, as "a significant bargain sale."
Financial details have not been released about the urban greenbelt projects, but the requests add up to nearly $5 million more than the available funding. Other projects competing for urban funding include Fort Pemberton on James Island and the Geechie Dock on Shem Creek.
Boone Hall been on the National Register of Historic Places since 1983. The main house there was built in the 20th century, but a row of brick cabins where slaves once lived dates to the late 1790s and early 1800s.
The property is in the center of Mount Pleasant, but is not part of the town. Instead, it remains part of unincorporated Charleston County, as do many of the East Cooper settlement communities that were founded by formerly enslaved black residents of the area.