SAVANNAH — Under darkness and pelting rain, dozens of community members lined a street Monday and paid their respects to Army Sgt. 1st Class Christopher Andrew Celiz, a Summerville native killed in action last week in Afghanistan. 
Patriot Guard Riders of Georgia escorted the remains of 32-year-old Celiz from Hunter Army Airfield — where he was based with the 75th Ranger Regiment — to a funeral home, where his loved ones will gather for a service on Wednesday. On the roughly 1-mile route along Stephenson Avenue, the procession crossed under a large American flag hanging from a firetruck ladder. Young military families, some of whom had waited for hours holding small American flags, watched on.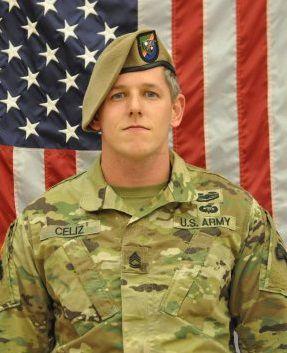 Before Monday's escort, Patriot Guard Rider and organizer Harold Piet said he hoped for a large showing of support for the Celiz family, which includes the fallen soldier's wife, Katie, and their daughter. 
"The family rarely ever remembers us," Piet said. "They remember all the flags and all the people who stood for their hero. And their hero is our hero."
Celiz died Thursday after coming under enemy small-arms fire while helping to support a medical evacuation landing zone in eastern Afghanistan's Paktia province. 
His death stunned those who grew up with him in Summerville. They remembered him as a "patriot" and an upbeat friend. 
"He was just overall an individual who led by example," said James Richardson, who grew close to Celiz on Junior ROTC at Summerville High School. "It wasn't a shock to me once he told me he was part of the Ranger Regiment."
Celiz graduated from Summerville High in 2004 and then attended The Citadel until 2006. He enlisted in the Army in 2007 and had several assignments in Texas and Georgia before he was selected to serve with the 75th Ranger Regiment in 2013. 
He was on his fifth deployment with the 1st Battalion, 75th Ranger Regiment when he was killed. 
Hal Knupp, a friend from high school and The Citadel, said Celiz fit the mold of a special operations soldier. He was a "bookworm" in school and excelled in advanced placement courses. On Junior ROTC, he was detail-oriented and a natural-born leader, friends said. 
Celiz was also warm and charismatic, the type of friend who would lighten the mood on any occasion. 
He and his wife were high school sweethearts who were "inseparable" as teenagers, Knupp said. 
"You could tell from the start they were a match for each other," said Knupp, a Marine Corps captain.
Eric Christmas, who also met Celiz on Junior ROTC, remembered his persistent optimism even under stressful times. 
"He was always trying to make everybody's day a little bit brighter," Christmas said. 
A funeral service for Celiz will be held at 2 p.m. Wednesday at Congregation Mickve Israel in Savannah.