James Owens III remembers his father driving by his house in a police cruiser 50 years ago and blasting the siren, eliciting his cries of "Daddy! Daddy!"
Many others also looked up to his father, who had fought to become one of the first black officers on Charleston County's police force at the height of the civil rights movement.
But that unraveled one day in 1968, when a white prisoner in the back of the cruiser pulled out a gun and shot Patrolman James Owens Jr. as he drove.
It was a year of great racial strife in America. Martin Luther King Jr. had been shot to death the month before, and presidential candidate and desegregation proponent Robert Kennedy would be assassinated a month later. And 75 miles west of Charleston, the Orangeburg Massacre killed three black people protesting a segregated bowling alley.
A policeman's slaying could have been lost in the annals of such a tumultuous year. But the younger Owens has never stopped thinking about his father in the half-century since then, and now, residents and visitors to Charleston will notice his name, too.
A sign memorializing the fallen officer was installed Friday at the Calhoun Street intersection where he uttered his last words into a police radio: "Officer needs help." But it's much more than a sign, his son said; it's a nod to his father's place in Charleston history.
"Martin Luther King Jr. and Robert Kennedy were pioneers," the 62-year-old North Charleston resident said. "I compare my father to those two men. Now, the community recognizes my daddy as a pioneer and a trailblazer."
Returning in 1958 from a three-year stint in the military, the elder Owens later became a firefighter. Parlaying that job into police work wasn't easy.
"He was insistent about it," his son said. "He kept going and going until they finally accepted him as a police officer."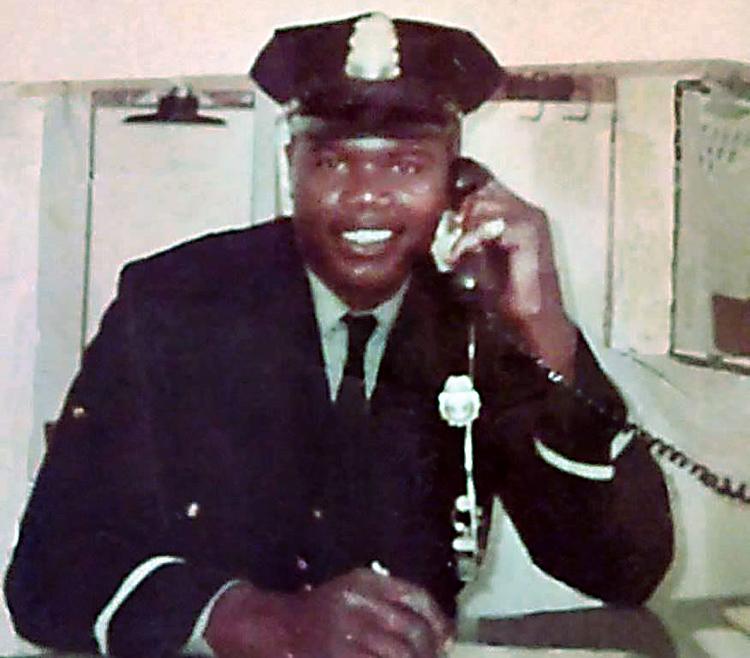 He patrolled rural communities such as Edisto Island and Red Top for the Charleston County Police Department, the predecessor of today's Sheriff's Office.
He was widely respected in western Charleston County, said state Rep. Robert Brown, D-Hollywood.
"For many of us, he was the first black police officer we had ever seen," Brown said. "We felt protected when he was on patrol."
His children lived with their grandparents in Charleston's Rosemont neighborhood. He would park his pink and white Ford Thunderbird and start whistling, a signal to his children that he had arrived.
But one day, he didn't come home.
It was May 11, 1968.
Al Cannon, now the county sheriff, recalls the story as he remembered hearing it then.
The elder Owens, 34, took a man and his girlfriend to the hospital after an accident. Back then, some police officers wore a second hat as paramedics. The man, Cornelius William Atkinson, had stowed away a .22-caliber handgun in Owens' 1967 Chevrolet police station wagon.
At the hospital, Atkinson became unruly. Owens arrested him and headed toward the jail, which was on the peninsula at the time.
Near Calhoun Street and Rutledge Avenue, Atkinson, 25, took out his weapon and shot Owens at least four times in the back of the neck. Owens' cruiser bounded over the sidewalk.
He died at a hospital.
Cannon was serving overseas in the military at the time. But his mother had just been appointed as a magistrate judge, a position that put her in touch with the county police.
The slaying rattled the Charleston area.
"There was a lot going on here in 1968 in terms of race relations," Cannon said, mentioning the seeds that were being sown for the strike of black hospital workers the following year. "But overall, most people saw him as a police officer being killed under a tragic set of circumstances."
Atkinson would be sentenced to the electric chair. He was thought to have been the first white man to be handed the death penalty for the murder of a black man in South Carolina.
His sentence would be commuted to 99 years in prison after the U.S. Supreme Court briefly outlawed executions in the 1970s.
Atkinson came up for parole many times but his victim's son fought it each time. The killer died in prison in 2010.
As the years passed, the younger Owens knew his dad deserved permanent recognition.
State Sen. Marlon Kimpson assumed the fight, pushing through the Legislature a resolution that, when passed in March, asked the state Department of Transportation to put up the sign designating the "Officer James Owens Jr. Memorial Intersection."
It was a noble cause, the senator said.
"It was a very polarizing time in our nation," said Kimpson, D-Charleston. "He may have been subjected to racial hostility because of his color, but he continued to serve despite those insults.
"And he made the ultimate sacrifice for his community."
Now, Brown added, that sacrifice will not be forgotten.