The federal government's failure to study risks of oil spills in the powerful Gulf Stream is "stunning" and "beyond foolish" given the stakes and current's force, drilling opponents said this week.
Packing more power than all of the world's freshwater rivers combined, the Gulf Stream flows about 55 miles off the South Carolina coast.
Yet federal regulators haven't done computer simulations of how oil spills would interact with this mighty river in the sea, The Post and Courier reported earlier this year in its investigative project "Into the Gulf Stream."
Critics said this omission is particularly glaring in the wake of the Trump administration's recent approval of seismic testing off the East Coast, a major step toward drilling.
"Failing to conduct basic (oil spill) modeling is beyond foolish," said Diane Hoskins, campaign manager for Oceana, an ocean conservation group. "President Trump's offshore drilling proposals defy logic. We already know that when they drill, they spill."
Fifty miles wide and hundreds of feet deep, the Gulf Stream whisks so much water past our coast that it lowers our sea level by about 3 feet. It's one of defining features in the area petroleum interests want to explore.
But the federal Bureau of Ocean and Energy Management (BOEM) hasn't done simulations for potential spills in the Gulf Stream and elsewhere on the East Coast.
The Post and Courier filled this risk analysis gap earlier this summer by doing its own spill simulations.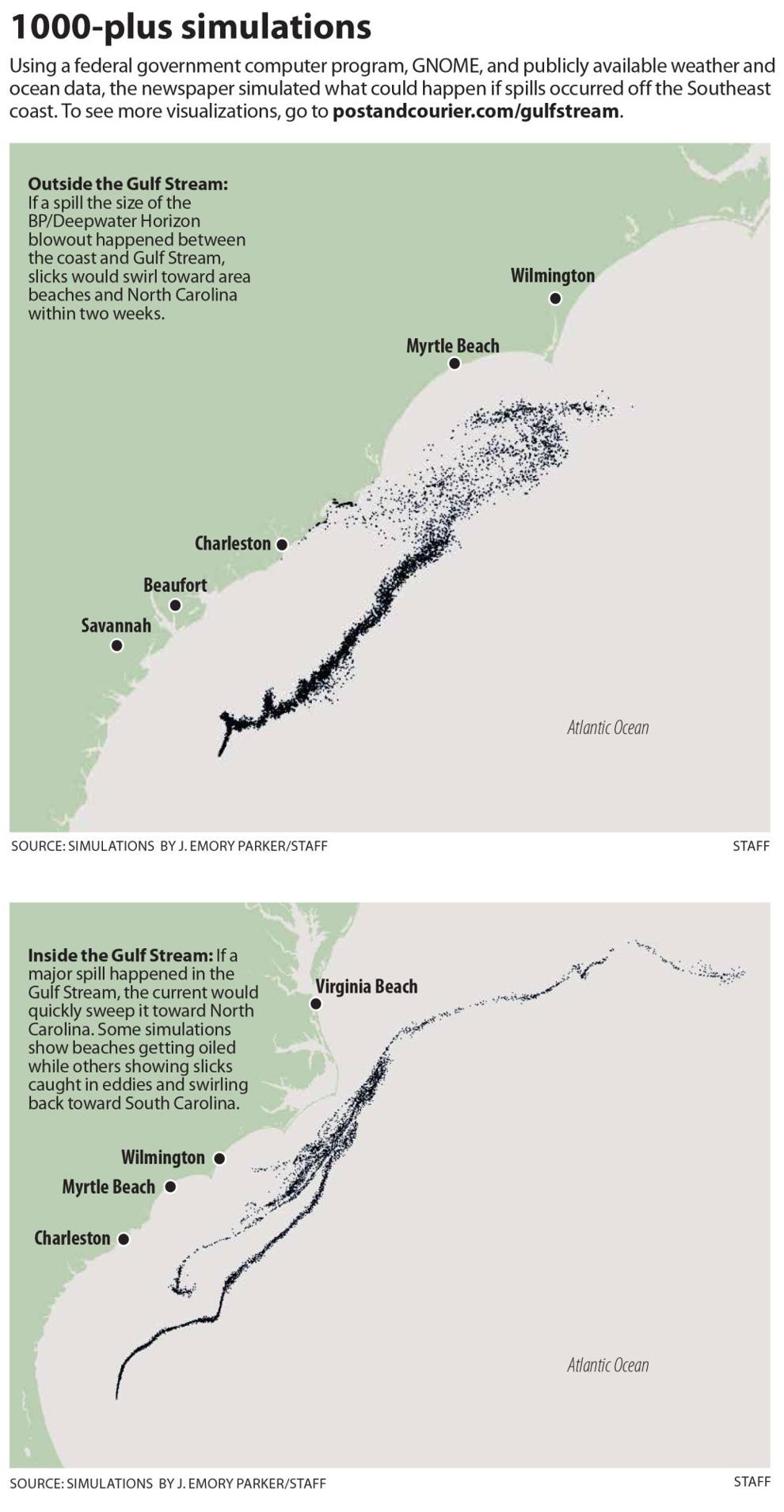 Using a computer program built by the National Oceanic and Atmospheric Administration, the newspaper generated more than 1,000 spill scenarios. 
These scenarios showed that the Gulf Stream is like a high-velocity pump. Some simulations showed that within just 24 hours, a spill off Charleston would travel more than 90 miles.
Other simulations showed that in just two weeks, slicks off Georgia could shoot toward the Outer Banks and then move into deeper waters off Virginia and pivot toward Europe. The current's force would pose immense if not impossible challenges for cleanup crews.
The newspaper's work "is stunning and creates a stark visual for people trying to imagine a new reality of drilling off their coast," said Alexandra Adams, legislative director for nature programs at the Natural Resources Defense Council.
Two years ago, the group commissioned its own study to model potential spills in the Arctic, another area with swift currents that oil interests want to tap. The study found spills could quickly spread 700 miles, oiling the Alaskan, Canadian and Russian coasts.
"Oil exploration is a deeply dangerous and risky business, and the unwillingness to acknowledge this is distressing," Adams said.
Beaufort Mayor Billy Keyserling, a longtime drilling opponent, added that BOEM has "a huge obligation to study where spills might migrate."
Keyserling noted that oil spills pose risks on and offshore — even inland. Seasonal high tides and rising sea levels have put saltwater "a quarter mile into our neighborhoods," he added.
"What happens if that saltwater gets contaminated. Then, not only do we have flooding, we have contaminated water that has the potential of reaching our homes."
U.S. Rep.-elect Joe Cunningham, who won South Carolina's 1st Congressional District seat last month, said computer simulations from BOEM might be helpful, "but I think people are pretty aware of how disastrous an oil spill would be. We've seen what happened in the Gulf with Deepwater Horizon and what happened in Alaska. We don't want it here."
While many coastal lawmakers have come out against drilling, some in the Midlands and Upstate have been supportive. Three Republican lawmakers from Greenville and Spartanburg filed a resolution earlier this year touting the "massive economic benefits" of oil and gas exploration. And U.S. Sen. Tim Scott, a Republican, also has been supportive of oil exploration in the past. 
Earlier this month, the Trump administration approved permits for seismic tests — with air guns that blast acoustic waves that allow scientists to map the seafloor and identify potential oil and gas deposits. The next step is exploratory drilling. The 2010 Deepwater Horizon spill in the Gulf of Mexico resulted from an exploratory drill.