The former chief financial officer who stole $1.2 million from the Berkeley County School District was sentenced Wednesday to more than five years in federal prison for what authorities have described as possibly the largest public embezzlement scheme in South Carolina.
A judge handed down the sentence to 62-year-old Brantley Denmark Thomas III during a hearing in U.S. District Court in downtown Charleston.
The once-respected and longtime district administrator previously pleaded guilty to 20 federal counts of embezzlement, honest services wire fraud, and money laundering over a 16 year stretch.
His 63-month sentence fell at the highest end of a prison term called for by federal sentencing guidelines.
Thomas, who said little during his sentencing while clad in a striped jail jumpsuit, also faces prosecution in state court where 35 other criminal counts are pending. He will serve any prison time for those charges after completing his federal prison term. 
Dozens of school district representatives packed the courtroom Wednesday along with Thomas' supporters. Some district employees wrote letters to District Judge David Norton detailing the impact of Thomas' crimes, but they did not speak in court.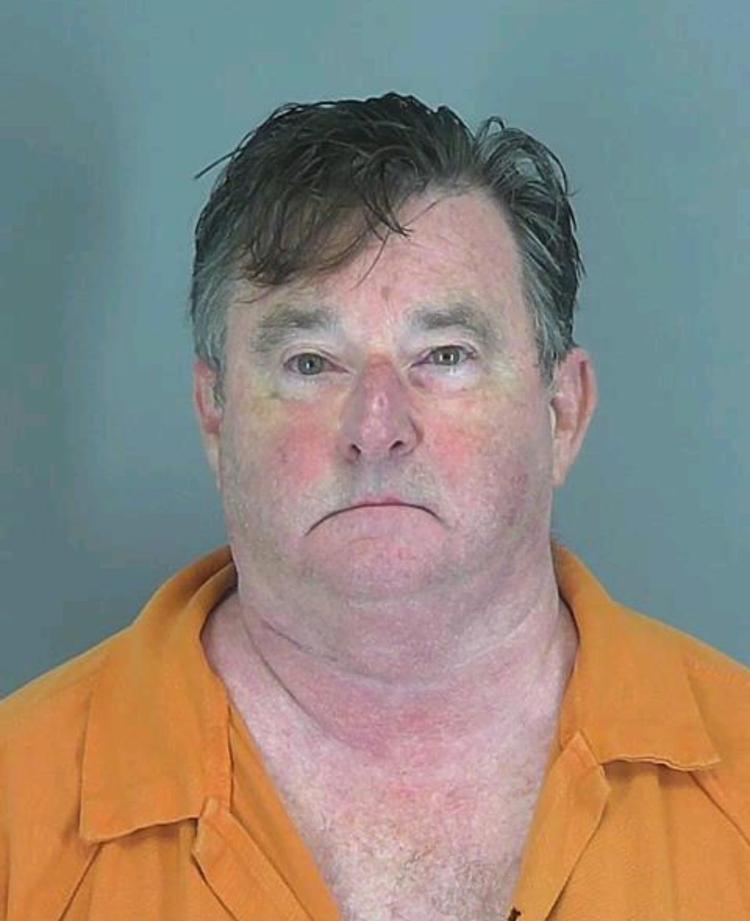 Norton said Thomas pocketed funds that should have benefited students and also accepted $32,000 in bribes and kickbacks.
The crimes didn't stop when Thomas was hit with state and federal charges. The state Attorney General's Office, which is prosecuting the state case, said Thomas stole around $35,000 from Jackson Davenport Vision Center, a Charleston eye care business that employed him as a bookkeeper while he was out on bond in 2017 and 2018.
Norton said Thomas has an apparent "OPM addiction," referencing his thefts of "other people's money."
Thomas was ordered to pay $1.2 million in restitution to the school district, according to the U.S. Attorney's Office. He will serve three years on court supervision after he is released from prison.
Superintendent Eddie Ingram, who was hired by the district in the wake of the embezzlement scandal, said Thomas' sentence represented a "major step" for the district to move forward.
"It's sort of a breath of fresh air," he said.
Thomas oversaw all of the district's finances, including a nearly $260 million general fund. With a salary of $130,500, he was among the district's highest paid employees in the district, and he also collected a pension during the final years of his career.
District lawyer Josh Whitley said Thomas' "larger financial mismanagement" overshadowed the $1.2 million he embezzled. The former CFO misspent $46 million of the fund balance, Whitley said, and the district later had to restore it or risk losing its bond rating. Thomas also misspent the district's construction budget for facilities by "tens of millions of dollars," Whitley said.
Officials said they've addressed the shortfall by issuing bonds and hiring new auditors and financial advisers, though such efforts have lessened their ability to focus on the needs of students in the rapidly growing county.
Berkeley County School District on Wednesday filed a lawsuit against its former auditing firm seeking "in excess of $10 million or other amount to be determined at trial" because the firm did not detect a $1.2 embezzlement by the district's CFO. 
The district fired Thomas in February 2017 after officials learned that the FBI and Wells Fargo bank were looking into missing funds.
The FBI's probe, prompted by a tip, uncovered a pervasive scheme that began in 2001 and grew more sophisticated in later years.
Authorities said Thomas stole from the district on at least 45 occasions, using several methods that included overpaying vendors through school district accounts and then depositing refund checks into his personal account.
Among the stolen funds were federal grants intended for special-education students.
Authorities said Thomas also pocketed at least $32,000 in bribes and kickbacks for awarding the district's insurance policy contracts to specific companies.
Assistant U.S. Attorney Daniel Ryan wrote that Thomas' thievery funded a lifestyle of luxury: international travel, jewelry and a membership at the Carolina Yacht Club.
Thomas' defense attorney, Matt Hubbell, portrayed his client as a "broken and ashamed man" who was prepared to accept a significant prison term. He said Thomas completed an alcohol addiction treatment program in November and has been devoted to caring for his 18-year-old daughter.
The attorney asked that Thomas serve his federal sentence at a minimum-security prison camp in Estill.
Whitley, the district's attorney, said officials expect Thomas to receive a longer sentence on the state charges, which include counts of embezzlement, misconduct in office, and forgery.
A spokesman for Attorney General's Office said Thomas has not entered a plea. A date for his next court hearing in that case was not finalized as of Wednesday.