MONCKS CORNER — Lisa Kerns doesn't like to think about all the time she has wasted on Clements Ferry Road.
Kerns can still remember that helpless feeling of being stuck in rush-hour traffic knowing she was going to miss her sons' football games, soccer practices or school functions.
A simple 9-mile trip from Nelliefield Plantation to the schools or recreation fields on Daniel Island could take as long as 90 minutes at the wrong time of day.
"You just knew to stay away from Clements Ferry at certain times of the day," said Kerns, who is president of the Nelliefield Plantation homeowners association and runs a Facebook group called Clements Ferry Residents for Safer Roads. 
Like many residents along the Clements Ferry Road corridor, Kerns has seen her commute times cut in half since Clements Ferry Road was widened in 2019. A trip that took an hour during rush hour takes less than 15 minutes after the completion of phase one of the project.
Penny sales tax
| Top Road Projects | Total Cost |
| --- | --- |
| I-26 & Nexton Parkway Interchange | $82,000,000.00 |
| Clements Ferry Rd – Phase 2 (Under Construction) | $74,141,446.00 |
| US176 Widening – Phase (Under Construction) | $61,003,333.00 |
| Clements Ferry Road – Phase 1 | $46,146,470.00 |
| Henry Brown Blvd. – Phase 2 (Under Construction) | $34,338,118.00 |
| Henry Brown Blvd. – Phase 1 | $30,395,842.00 |
| US 176 & Nexton Parkway Intersection | $4,117,205.00 |
| Daniel Island Dr. at Seven Farms Roundabout | $2,020,550.00 |
The $46 million phase one widening project was funded by the Berkeley County 1 cent sales tax that was passed in 2014. The penny sales tax will be back on the ballot in November 2022, and Kerns, for one, plans to support the referendum.
"I don't want to think about where my life would be without that widening project," Kerns said. "It's been a game-changer. I bet I save at least an hour or more every day on my commute. That's huge. It's like I've got my life back."
There have been two penny sales tax referendums in Berkeley County. The first coming in 2008 that raised more than $143 million and a second, in 2014, that has raised $167 million so far and that is expected to bring in around $230 million by the end of 2022. Since 2008, the county has poured nearly $300 million into its 295 miles of paved roads.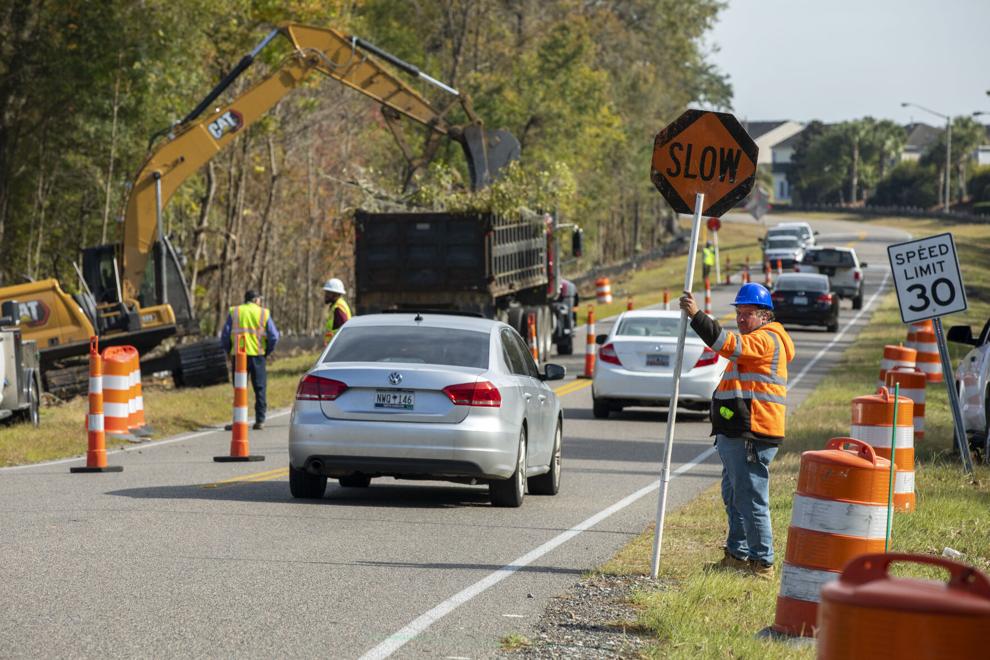 "Where would the residents of Berkeley County be without that penny sales tax; it's a scary thought," Berkeley County Supervisor Johnny Cribb said. "We work really well with the SCDOT, but they don't have the same priorities that the people in Berkeley County have. We're on the ground here. We know what needs to be done and that penny sales tax gives us the ability to deliver."
In 2014, Berkeley County voters overwhelmingly supported the measure. Nearly three out of four voters were in favor of the penny sales tax — 71.2 percent to 28.8 percent.
Of course, not everyone was a fan of the 1 cent sales tax.
"We ought to use the taxes we already have on gas," Goose Creek voter Herbert Hesner told The Post and Courier in 2014.
'Bigfoot' sighting
The second phase of the Clements Ferry widening project, which was started in December 2020, will add two lanes from Jack Primus Road to S.C. Highway 41 near the Wando River. The 4½-mile stretch is expected to be completed in November 2024. When the final barrel is cleared from the road, the county will have spent more than $120 million on widening 10 miles of Clements Ferry.
"Clements Ferry would be a parking lot without the widening," said Berkeley County Councilman Josh Whitley.
Of course, Clements Ferry isn't the only big road project that has been realized because of the 1 cent sales tax.
The recently completed Henry Brown Boulevard project involved the widening of 1.8 miles, from Red Bank Road to Liberty Hall Road, in Goose Creek. The stretch went from a two-lane blacktop to a five-lane section. The $31 million Phase 2, which is under construction, will link Liberty Hall Road to Montague Plantation Road at U.S. Highway 52.
The two projects, for which the final price tag came in at around $64 million, will include major improvements to the intersections at U.S. Highway 52, Old Mount Holly Road and Montague Plantation Road — work that those living along the stretch have been waiting on for years to be finalized.
It "will improve the quality of life of the people who live along the road," said Goose Creek Mayor Greg Habib. "The impact will be significant."
Berkeley County has had a plan in place to widen U.S. 176 for nearly a decade. Phase 1 of the project, which broke ground in August, consists of widening the road from two lanes to four lanes with a raised concrete median from U.S. Highway 17A to Nexton Parkway, a distance of 4.2 miles.
"Getting my kids to school in the mornings can be so maddening," said Nakia Donahue, who lives in Cane Bay. "You can spend all morning in that traffic."
The I-26, Nexton Parkway Interchange was the highest ticket item for the penny sales tax, coming in at $82 million.
"As a fiscal conservative, I don't want to tax anyone, but because of Supervisor Cribb's efforts, this is an example of government getting it right and delivering," Whitley said.
A road project that has been two decades in the making has been especially satisfying for Cribb. The extension of Railroad Avenue in Hanahan finally broke ground in March and when completed will connect the two halves of the city.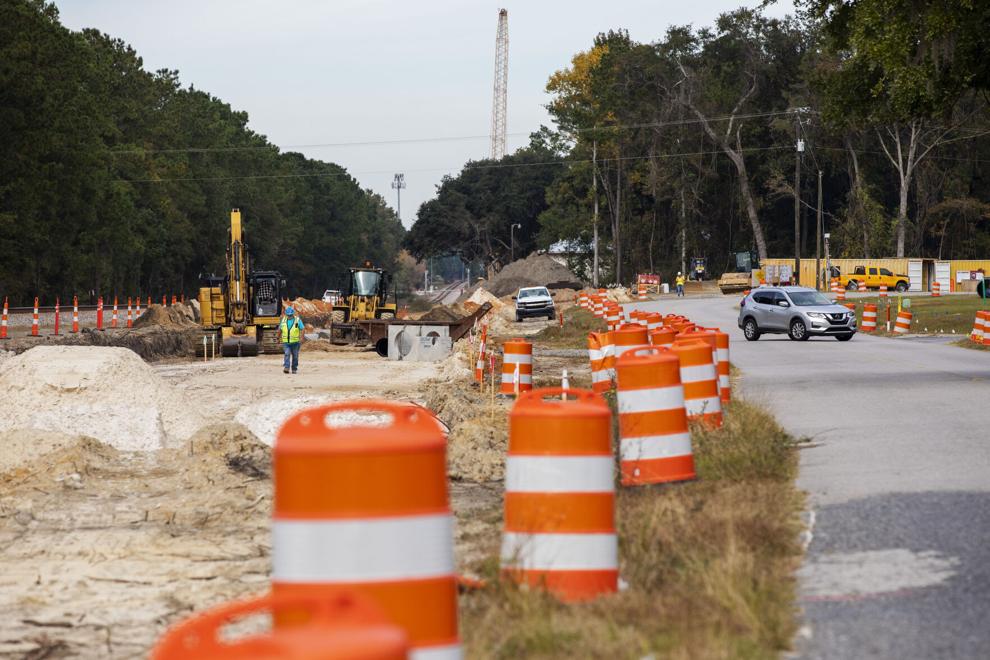 The $20 million project will extend Railroad Avenue about a mile from Mabeline Road to Eagle Landing Boulevard. The extension has been in the works since the 1990s and faced a series of delays that confounded local officials.
"When I told the folks in Hanahan that the Railroad Avenue project was going to break ground I expected a euphoric reaction," Cribb said. "They were stunned because the project had been talked about for so long. It was like I told them I'd seen Bigfoot. None of these projects would have been possible without penny sales tax."
Dirt to Pave
Berkeley County has seen a surge in population over the past decade, from 179,000 in 2010 to more than 234,000 in 2020. Thirty-three people are moving into the county each day.
The roads, especially in the urban areas, have become more congested by the day.
But not all of the road improvements the county has made through the penny sales tax have been multimillion-dollar undertakings.
Some of the most important have been the dirt-to-pave projects in the rural parts of the county.
There were 59 dirt-to-pave projects that were earmarked under the 2014 referendum. In 2019, not a single dirt-to-pave project had been started. Two years later, 20 have been completed, while the other 39 will be either under construction or permitted by the time the referendum hits the ballot again next fall.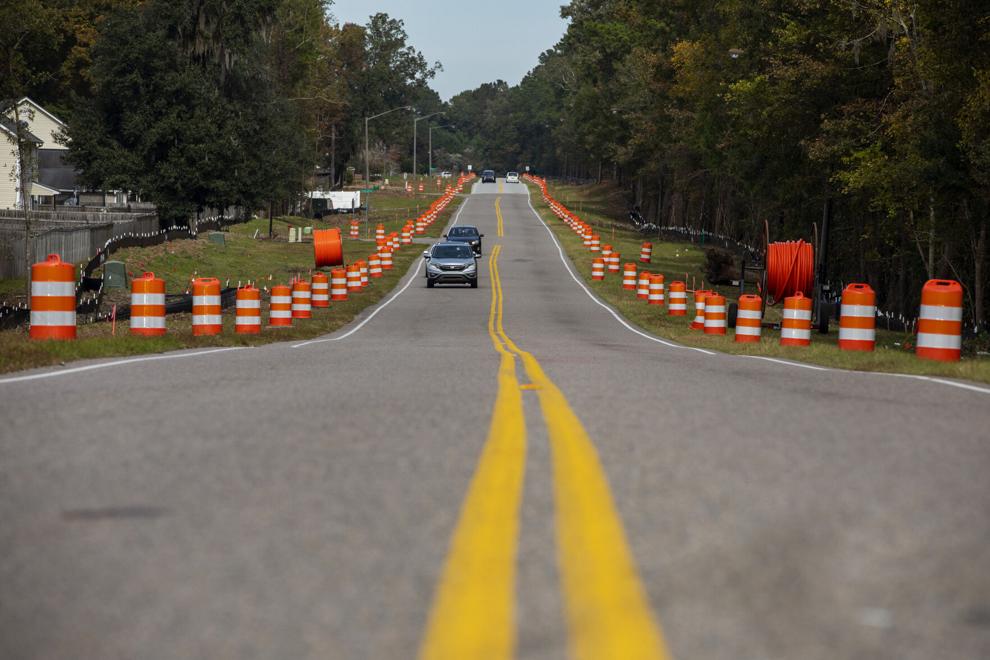 "It might not impact as many folks, but those projects were just as important to the people that live in Pineville, or Cross or Huger," Cribb said. "We needed to make them a priority, too."
Tynico Gant said the impact on her family when the dirt-and-gravel road in front of her Pineville home was paved in January is hard to measure.
"It changed everything," Gant said. "The kids can ride their bikes without any problems, I know my car isn't going to get damaged driving down the road after it rains. It has made a world of difference. It's been a godsend."
Cribb is optimistic that the new penny sales tax will be passed by the voters next year. While the referendum is still undergoing modifications, Cribb hopes to make the ordinance for a longer period. In 2004, Charleston County voters approved a sales tax referendum that will last 25 years. Berkeley County's 1 cent sale tax extended just eight years.
"We might look at making the referendum cover longer than eight years because with the permitting and construction it's hard to get things done that quickly," Cribb said.
If the referendum passes, resurfacing existing roads and improving the intersection of U.S. 176 and U.S. Highway 52 — which could cost as much as $125 million — will be priorities.
"That's the busiest intersection in the county," Cribb said. "More cars pass through that intersection than any other in the county. It doesn't matter where you live in the region, you'll eventually have to use that intersection and something has to be done about it. That's going to be a big priority for us."