Since Dylann Roof murdered nine black worshippers at Charleston's Emanuel AME Church three years ago, the revived battle over Confederate flags and monuments has moved from the Statehouse grounds in Columbia to New Orleans, Baltimore and many other cities.
On Aug. 20, it flared up at the University of North Carolina in Chapel Hill, where protesters used banners to mask a controversial monument of a Confederate soldier as others managed to pull the bronze statue clear off the pedestal where it had stood for more than a century.
The toppling of the monument known as "Silent Sam" made a big noise beyond the campus, and historians with roots in both Chapel Hill and Charleston say, while the debate over it had some unique points — such as a 1913 dedication speech with a shocking white supremacist tone — it also should serve as a cautionary tale.
North Carolina, like South Carolina and some other states, has a strict law forbidding removal or alterations of Confederate era monuments without the blessing of the state legislature.
W. Fitzhugh Brundage, the William B. Umstead Distinguished Professor at UNC, said that law played a crucial role in what unfolded on campus.
"It took an issue that should have been part of public discourse and turned it into an issue that essentially could not be resolved with public discourse," he said.
"Essentially, a game of chicken was being played. People were saying, 'We can't do anything. We won't do anything.' That, in its own way, was an act of provocation. As long as nothing was going to be done, it escalated to the likelihood that somebody was going to insist we don't wait longer."
And it raises the question of whether public dissatisfaction with other monuments — and a frustration over the inability of their city councils, county councils, university trustees and others to alter or move them — ultimately will lead to a greater use of crow bars.
Words don't lie
Adam Domby, a history professor at the College of Charleston, worked with Brundage at Chapel Hill to digitize some of the university's records when he ran across something shocking.
During the 1913 dedication, Confederate veteran and Ku Klux Klan supporter Julian Carr, made it clear the memorial was less about honoring those who fought in the Civil War than re-establishing white rule in the present day.
"The present generation, I am persuaded, scarcely takes note of what the Confederate soldier meant to the welfare of the Anglo-Saxon race during the four years immediately succeeding the war, when the facts are that their courage and steadfastness saved the very life of the Anglo-Saxon race in the South," Carr said.
"When 'the bottom rail was on top' all over the Southern states, and today, as a consequence, the purest strain of the Anglo-Saxon is to be found in the 13 Southern States — Praise God.
"I trust I may be pardoned for one allusion, howbeit it is rather personal. One hundred yards from where we stand [on Franklin Street], less than ninety days perhaps after my return from Appomattox, I horse-whipped a negro wench until her skirts hung in shreds, because upon the streets of this quiet village she had publicly insulted and maligned a Southern lady, and then rushed for protection to these University buildings where was stationed a garrison of 100 Federal soldiers. I performed the pleasing duty in the immediate presence of the entire garrison."
Brundage noted the controversy over the Silent Sam memorial, which occupies a very prominent spot on campus, had percolated since the university began admitting black students. 
It built up after 2002 with research by graduate student Yonni Chapman and a faculty member's letter a decade ago asking the monument be torn down. But Domby's finding, and subsequent 2011 letter to the editor about Carr's bragging about whipping a black woman, added still more fuel.
"What's really interesting about the speech is that it was so unremarkable," Domby said. "It was a very typical speech, even though he was more blunt."
Domby, who is working on a new book entitled "The False Cause: Fraud, Fabrication, and White Supremacy in Confederate Memory," said his research on Carr's speech ranks among his most important, an example of how history can shed light on the present.
"What's fascinating to me is the way the speech has mobilized people around other statues and other issues. They changed the name of the Julian Carr building in Durham because of the Silent Sam speech in Chapel Hill," Domby said. "Julian Carr had made plenty of racist speeches in Durham, but those don't seem to matter as much."
Charleston's dedications 
The city of Charleston has grappled with what to do about its most controversial monuments, including the John C. Calhoun statue in Marion Square and the Defenders of the Confederacy monument at White Point Garden.
Those monuments, first dedicated in 1887 and 1932 respectively, didn't include the sort of rhetoric that Carr used in 1913, said Ethan Kytle and Blaine Roberts, historians and authors of "Denmark Vesey's Garden," a history of slavery and memory in Charleston.
That's partly because 1887 was before the peak of white supremacism and Jim Crow and 1932 was a little late, they said.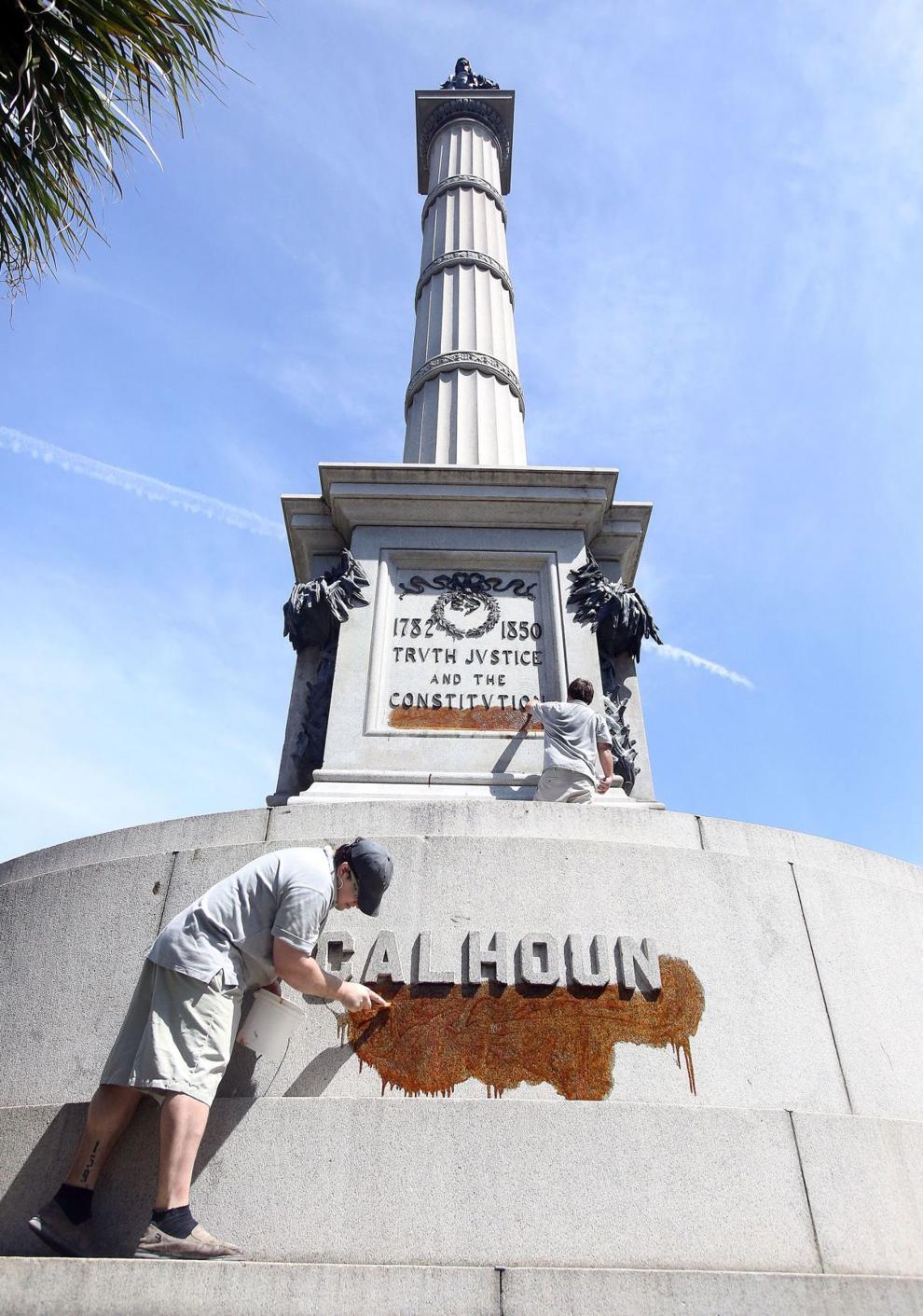 When the Calhoun monument was dedicated in 1887, Secretary of Interior and ex-Confederate officer Lucius Quintus Cincinnatus Lamar spoke. 
"Slavery is dead — buried in a grave that never gives up its dead," he said. "Why reopen it today? Let it rest." But Lamar later talked about how slavery had been an civilizing institution.
"It was right out of the Lost Cause playbook that would be echoed time and again," Kytle said. "They said the Civil War was not about slavery, but they would also say that slavery was a good thing, and there was a reason why the South had it. They were talking out of both sides of their mouth."
But Roberts noted it's important also to consider how the city's African-Americans viewed the Calhoun memorial. One such account, from Mamie Garvin Fields, wrote, "Blacks took that statue personally. ... As you passed by, here was Calhoun looking you in the face and telling you, '(N-word), you may not be a slave, but I am back to see you stay in your place."
"Carrs' speech exposes the true meaning for whites, but the true meaning for African-Americans was there whether it was said or not," Kytle said.
Charleston Mayor John Tecklenburg has called for the city to modify, not remove, its controversial memorials and to tell a fuller story by adding new ones to overlooked African-American figures. But the city's first attempt, which involved adding new language to the Calhoun monument, fizzled before City Council. However, council also voted later to apologize for the city's role in slavery.
It's unclear when the issue might bubble up again, though protests and vandalism around the monuments have died down.
"It's hard to predict what's going to change it," Domby said. "I think ultimately it will remain contentious for as long as they exist — and even after they exist because this is part of a larger discussion in our society. This is about racism. And that's something we shouldn't forget."
'Really undemocratic'
It remains to be seen what the University of North Carolina and Chapel Hill police will do as far as prosecuting those who took down Silent Sam. It also remains to be seen what will become of the bronze figure itself, which was removed in a truck. Will it be put back? Kept in storage? Moved to a museum or alternate site?
One of the universities trustees, Thom Goolsby, said it will be reinstalled within 90 days, according to one media report. Others aren't as sure.
Brundage, who has advocated moving Silent Sam to an alternate site, said he hopes that ultimately will be what happens.
"It's now even more important as a historical artifact. There is much about the university in the past that you can use the monument to highlight," he said. "But it should not be a memorial that occupies prominent public space any more."
Kytle said the school could keep the stone pedestal. "Leaving it as a ruin that might spark people to think about what had been there, why was it taken down," he said.
Others have criticized last week's toppling as an incident of mob rule, and they hope to build pressure on the school to put it back. At least 11 people face charges in connection with that incident and other protests, including Saturday's, at the monument site.
James Bessinger, of the S.C. Secessionist Party, urged North Carolinians to contact their elected officials and demand that they hold UNC accountable for their violating the state law protecting war memorials. "This type of behavior cannot be allowed to become the norm in our society, lest we risk losing our society entirely," his statement said.
But Domby said such state laws are part of the problem, and Silent Sam probably would have had a brighter future if the school were empowered to act on it.
"I think ultimately what really did this (toppling) is the Heritage laws were really undemocratic. They're not small government. They're big government," he said. "They're taking away any recourse for communities who want to remove a monument."