In a move that added tinder to already explosive conditions, South Carolina bused gang members from another state prison to Lee Correctional Institution, concentrating violent offenders in one place and setting the stage for a vicious riot that left seven inmates dead and 17 injured.
The Corrections Department carried out what appeared to be a concerted plan to consolidate known gang members at Lee, said Georgetown attorney Ed Bell, a lawyer who represents inmates and their families. "They put two powder kegs together ... (almost as if) they thought it was going to happen."
Bryan Stirling, director of the department, confirmed that the agency recently transferred about 300 inmates from McCormick state prison to Lee, in part because Lee had better staffing levels. But he denied it was an attempt to corral gang members under one roof. 
The revelation comes amid the state's longstanding failure to quash gang-related violence inside the state's prisons — violence and other criminal behavior that has spread beyond prison fences.
Rampant cellphone use inside the prison has enabled gangs to prey on the public, including family members of other inmates and guards, current and former guards and inmates told The Post and Courier. 
They said that with contraband cellphones, inmates can plug into the internet and extort cash from parents who fear their sons will be killed if they don't pay. They run scams with stolen Social Security numbers and credit cards. They run major drug rings with tentacles reaching beyond state borders. They've even arranged an unsuccessful gangland-style hit on a former Lee Correctional Institution guard.
"A cellphone in the hands of an inmate is a weapon of mass destruction," said that former guard, retired Capt. Robert Johnson of Sumter. "It allows them to do things far beyond their normal capabilities."
South Carolina isn't alone. Across the country, violence inside prisons has spread outside the razor wire. In Mississippi, the family of a murdered guard alleged that prison officials knew the officer was on an inmate hit list when a riot broke out. In New Mexico, a prison gang tried to kill the head of that state's corrections department. Officials broke up the plot but discovered that prison gangs ran drug rings throughout New Mexico.
Still, the riot at Lee that raged for seven hours between Sunday night and Monday morning was notable for its body count and viciousness. Fighting broke out at 7:15 p.m. Sunday as inmates armed with handmade knives fought and slashed each other. An inmate reported to The Associated Press seeing bodies "literally stacked on top of each other, like some macabre woodpile." Stirling saying the melee "was all about territory, all about contraband and cellphones." 
The fighting went on unabated until 11:30 p.m., when tactical teams stormed the first housing unit. Authorities finally restored order to the prison at about 2 a.m., ending what became the deadliest riot in modern South Carolina history. Texas attorney and longtime corrections consultant Steve Martin said it was the nation's worst prison brawl in 25 years. No guards were injured.
While shocking, the events leading up to this spasm of bloodshed had been building for years.
The tinder grows
In 2014, after years of litigation, a circuit judge hammered the Corrections Department for misusing solitary confinement as a punishment, especially when it came to mentally ill inmates.
In response, the department changed the way it policed misbehavior. Among the changes: It reduced by half the number of prisoners in solitary confinement, from 1,620 in 2015 to about 800 the following year.
This made an already challenging job even tougher in a prison system that, for years, has consistently ranked at or near the bottom for corrections spending nationally. "Things happen at prison that scare officers and they say, 'Oh no, this is not for me,'" Lee Correctional Warden Cecilia Reynolds told The Post and Courier in 2016. "They get another job with a pay increase."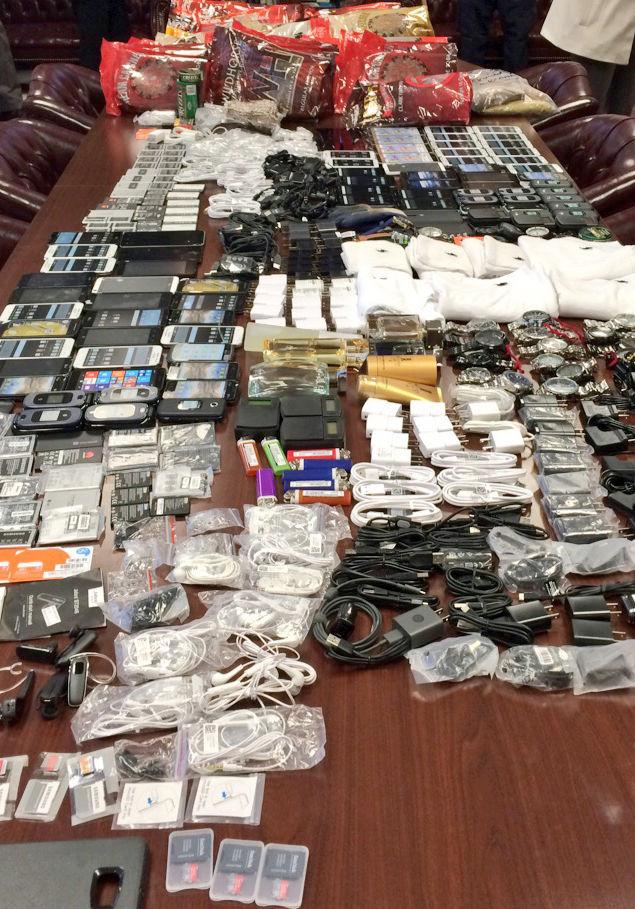 Johnson, the former Lee captain, said gangs were a problem at Lee when he was there and the menace has only grown since. The Bloods and the Crips are the largest threats, as they control much of the flow of contraband. But other gangs, including the Gangster Disciples, Folk Nation and MS-13, also have a presence. "Whoever's got access to phones controls the contraband — how many phones, drugs, cigarettes get in," he said. "And they are going to fight to have that control."
The department bans cellphones, but with relaxed discipline policies in the wake of the 2014 ruling, contraband phones became ubiquitous. Johnson said he has no doubt that Sunday's melee spread from one dorm to the next because inmates were using cellphones to pass the word. 
State officials from the governor on down have implored federal regulators to give them permission to block cellphone signals in the prisons. But a decades-old law limits that tool to federal agencies. What's more, telecommunications companies are opposed, saying jamming cell signals could set a bad precedent and interfere with legal cell users nearby.
Thousands of cellphones have been seized from South Carolina's prisons in recent years, but many more remain as evidenced by the stream of grisly photos and videos emerging from Lee during the riot — footage shot by inmates of bodies and blood-streaked hallways. 
Martin, the corrections expert from Texas, said that a prison's underground economy "operates with threats, violence, reprisal, strong arming and extortion." When disputes break out, they can break out in a big way because many prisoners have already obtained weapons for self-defense. "It's a fully armed population," he said.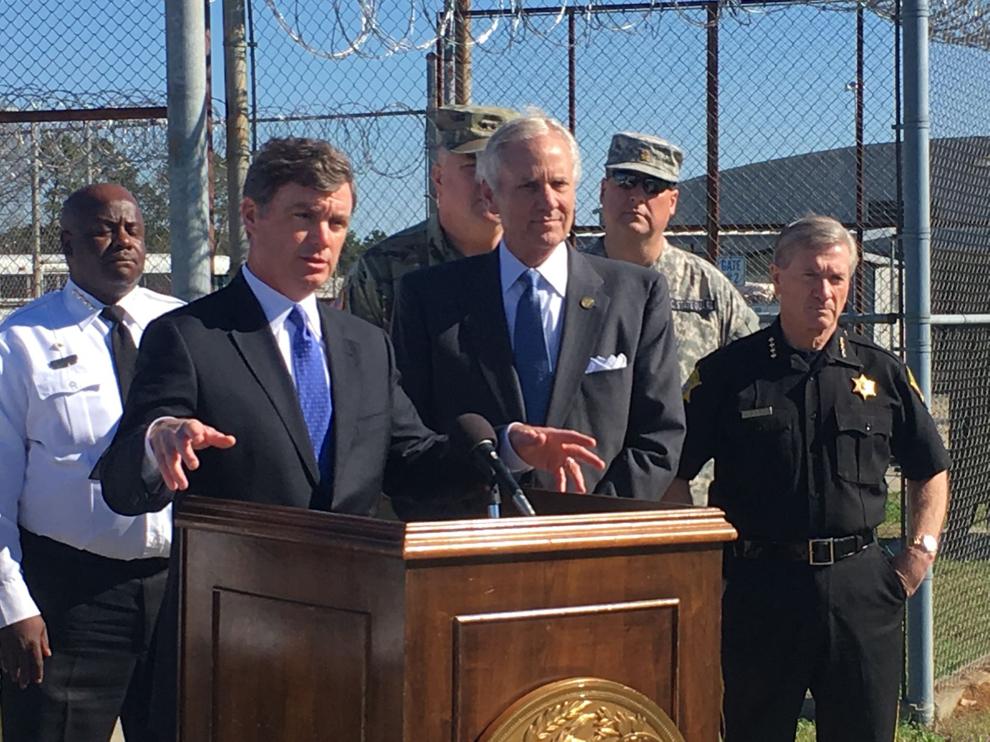 Danger to public
Corrections officials have been trying out equipment that allows them to block some, but not all, calls.
They are also constructing 50-foot-high nets around the state's high security prisons to stop contraband from being thrown over the razor wire.
But prison fences don't stop this criminal activity from moving into the public arena.
That became particularly evident in late 2016 when federal authorities busted a drug ring inside and outside McCormick, Ridgeland, Perry, Lee, Walden, Graham and Broad River correctional institutions. Fifteen people, including five inmates, were indicted on charges that they trafficked methamphetamine and other drugs from South Carolina to California.
The prevalence of gangs and inadequate supervision are persistent themes in a series of lawsuits filed against the Department of Corrections by Bell, the Georgetown attorney, on inmates' behalf. The suits describe a culture of violence in which gangs roam freely and that violence is sometimes encouraged by correctional officers.
The suits recount one stabbing after another, often alleging that guards were indifferent or out of sight when shank-wielding assailants cornered their quarries in a shower, a cell or common area.
One inmate described how he was stabbed four times at Perry, a maximum-security prison in Greenville County, after members of the Folk Nation gang and prison staffers labeled him a snitch.
Another inmate at McCormick alleged he was stabbed in the spine and face, his ear severed, by a pair of fellow inmates who were after a cellphone he didn't have.
A third prisoner alleged he was attacked with homemade knives and axes in his cell at Lee, leaving him wheelchair bound. He later tried to hang himself at Kirkland Correctional after he was transferred there and placed in a unit dominated by Bloods.
But as the proliferation of violence and gangs grew, South Carolina corrections officials and state lawmakers failed to solve a longstanding shortage of guards.
On average, each of the state's six maximum-security prisons were short 170 positions between 2011 and 2016, a Post and Courier analysis of five years of Corrections Department data shows.
Lee, which houses 1,500 prisoners, had one of the worst staff deficits — one in five positions were vacant during that five-year period. All told, the agency has 600 job vacancies.
Six-hundred vacancies is evidence of a deep and dangerous problem, said Dan Vasquez, a 36-year corrections veteran in California who was chief deputy warden at San Quentin, home of the nation's largest death row. "With that kind of inadequate staffing, the gangs are going to fill the void and take control."
Amid this shortage, the department recently moved problem prisoners from other facilities to Lee.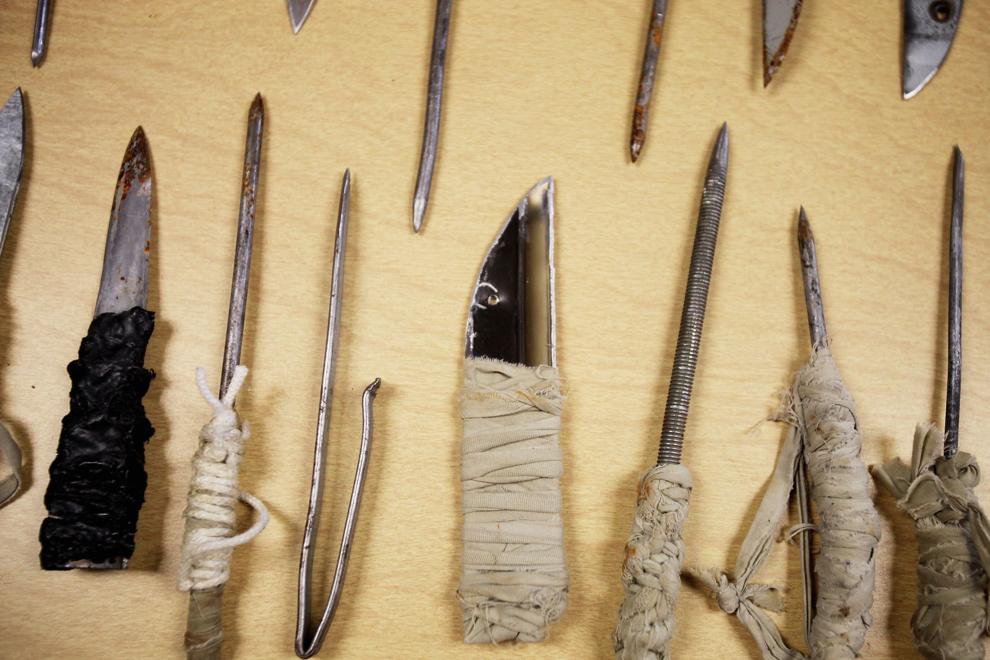 'Two powder kegs'
On Tuesday, Bell said he learned of several cellphone videos made before the riot.
The videos show inmates being moved from McCormick, another maximum-security prison, to Lee.
They also reportedly show the inmates carrying knives and hatchets, he said.
The transfers made a dangerous situation at Lee much worse, he said. "It's a tinder box."
Corrections Director Stirling said two groups of inmates were transferred from McCormick to Lee, but the moves weren't about sending gang members to one place. An entire dorm from McCormick was moved, Stirling said. Prison officials didn't hand pick the inmates that were transferred, he said. 
"We didn't round up gang members," he said.
Still, the result was a horror show of violence and bloodshed, with bodies piling up inside cell blocks and guards scrambling to retake the prison from its shank-wielding inmates. 
Lee County Coroner Larry Logan said most of the seven who died had been stabbed or slashed. Many were beaten as well. They were identified as Raymond Angelo Scott, Michael Milledge, Damonte Marquez Rivera, Eddie Casey Jay Gaskins, Joshua Svwin Jenkins, Corey Scott and Cornelius Quantral McClary. 
On Tuesday, House Democrats said the state's prisons are historically underfunded and taxpayers should demand better. Rep. James Smith, D-Columbia, called for a House Oversight panel to immediately launch an investigation into prison conditions.  
State Rep. Justin Bamberg, D-Bamberg, said he had received videos showing inmates walking around a bloodied common area at Lee while toting "huge" makeshift knives. "When I see a video of an inmate carrying 6-inch shank ... how do the people in the prisons not find this?" he said. "That's the bigger thing. People aren't getting stabbed with cellphones."
Bamberg also was critical of the time it took rapid response teams to respond. "The fight is a spark that lights a fuse," he said. "You need to get in there to pull the fuse before the dynamite blows up. If you don't, you have the worst riot in a quarter century."
Andrew Brown, Andrew Knapp and Seanna Adcox contributed to this report.