Toppled trees and downed power lines are a chief concern as a winter storm will bring rainy winds to Charleston and much of the state for the next three days, with flooding expected throughout the local area fueled by up to 3 inches of rain.
In the South and North Carolina mountains, a foot or more of wet snow is expected.
Local officials began prepping for a tidal flood surge that could top a major flood stage of 8 feet during mid-morning Sunday as the heaviest rain falls in what could be a total 3 inches.
On Monday, the high tide could reach 7 feet at the close of the commuter rush.
Sunday night's tide also could reach a minor flood stage.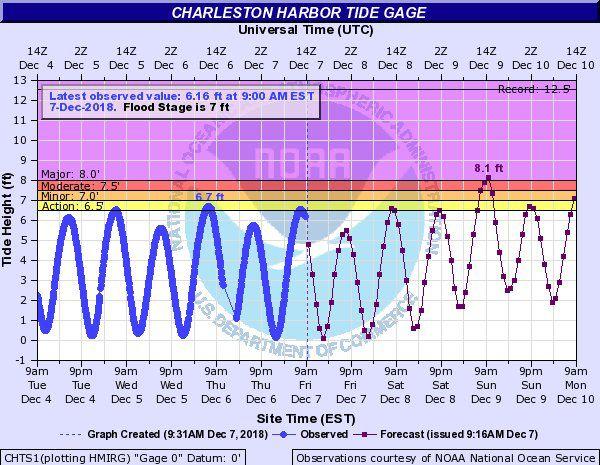 Low-lying streets are expected to be swamped.
Temporary pumps have been placed on standby and Jet Vactor trucks will be vacuuming storm drain pipes, Charleston city spokeswoman Chloe Fields said.
"Flooding on Sunday morning will likely make travel in and around Charleston hazardous," added city of Charleston Emergency Management Director Shannon Scaff.
"We encourage citizens to pay attention to National Weather Service and local media forecasts, as conditions may change, in order to determine whether travel is prudent," Scaff said. "Motorists should be aware of alternate routes and refrain from entering flooded or barricaded areas."
Concerned about wind-whipped chop in Charleston Harbor, the U.S. Coast Guard cancelled the annual holiday Parade of Boats on Saturday night, according to city of Charleston spokesman Jack O'Toole. The viewing party will still take place at the Charleston Maritime Center. 
In the mountains, with forecast computer runs trending toward more precipitation than previously expected, forecasters began shifting concern from the snowfall total to the threat of freezing rain and ice.
"Impacts from the combination of what is expected to be a very wet snow, and icing in some areas, look to be significant," said meteorologist Andrew Kimball, with the National Weather Service in Greenville. "Very windy conditions are expected Saturday night and most of Sunday, which makes falling trees and power lines likely."
Weather Service meteorologists in the Charleston office warned that the heavy rain and wet ground from higher than normal rains in November mean trees will be more likely to fall in gusts that could reach 40 mph.
SCE&G put an estimated 2,300 company and contract crew members on standby to be dispatched where power is lost, spokesman Paul Fischer said.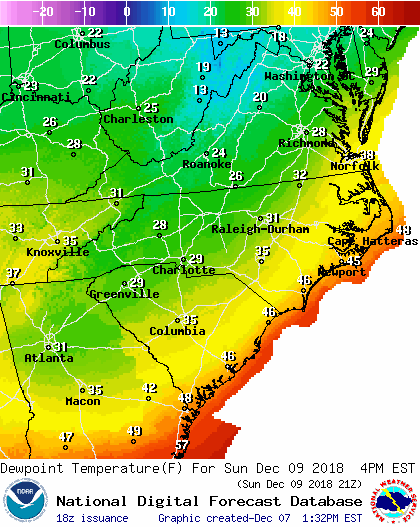 High and low temperatures will be in the 50s and 40s near the coast, and in the 40s and 30s farther inland.
Showers should end by Monday night but colder air will plunge into the Lowcountry behind it, bringing temperatures down to the 30s near Charleston and low 30s farther inland.
As for snow toward the coast?
"It is not completely out of the question that a few snow flurries could occur late Monday night, especially over interior South Carolina," said meteorologist Johnathan Lamb with the Weather Service in Charleston.