COLUMBIA — The $9 billion state spending plan the South Carolina House will start debating Monday would boost salaries for teachers and state employees, freeze in-state college tuition and offer incentives to drive jobs to rural areas.
Legislative leaders say it's a budget that starts to make up for years of underfunding.
Agencies have long to-do lists in a year with an additional $1 billion to spend, thanks to a growing economy. But with so many needs statewide, including decades worth of repairs and $100 million required just to maintain health care coverage, even $1 billion goes quickly, said House Ways and Means Committee Chairman Murrell Smith, R-Sumter, noting that half of that is surplus meant for one-time expenses. 
"You can see how quickly the obligations of the state consume the revenue," he said while briefing colleagues Thursday on his committee's plans for the money.
The major initiatives in House leaders' plan align with Gov. Henry McMaster's, though with differing amounts. House Majority Leader Gary Simrill praised McMaster for collaborating with legislative leaders ahead of releasing his own budget proposal in January, calling it a first in his 26-year tenure in the House. 
A vote on the House floor this week will move the budget debate to the Senate.
Here are highlights of how the House proposes to spend $9 billion starting July 1. 
K-12 education spending 
Legislators insist this is the year for education, but the budget plan puts no additional money toward per-student spending. 
Critics contend that shows legislators aren't serious about improving a public education system that's fallen to the bottom of the nation, as laid out by The Post and Courier's Minimally Adequate series.
Legislative leaders pledge next year is when they'll tackle revamping the state's overly complicated, decades-old funding formulas for K-12 schools. They've asked state economic experts to come up with a recommendation by May.    
Meanwhile, this budget plan spends $159 million to increase teachers' pay by at least 4 percent, with new teachers receiving up to a 10 percent hike. It represents the state's largest investment in teacher salaries in 35 years, and House Speaker Jay Lucas insists it's the first of a multi-year phase-in to bring their pay to the national average. 
The goal is to "attract the best and brightest and try to keep them," said Rep. Bill Whitmire, R-Walhalla, chairman of the budget-writing panel for K-12 schools.
House leaders wanted to give a bigger percentage to teachers paid the least, as they're leaving the profession in droves, Whitmire said: "We're losing more teachers than we're gaining."
Teachers newly mobilizing through social media scoff at the proposed 4 percent pay hike, saying it won't come close to stemming the growing shortage crisis. The teachers' advocacy group SC for Ed wants a 10 percent raise for all 53,000 teachers statewide next school year. Veteran teachers in the group are incensed by the plan's focus on their younger colleagues. 
Other K-12 spending includes $19 million for new school buses — more than 400 still on the road are three decades old. It provides an additional $10 million for law enforcement officers, bringing the total to $12 million to fund 120 officers for the poorest schools. McMaster wanted $46 million to honor a campaign promise to put an armed officer in every school. 
The plan sends $50 million to high-poverty districts for maintenance needs — much like legislators did in 2017, when 48 poor districts each received $1.16 million, which didn't go far. McMaster's budget proposal put nothing toward that.   
But, like McMaster's plan, this one includes $2.2 million to hire 90 additional mental health counselors who can travel from school to school when needed, which the governor says can provide every school access to care to quell deadly outbursts.
Rural jobs
Lawmakers say economic development is an essential part of improving long-struggling poor, rural schools.
The House plan would send $85 million to the state Commerce Department — shy of the $100 million McMaster proposed — to recruit businesses to the state's 28 poorest school districts. The money can go to water and sewer infrastructure or, if it's needed to entice an employer, renovating or building schools.
The budget is "focused on distressed counties," said Rep. Leon Stavrinakis, D-Charleston, who leads the budget-writing panel on economic development. "One of the areas of substantial bipartisan agreement is to invest in and bring economic growth into South Carolina's rural communities." 
Other rural spending includes $400,000 to help existing small businesses in the state's five poorest counties thrive. Those counties are Allendale, Bamberg, Lee, Marlboro and Williamsburg. 
Colleges
The House budget starts to rein in soaring college costs for which lawmakers are responsible, said Simrill, R-Rock Hill, the House majority leader.
"We shirked our duties," he said, explaining why South Carolina's public colleges are the most expensive in the Southeast.
"What they did was raise tuition in order to pay what we as a General Assembly should have been doing," Simrill said. "We have seen the reality of neglect. Our families and students have been paying the bill ever since."
Not only did colleges take a massive funding hit amid the Great Recession that legislators never restored, but tuition had to cover the cost of building repairs, he said.  
Simrill took a not-so-veiled swipe at the state's Republican governors, without naming them, saying maintenance needs statewide have piled up since 2000, becoming ever-more costly to fix, since the state last borrowed money to pay for them. Every governor since has blocked legislators' efforts to pass what was once a routine, every-other-year bond bill.  
The budget proposal sends $44 million to the state's 33 public two- and four-year and technical colleges in exchange for a one-year freeze on tuition and academic fees for South Carolina students. 
Amounts each would receive range from $385,000 for University of South Carolina Salkehatchie, to $8.3 million for USC's main Columbia campus. The entire 16-school technical college system would get $6 million. 
The plan would also send $100 million to colleges for maintenance and renovation needs. 
It spends $67 million to help train workers for the more than 68,000 job openings statewide. That includes $12 million to modernize equipment at technical colleges, $27 million for the schools' ReadySC programs — which train workers for local businesses' specific needs — and $27 million for scholarships to technical colleges so people can earn trade certificates for free.   
Salaries
The vast majority of state government's 60,000 employees would also see pay hikes under the plan. Exceptions are college employees whose salaries already exceed $100,000. 
Direct-care workers with the Department of Disabilities and Special Needs would get another $1 per hour, to $13. Officers at the Department of Juvenile Justice would see a 4 percent increase, to make just under $30,000. 
The biggest gains by far would go to judges.
The plan spends $11.2 million to increase judges' base salaries for the first time in 23 years. Chief Justice Don Beatty's salary would jump to $204,000, up from $156,200. By law, all other judges' salaries are calculated as lower percentages of his. 
Rep. Bruce Bannister, R-Greenville, said the plan resets the chief justice's salary to that of a trial judge in federal court. Judges' low pay, compared to what lawyers can make in private practice, is becoming a real problem, Bannister said, noting a legislative screening panel found no qualified candidates for three open seats in the last round of judicial elections.  
But for other state employees, leaps in already six-figure judicial salaries is galling.
The plan would mark state employees' first cost-of-living raise since 2016, but at 2 percent, it doesn't come close to addressing disparities that have only widened over the last several years, said Carlton Washington, director of the State Employees Association. 
A 2016 report commissioned by the Legislature showed state employees make less and pay more for benefits than their counterparts in other states and even local governments across South Carolina.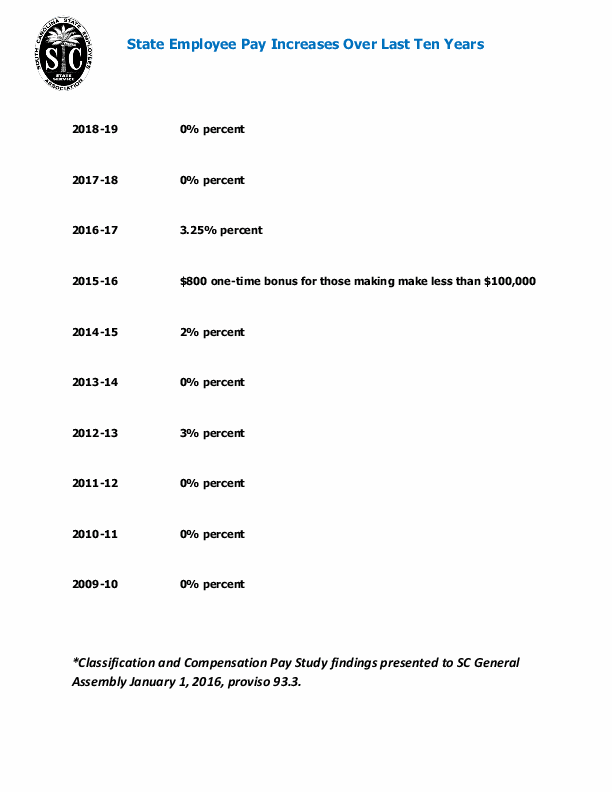 "Employees don't understand why they're being treated this way. They just don't understand why they're being treated unfairly," Washington said. 
Employees' increases should at least align with teachers', he said. This budget "sends a negative message to employees. It creates animosity."