Eight of Charleston's statues and markers soon will come to life, at least for people holding smart phones.
The new initiative kicked off Thursday at Hampstead Square next to its statue of Charleston's legendary blacksmith Philip Simmons.
Businessman John Rivers created a small group, known as The Rainbow Group, to assemble the privately-funded initiative after he encountered something similar in London.
Rivers said he was moved by how technology enlivened the London statue of Rowland Hill, whose ideas helped create the modern day postal system.
"We've got all these statues and monuments in Charleston. What if, instead of tearing things down, we expand the history and look at ways we can bring people together?" he said. "We all agreed that was a good mission, to try to expand the available history." 
Their effort can be seen as part of an emerging effort to raise the profile of historical contributions made by Lowcountry African-Americans and their historical allies — figures very different from the Confederate war heroes and slave owners memorialized by earlier generations.
Aside from Simmons, the "speaking" monuments include Civil Rights pioneer Septima Poinsette Clark, former slave turned Civil War hero (for the Union) Robert Smalls, abolition advocates the Grimke sisters, women's rights advocates the Politzer sisters, federal judge J. Waites Waring, Reconstruction era congressman Alonzo Jacob Ransier, and Denmark Vesey, whose plans for a major slave insurrection were thwarted in 1822.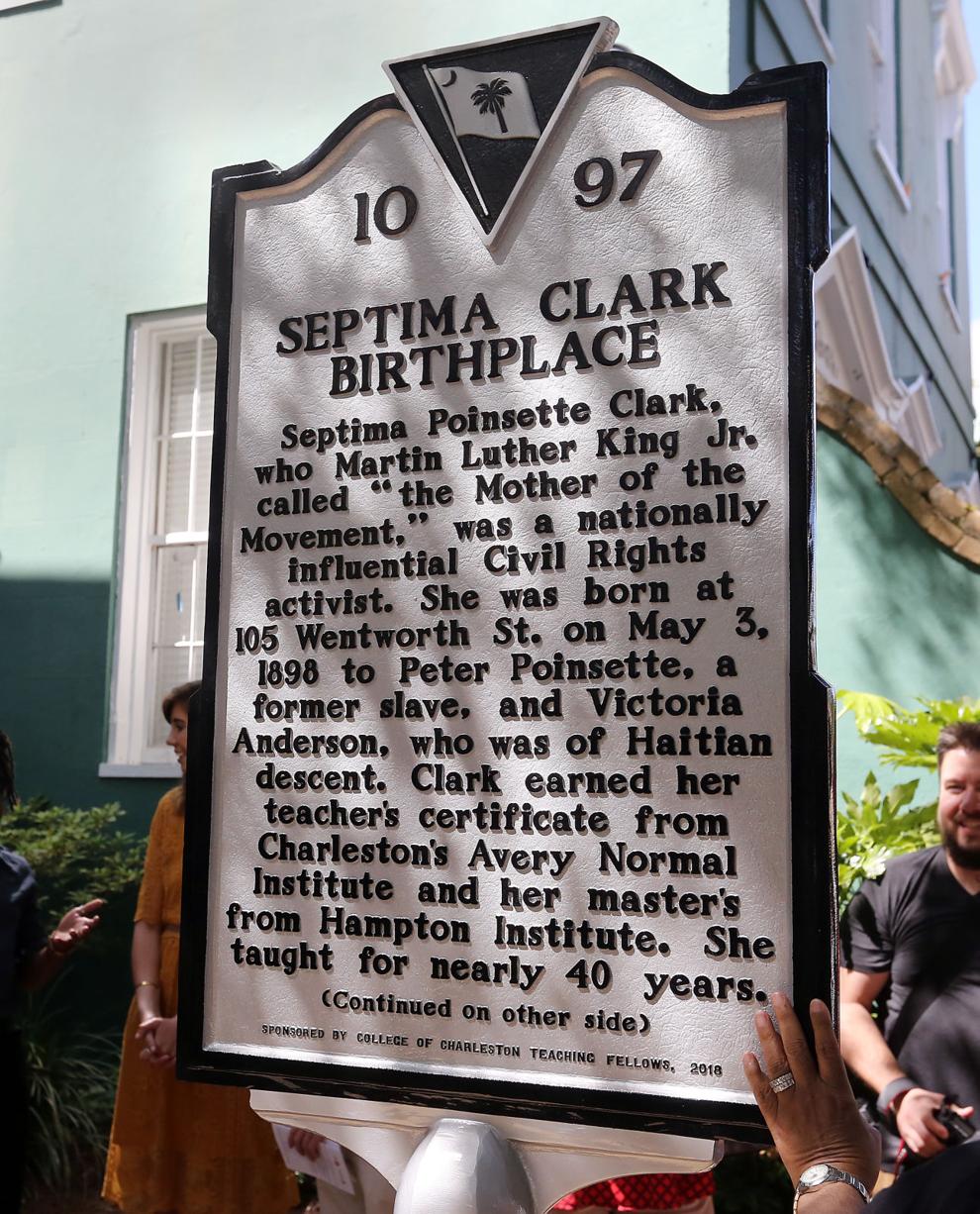 Three are statues, five are plaques. Most of the new circular markers were installed Thursday; the rest will be soon.
The city's most prominent and controversial statue, that of John C. Calhoun on Marion Square, isn't on the list.
Assorted local figures recorded the messages. Charleston County Councilman Henry Darby does Vesey's voiceover while author Josephine Humphreys recorded the Grimke sisters. Small's was done by Michael Moore, director of the International African American Museum and Small's great-great grandson.
Artist Jonathan Green, a member of The Rainbow Group, said the project will help provide a more complete history and bring the community together.
Mayor John Tecklenburg agreed.
"With additions like Charleston Stories, the International African American Museum and the Charleston Justice Journey it is inspiring to see that while our past might not be the most pleasant, it is ours and we are working to be the most authentic Charleston we can be," he said. "Acknowledging our past allows us to work collectively toward a much stronger and brighter future."
Rivers said the Rainbow Group got volunteers to record the stories of those honored at the monuments. The stories were vetted by local historians. The public can access them either by scanning a QR code on a sign near the statue or entering a web address with a mobile device. The statue will call you back on your phone. Answer to listen. 
Rivers said the city and group will track how many people use the free service.
"This was done in Chicago with some trepidation by City Council, which gave them a one-year trial," Rivers said. "But there were over 100,000 people who used the technology. They expanded it to three years, maybe longer."
"So much is going to depend on how well it's received here," he added. "I'm sure there will be people who will be against the idea but to get the unanimous approval from the city's Commission on History and City Council gives us confidence."
Sing London, a nonprofit arts group, helped create the talking statues in London, Chicago and here. Its director, Colette Hiller, said most people seldom notice the statues around them.
"Talking Statues aims to change this perception," she said.
Rivers noted many young people today might not bother reading a historic marker or tablet "but 90 percent of them have a phone. This hopefully will pique their interest."
For a map of the statues, go to charlestonstories.org