At least 8 dead, 1 million without power as Florence churns through South Carolina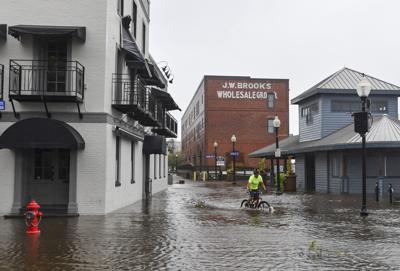 Loaded with moisture from its gallop across the Atlantic, Hurricane Florence slowed to a crawl Friday and Saturday as it spun through the Carolinas, killing at least eight people, knocking out power to nearly a million customers and drenching areas from the Outer Banks to northern Charleston County.
After making landfall in Wilmington, N.C., as a Category 1 hurricane, Florence moved at a walking pace toward the border of South Carolina. Along its path, the storm's long spiraling bands dumped staggering amounts of rain. 
Rivers across the region swelled, and the storm's arrival brought a massive ocean surge in North Carolina — 10 feet in New Bern and Morehead City. The flooding prompted dozens of rescues.
And the worst may be yet to come — though not from the wind.
Florence's winds were about 100 mph when it made landfall and they decreased to tropical storm levels early Friday evening. Instead, the threat was from heavy rain — deluges that pounded parts of Myrtle Beach and Wilmington for hours.
By Saturday, rainfall totals had inched into Hurricane Harvey territory, the 2017 storm that dumped more than 50 inches on Houston. A federal gauge on Emerald Isle tallied 47 inches, though some forecasters speculated that ocean spray may have added to the totals.
Yet other rain gauges also recorded astounding totals — more than 25 inches in Jacksonville and 30 inches in Surf City and Wrightsville Beach.
As bands swept across South Carolina Saturday, rain gauges in the Palmetto State began to fill as well, especially in Conway and Myrtle Beach.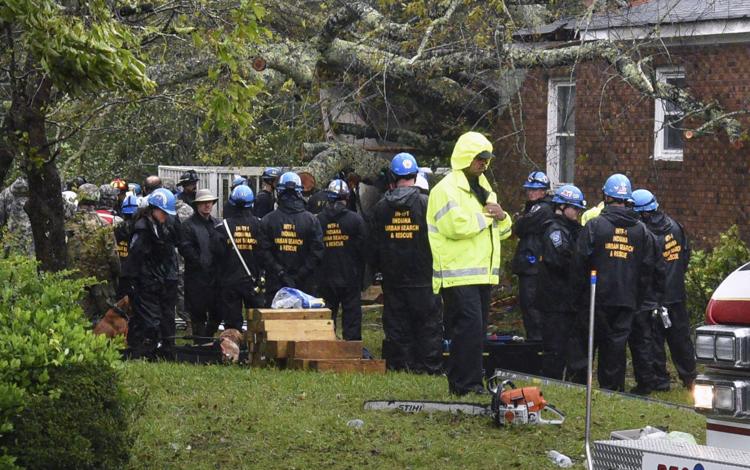 Calls for help
For days, Florence had crossed the Atlantic relatively unimpeded by sheer and other hurricane-wreckers. Then closer to land it met a less dramatic but also substantial weather system.
The collision stopped the storm's forward motion early Friday. Then, as if stuck on a spinning carnival ride, winds and rain lashed areas in North Carolina over and over.  
In New Bern, emergency workers rescued several hundred people from chest-high floodwaters. A woman named Bree tweeted: "If anybody could help ... our cars is under water and so is our house stuck in attic. Phone about to die please send help."
As calls for help rolled in, the city vowed via Twitter: "You may need to move up to the second story, or to your attic, but WE ARE COMING TO GET YOU."
A friend later tweeted that Bree had been saved.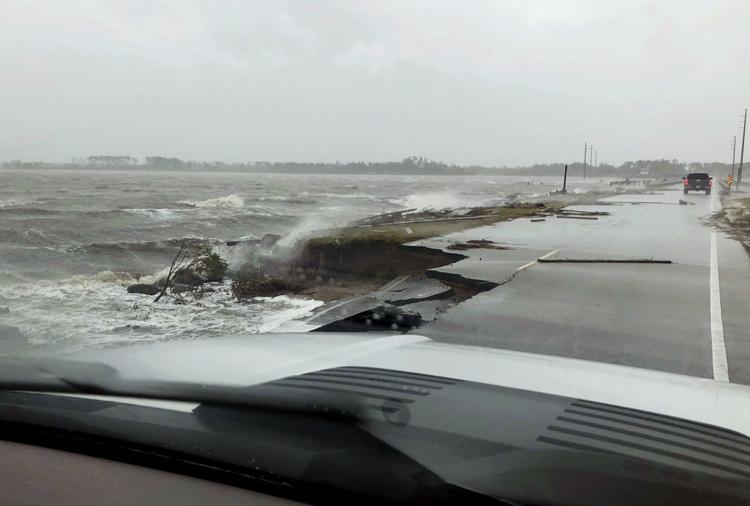 North of New Bern, the staff of WCTI-TV evacuated their office mid-broadcast on Friday, leaving a spinning radar image of the hurricane on air.
Farther south in Jacksonville, N.C., rescue workers pulled 70 people from the collapsing Triangle Motor Inn. Along the coast, the United Cajun Navy, a group of volunteer boaters that formed in Houston during Hurricane Harvey, made plea after plea for extra help: "Calling all Boats in South Carolina ... Need help now!!"
The eye arrived in Wilmington just after 7 a.m., and a 105-mph gust blasted the city's airport — the highest wind the city had seen in six decades.
The damage grew by the hour. Winds bent and busted thick-rooted canopy trees and leveled a finger pier near a yacht club. The Cape Fear River roared. Gusts poured over the Wrightsville Beach bridge, carrying rain drops that felt like needles. Downed trees blocked entire streets. On Market Street, winds blew the top off an industrial building.
Injuries and deaths rose with the winds. As the storm made landfall, a large tree fell on a house in Wilmington, killing a woman and her 8-month-old infant.
"It trapped the folks in there pretty severely," Wilmington Deputy Fire Chief Steve Mason said. "It fell on the house and brought a portion of the roof down, as well."
In South Carolina, a woman died in Union County when her car struck a tree downed by the storm, the Union County Coroner's Office said. In North Carolina, a woman died of a heart attack in Pender County, and two men died in Lenoir County — a 78-year-old man attempting to plug in two electrical cords outside and a 77-year-old man who was blown over by Florence's winds, CBS News reported.
Two more deaths in Harkers Island, N.C., were reported Saturday, and more injuries and fatalities were likely as rivers across the region overflowed and trees and power lines came down.
Different scene
As Florence pounded parts of Myrtle Beach and North Carolina, Charleston remained dry for most of Friday, creating a restlessness even as winds picked up.
Charleston's Battery was crowded with families bored after a week without school. Among them were Josh and Jessica Aydlette, who brought their daughters from James Island. The whole week felt sort of eerie, Jessica said — similar in some ways to Christmas Day, when most places close and lots of people get out of town. 
The Aydlettes hung around The Weather Channel's setup on the High Battery, where a small TV crew waited around for producers to call Charleston for a live shot. They didn't get many; the nation's attention was locked farther up the coast. It was slow enough that a few locals posed for photos with the network's microphone and asked the crew: "What's the weather going to be like?"
Winds steadily grew downtown, whistling past buildings and whipping a spray of dirt and sand down mostly empty roads. The morning's breeze stiffened into a robust wind, and white caps started churning in the harbor.
As the rain bands approached the tri-county area, officials warned that tropical storm-force winds were blasting Lake Moultrie. By early Saturday, more than 10 inches of rain fell in Conway and Longs and 5 inches in Kingstree. Trees toppled in Myrtle Beach.
State officials were monitoring the region's dams, a few of which failed in the 2015 deluge. Santee Cooper already had released more than 8 billion gallons of water from Lake Moultrie, enough to drop the lake's level by 3 inches. By Saturday, the lower Waccamaw River had risen 7 feet.
The storm was causing havoc with the power grid in both states. About 760,000 lost power in North Carolina, and more than 170,000 in South Carolina, with that number likely to rise overnight. Outages were growing steadily in the Pee Dee.
"It's a very odd-moving storm," said Christina Speciale, a forecaster with the National Weather Service in Charleston. Most hurricanes come from the south. "But this one is the other way around with winds coming from the northeast."  
Late Friday, it was moving at just 3 mph.
"It's so slow," Speciale said. "And slow-moving storms aren't your friend."
By evening, rain had begun to fall in northern Charleston and Berkeley counties, and these areas were likely to see gusts near 60 mph and 5 inches of rain. The sky turned orange downtown at sunset as the rain clouds unloaded here.
Its overall slow pace meant that in Charleston, tropical storm-force winds — greater than 39 mph — would continue to pick up late Friday night and early Saturday. 
Yet Charleston would likely only experience a glancing blow, with rainfall between 2 and 4 inches northeast of Interstate 26 and less to the south. Forecasters said a possible 2- to 4-foot storm surge in the Charleston area likely wouldn't happen. Like a multi-part series, Florence's story would take more time to play out.
Joseph Cranney reported from Wilmington, N.C.; Andrew Knapp and Chloe Johnson reported from Myrtle Beach and North Myrtle Beach; Thad Moore, Gregory Yee, Bo Petersen and Paul Bowers also contributed to this report. 
Reach Tony Bartelme at 843-937-5554. Follow him on Twitter @tbartelme.