A planned appearance by Steve Bannon at a Citadel student organization's event next week continues to draw scrutiny from leaders in Charleston's black community, who say they worry the talk by the controversial former adviser to President Donald Trump only serves to open deep wounds.
S.C. Rep. Wendell Gilliard, D-Charleston, was joined by members of the National Action Network in a meeting with Citadel president Lt. Gen. John Rosa and other campus officials Thursday afternoon. Bannon is scheduled to speak Nov. 10 at an event organized by the Citadel Republican Society, the largest club on campus. 
"This is the equivalent of Adolf Hitler visiting The Citadel," Gilliard said, pointing out Bannon's embrace of so-called "alt-right," white supremacist and anti-Semitic groups. 
The lawmaker emphasized that he and others speaking out against the appearance are not calling for anyone's First Amendment rights to be infringed. Rather, given incidents like the shooting of Walter Scott by a white police officer in North Charleston and the shooting of nine black parishioners at Emanuel AME Church in 2015, the timing for such an event is wrong. 
"We have to be vocal about this gentleman coming down because he exemplifies (hateful rhetoric)," Gilliard said. 
Elder James Johnson, president of NAN's South Carolina chapter, was also present at Thursday's meeting and said having someone like Bannon come speak only serves to divide the community further and that his appearance could bring instigators to Charleston from outside the community.
"We don't want another Charlottesville," Johnson said, referring to racially-charged protests that broke out during August in the Virginia city after white supremacist groups descended for the so-called "Unite The Right" rally.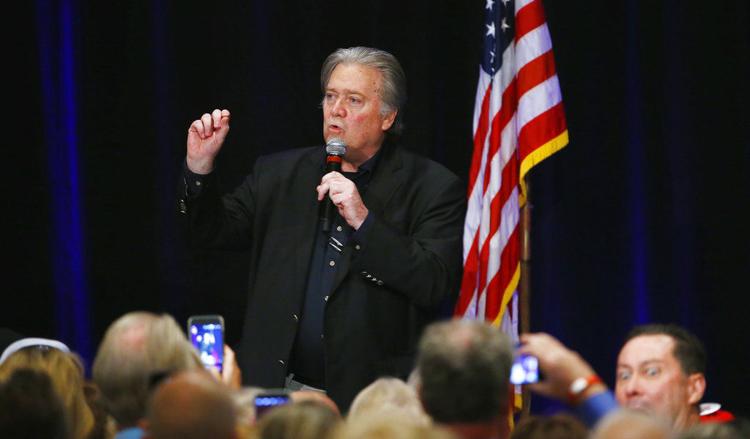 Both Gilliard and Johnson were also concerned about the kind of influence that Bannon's message might have on cadets. They challenged alumni to step forward.
Rosa promised that Citadel leadership would review events featuring controversial speakers in the future, according to Johnson.
Gilliard and Johnson also said they have received calls from members of the community who are concerned about the kind of effect that the visit will have. 
Rosa, on Thursday, issued a statement reiterating the school's commitment to freedom of speech. The lengthy document points out that Bannon was invited by, "a student-run organization."
He went on to say that as a state institution of higher education, the college does not endorse political figures or partisan points of view but is committed to academic freedom and freedom of expression.
"The Citadel has been, and will continue to be, a venue where ideas from many points of view are shared," his message said. "Our community is a place where we discuss and debate a diversity of ideas in a civil, respectful manner."
He noted The Citadel's Board of Visitors adopted a statement based on the University of Chicago's Principles for Freedom of Expression.
"One of the foundational principles that we teach our cadets and students is that while we will not agree on every issue, we will respect the opinions of others, even when we strongly disagree," Rosa said.
"We believe this principle is important in any college environment — but especially one devoted to educating principled leaders," he wrote.
The Citadel Republican Society issued a brief statement on its Facebook page Thursday praising Rosa's stance.
Speaking broadly about free speech issues, Susan Dunn, legal director of the American Civil Liberties Union of South Carolina, said there is no reason to stifle an event that was organized by a student organization and put together through proper channels. 
Even if holding such an event offends others, the response should not be to censor but to foster dialogue and the airing of opposite views, Dunn said.
And if the standard for allowing speech becomes whether it's offensive to someone, "then what you end up with is pablum," she said. "This should be a teachable moment."
Indivisible Charleston, a grassroots, nonpartisan political organization, is working with several other groups to hold a counter-protest at or near campus the night of Bannon's appearance.
Organizers have filed paperwork with campus officials seeking permission to hold their rally and are awaiting approval, said Vanessa A. Moody-Laird, an Indivisible spokeswoman. The rally will take place from 5 p.m. to 8 p.m. at a location to be determined. 
"Charleston has historically found its strength by embracing of all of its beautiful people, not by dividing us," Moody-Laird said, in a statement. "The Citadel must know that the good people of the Lowcountry will not be silent while this homophobic, xenophobic, misogynistic, racist is invited into our community."
Schuyler Kropf contributed to this report.