When protesters shut down a Charleston County School Board meeting Monday, they were shouting some of the same things school district leaders had been saying calmly since 2015: The schools are divided into haves and have-nots, and the children of African-American families are often the ones struggling most.
As activists demand emergency action to improve opportunities for minority students, the district is embarking on a slower, deliberative process. Over the past year, it has hired consultants, commissioned reports highlighting inequality and segregation, and begun appointing advisory boards that will present a list of proposals to the school board this summer.
That's not fast enough for Louis Smith, an activist and former school board candidate who helped lead the protest in the school board chambers Monday afternoon. After board members surrendered and left the room Monday, several students walked to the stage and sat in their seats — a symbolic shift of power.
"I was hoping to let the wider community know that enough is enough," said Smith, who plans to organize a "summer of sit-ins" with North Charleston church leaders until the district takes decisive action to promote equality for black students.
Meanwhile, a new accountability system at the state level is applying pressure from above. Nine high-poverty, majority-black schools in Charleston County were singled out by the S.C. Department of Education for intervention last year after they ranked among the lowest-performing in the state. Eight of the schools were in North Charleston; the ninth was St. John's High School on Johns Island.
This school year, the state sent transformation coaches to begin working in each of the nine schools. If the schools don't make enough progress over the next three years, the state has the authority to take them over.
Exercising provisions in state law, the state superintendent could replace a school's principal, force all of the school's employees to reapply for their jobs, shut the school down entirely, or hand control to a nonprofit or charter school management organization, among other options.
District Superintendent Gerrita Postlewait recently reminded the Charleston County School Board that the clock was ticking for change.
"Do we want to wait for the state to take action, or do we feel that it's incumbent upon us to take a look at what our schools need and take action ourselves?" Postlewait said during a March 11 committee meeting.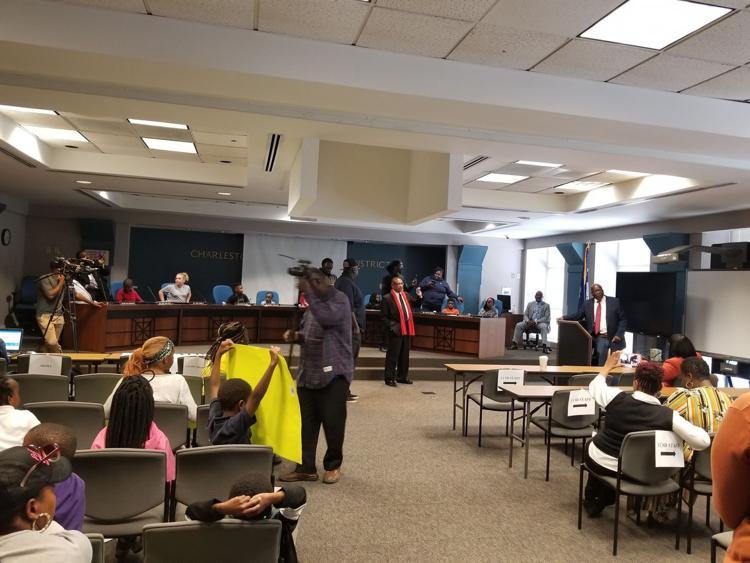 Under pressure
The pressure is coming from all sides, and Harry Seabrook Jr. is in the middle of it.
Harry, 18, is a senior at North Charleston High. His school is coming under scrutiny after decades of aggressive school choice policies hollowed out its hallways and left behind fewer than 600 students, mostly from working-class minority families.
Compounding the school's difficulties, four of the nine schools on the state's intervention list are feeder schools for North Charleston High.
But Harry's story is a success story — the good news that gets buried under low average test scores and reports of violence in the halls. He is heading to Morris College in the fall on a basketball scholarship to study business and finance. His sister, Peterra Richburg, 17, plans to study secondary math education, inspired in part by math teachers she had in high school.
Unfortunately, many teachers leave or quit the profession after a year or two. Peterra, this year's senior class president, said the school needs more teachers who are prepared for the challenges they'll face. Teachers have also been asking for mental health counselors and other staff to help contend with students' trauma and emotional difficulties.
"The bad part is we have students who don't want to learn — but there's a way to get them interested, and we need more teachers like that," she said, adding that more extracurricular activities and specialized classes like cosmetology or engineering would get students more excited to go to school.
Jasmine Grant, a 2017 North Charleston High graduate now attending the University of South Carolina, agreed that teacher turnover made high school more difficult.
"I visit sometimes, and it's a lot of new teachers," she said. "I can count on one hand how many teachers I recognize now who can remember me."
Looking back at high school, Grant said she remembers how it felt to have big decisions announced out of the blue, from mandatory school uniforms to the demolition of the stadium where she played soccer for four years.
"We tried to see both sides, but it never felt like a choice. It felt like it was forced upon us," Grant said.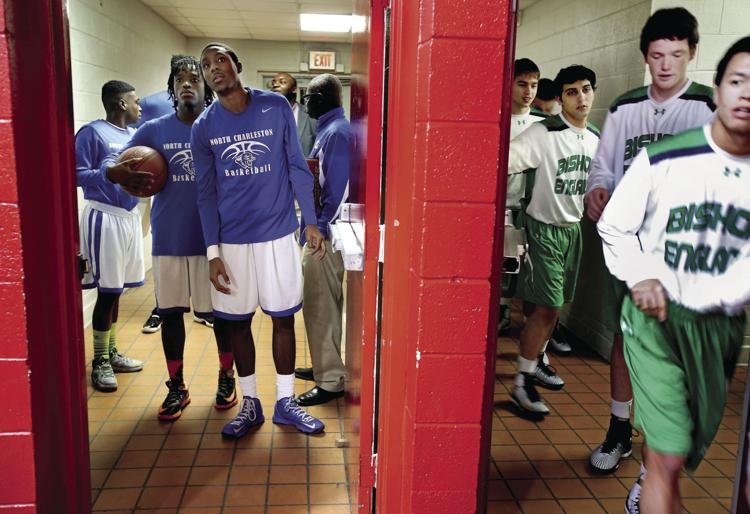 'Brutal facts'
Postlewait started her career in Charleston County Schools during the 2015-16 school year with a series of speeches and interviews highlighting what she called "brutal facts" about the status quo.
Among those brutal facts: Achievement gaps start before children enter preschool; black students are disproportionately suspended for behavior issues; and black students are far less likely than their white and Latino peers to be prepared for college and careers in Charleston County.
"You will see these slides over and over, these 'Confronting the Brutal Facts' slides," Postlewait said during her PowerPoint presentation to the board in May 2016.
Postlewait kept up a steady critique. In 2017, she decried "soft bigotry" that allowed the now-closed Lincoln Middle-High School to hold its African-American students to lower standards than their peers at Wando High. 
Change has come in fits and starts, and wide gaps persist. Lincoln's students have all transferred to Wando. Suspension rates are down district-wide, although tweaks to the district's discipline plan have drawn criticism from parents and teachers who say administrators are hamstrung when it comes to behavior management.
In 2018, the district paid $135,000 for researchers from Clemson University's Office of Inclusion and Equity to conduct a six-month study of the district. They delivered their recommendations in August: Desegregate the schools along socioeconomic lines. Offer high-level courses at all schools. Close small and under-performing schools. Use student test scores to evaluate teachers and schools. 
Immediately after the Clemson report, the district hired another consultant, the Reos Group, to host forums as part of a "Charleston Shared Future Project." These and other forums have not yet coalesced into a set of policy proposals.
Smith, the activist, has one idea: Establish community learning centers, complete with computers and  tutors, at churches near schools in North Charleston. The idea has not gotten broad support or funding yet.
The chopping block?
Every few years, someone in the leadership of Charleston County Schools touches the third rail of school district politics: closing schools.
The last time the district closed a school, Lincoln Middle-High in 2016, it sparked an outcry and led all of the board's black members to walk out in protest.
The topic arose again in preliminary budget talks in December, when district finance staff made projections based on the assumption that two schools would shut down by the fall of 2020 for a cost savings of about $1.1 million. One of the reports commissioned by the district, the Clemson diversity study, also recommended closing or repurposing ineffective schools.
No  plans have been announced, but the rumor mill is churning. At the March 11 school board committee meeting, Postlewait took time to quash rumors that the district was seeking to close North Charleston High or Burke High.
Postlewait highlighted ways the district might transform the existing schools rather than close them.
"We can ask, for example, at North Charleston High School, whether it can become a school that operates very much like Early College High School," Postlewait said, referring to a countywide school that lets students take a wide range of dual-enrollment courses at Trident Technical College.
Still, some activists and school board members are wary of what might come next. Kevin Hollinshead, one of two school board members who stayed to listen to the protests Monday, said his African-American constituents are also concerned about the influence of outside interests.
Among the bullet points on a list of "Mission-Critical Actions" approved by the school board on Feb. 11, one phrase appears only in the section addressing North Charleston schools: "public-private partnerships."
"Privatizing schools and making money off of schools — people are scared of that," Hollinshead said.