Turn the corner onto Spring Street from the strip of new hotels and elite restaurants on Charleston's Upper King Street, and you might notice a green highway sign dangling above the passing traffic.
"Welcome to Dr. Martin Luther King Jr. Memorial District," it says, hinting the corridor might be a nexus of the peninsula's historically black communities.
For a long time, it was. 
Spring Street and the parallel Cannon Street were the thriving commercial hubs of a mostly black, middle-class neighborhood throughout the 20th century. In the days of Jim Crow segregation, residents could go see a movie or grocery shop in the area without having to venture into parts of town they weren't welcome.
When Spring and Cannon were designated as the MLK Jr. Memorial District in 1999, the streets were still alive with black-owned businesses such as fresh seafood markets, floral shops and service stations.
But as the surrounding areas were revitalized in the years since, the district changed through a mix of market forces that sent property values up and a wave of white, affluent residents in. 
Today, it seems the district has very little to do with the civil rights leader or his vision for African-Americans.
"It's in the name only," said City Councilman James Lewis, who represents parts of the neighborhood known as Cannonborough-Elliottborough. "The district in the last 15 years has changed from African American to white."
Many homes once occupied by families are now rented out to students or short-term visitors. Only a handful of black-owned businesses remain, with many other storefronts transformed into new-age restaurants and well-appointed office spaces.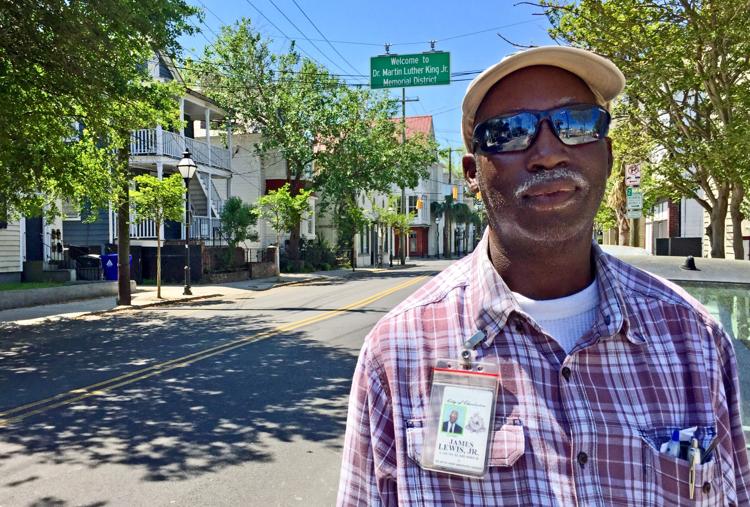 As Lewis walked down Spring Street on Tuesday, he could name just about every business that used to be there: Ernie's, a soul food restaurant; the Wilson Building, a strip of office spaces; H.A. DeCosta Co., one of the most prominent black contractors in Charleston.
Only a handful of older business are still there; at least one, Clemons Realty, is on the way out. 
Jerome Clemons opened the real estate and property management firm at 76 Spring in 1991. It specializes in moderately priced rental housing, which has helped many black residents remain in the neighborhood over the years.
But with housing prices climbing peninsula-wide, Clemons said the market for more affordable price points has migrated elsewhere, primarily to West Ashley and North Charleston.
He plans to relocate the business accordingly but hasn't yet decided where. He recently sold the building to an architecture firm.
"What was once the pride of being on the peninsula has now become very challenging," he said. 
Other black business owners on the street said they planned to stay put.
Natasha Franklin, co-owner of Seafood Alley, said she's sure the restaurant will stick around because it's one of the only locally owned places left downtown to buy freshly caught seafood. 
Francina Roche, who runs Roche Real Estate and Tax Business on the corner of Coming Street, said she's not affected by the changes in the neighborhood because she has a loyal client base.
Still, she's disappointed she's one of the few black businesswomen remaining in the area.
"There's nothing around here now that really relates to Martin Luther King, except that sign. That's all we have left now," she said.
Around the same time the district was designated, council members also pitched plans to erect a Martin Luther King Jr. statue at Liberty Square, near the East Side. But they never materialized. 
Clemons said black residents are still owed that memorial, especially now that the Spring-Cannon district has lost its symbolism.