In the worst tidal surge since Hurricane Hugo, Irma's wide, whirling bands thrashed coastal South Carolina on Monday with stinging rains and punishing floods that put vast swaths of the Lowcountry under water.
The storm tracked through Florida and Georgia, 200 miles away from Charleston as predicted, but its enormous reach still spawned tornadoes, downed power lines, killed at least one person and caused widespread disruption.
But it was Irma's surge that put it in Charleston's storied hurricane record book.
At its height, the storm generated a nearly 10-foot tide. That was 4 feet more than normal and among the worst tidal surges in 80 years after Hugo in 1989 and a storm in 1940. It was about 8 inches higher than last year's Hurricane Matthew.
Unlike Matthew, which lashed much of the state, Irma's worst impacts appeared to be on the coast. It brought high winds, including a 72 mph gust on Folly Beach, but also temporarily expanded the Atlantic Ocean's domain.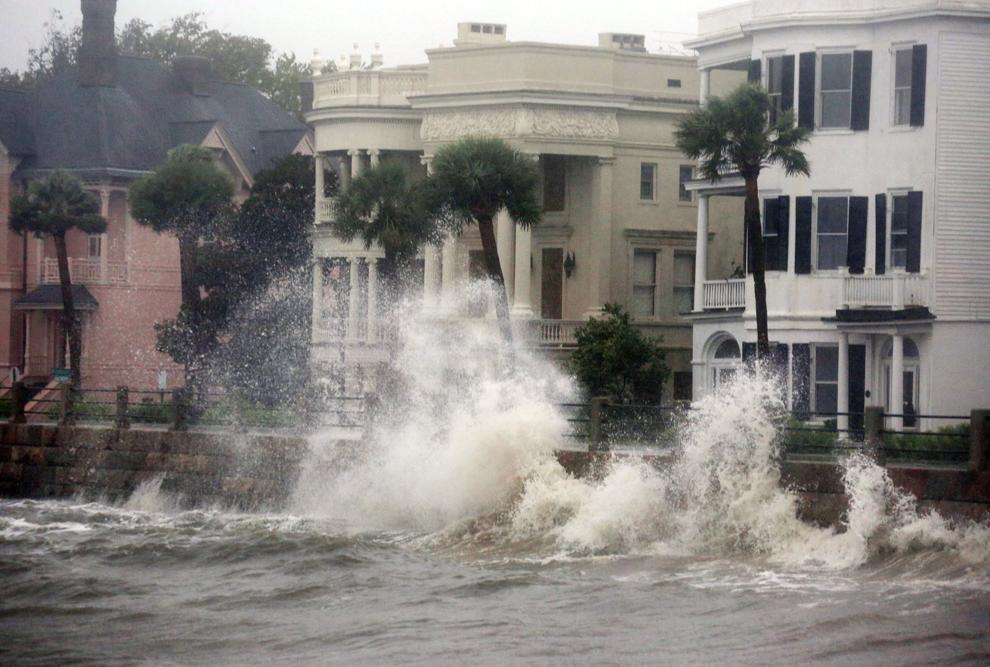 Whitecaps pounded the walls along East Battery. Fountains of spray exploded over the rails. The surge put White Point Garden under water and sent water coursing through downtown Charleston's historic neighborhoods. Residents waded through hip-deep water; a jonboat with four people aboard cruised down South Battery.
Irma, Matthew, the rain bomb in 2015 — it was the third year in a row that downtown Charleston succumbed to the sea. Charleston Mayor John Tecklenburg said Irma's might was surprising in some ways, given that Irma's eye passed so far away.
"Certainly there will be property damage, and it may add up to quite a bit," he said.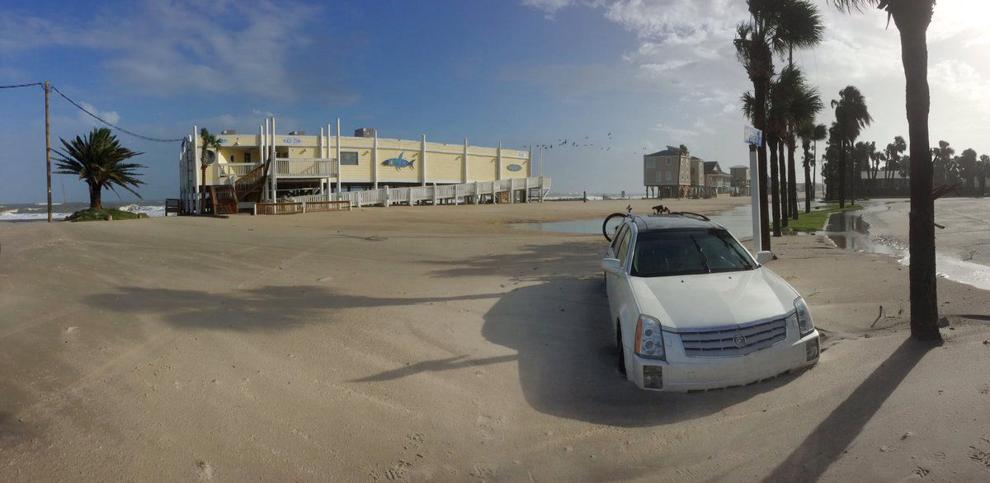 Away from Charleston, Irma's surging waves burst through dunes on Edisto Beach, the Isle of Palms and Sullivan's Island. Near Folly Beach, waves picked up the famed painted Folly Boat on Folly Road and deposited in a nearby marsh. On its side were the words "this too shall pass."
It will take some time for Irma's impacts to spin away. Coming amid the carnage in the Caribbean and Florida, and on the heels of Hurricane Harvey, this latest cyclone will raise questions from everything about the urgency of climate change to homeowner's insurance. 
But for a day, in South Carolina, the question circling around Irma was: How high would the water go?
Incredible flooding going on in Downtown Charleston. Rounds of heavy rain will continue to move through, do not travel. #scwx #Irma https://t.co/pYtNPr2YT0

— NWS Charleston, SC (@NWSCharlestonSC) September 11, 2017
Raging surge 
It could have been much worse, and for a while last week it seemed as if Charleston might get hammered by a Category 3 storm. Then Irma veered west and cut like a circular saw across Cuba, and then moved north.
The wind arrived first. A 49 mph gust was recorded at the Charleston International Airport, where nearly all flights were canceled. Trees and power lines fell across the region.
In Mount Pleasant, Darlene Fischer heard the crack. She was on her laptop at the time, and recognized the sound of the tree in her front yard coming down. Not knowing which way the tree would fall, she leapt to tackle her 7-year-old daughter. It fell into Muirhead Road instead, missing the family's mailbox by inches.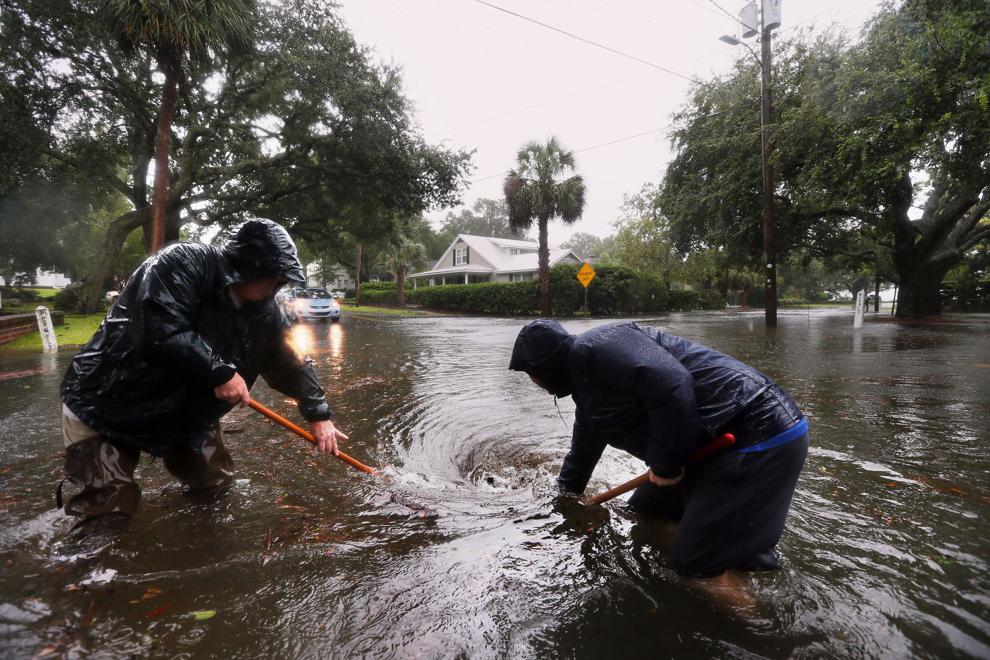 The water followed the wind.
By 10:30 a.m., the National Oceanic and Atmospheric Administration's tidal gauge in Charleston was at 7.5 feet, the point when many low-lying areas begin to flood.
As the minutes ticked, water coursed through the marshes. It bubbled out of manholes near Calhoun Street. It poured across Lockwood Boulevard by the City Marina and filled the low-lying areas around the Medical University of South Carolina. It washed over the road by the Washout on Folly Beach.
An hour later, the water was another foot higher. It flowed like a stream from the Cooper River onto Romney Street. At the small park at the end of Charlotte Street, near the South Carolina Aquarium, hermit crabs crawled out from the harbor onto the sidewalks, displaced by the waves. Small lakes formed throughout the East Side, especially near Grace Bridge and America streets.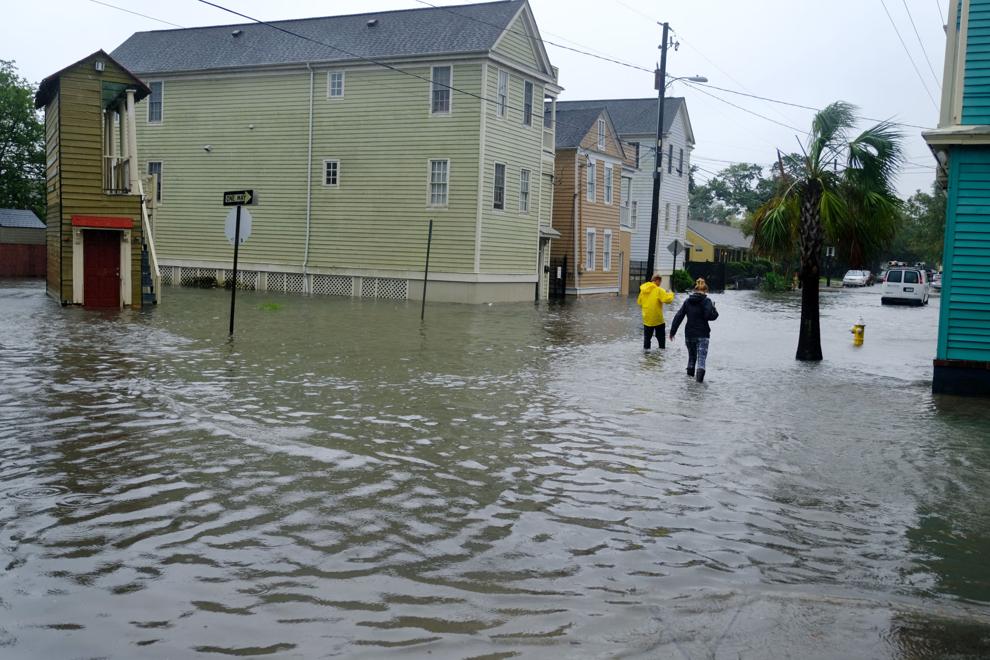 By noon, the walls along The Battery had ceased to keep the Ashley River back, and neighborhoods there were now part of Charleston Harbor. In Mount Pleasant, U.S. Highway 17 north was impassible at Towne Centre. Boone Hall Creek was lapping at Long Point Road. 
In Summerville, drivers pulled into the Jessen Boat Landing and watched the Ashley River flow over the pier. The surging river flowed through the wetlands behind them, threatening to leave them stranded.
More and more
High tide was at 12:23 p.m., but the water kept rising.
Near the city's medical district, stormwaters rushed through Gadsden and Halsey streets, generating whitecaps as it flowed toward the MUSC. Water was waist-deep by the Children's Hospital. Rubber gloves and other medical waste floated up Ashley Avenue. The flooding was so severe that Charleston police asked the public to avoid downtown until the floodwaters recede.
At 1 p.m., winds howled as tidewaters reached 9.9 feet on NOAA's gauge downtown, the third highest on record.
As torrents poured into parking lots on both sides of Shem Creek in Mount Pleasant, swamping cars whose owners had failed to respect Irma's threat, Town Administrator Eric DeMoura said, "I've never seen anything like it." 
Pretty intense wind and rain. #charleston pic.twitter.com/6bC2fWmaIJ

— Matthew Fortner (@MatthewFortner) September 11, 2017
More bands passed through. A water spout created a dramatic white-and-gray funnel off the Isle of Palms, and a tornado warning was issued on Edisto Beach. At 12:37 p.m., a severe thunderstorm capable of producing a tornado was spotted on radar near Fort Sumter. Moments later, a possible tornado was reported on Johns Island. Forecasters urged residents to take cover immediately, but it wasn't clear whether funnel clouds formed. When winds were at their peak, Charleston County suspended its emergency ambulance service.
Irma's bands also brought heavy rain, and forecasters expect as much as 8 inches in some areas. In the driving wind, raindrops felt like needles on the bridge over Shem Creek in Mount Pleasant. And on nearby Pitt Street, Ann Kilpatrick did her best to shift debris away from her property with a rake.
"It calms my nervousness," she said.
Higher tide
The tide turned, but the water in many areas stayed put. The Lowcountry is flat, but not evenly so. It's full of subtle rises and dips, more like an old plaster wall instead of the uniform flatness of modern wallboard or Florida. This means surges can fill some of these dips with several feet of water, while a few yards away, the land might be dry. Meantime, Irma's bands didn't let up.
Power went out at Folly Beach, and the road to the beach was shut because of flooding. Locals said they planned to ride out the storm with a wary eye on conditions.
"Things change very dramatically out here," said Will Smith.
Gusts rocked cars and made it difficult to walk in the stinging spray. The ocean swirled under a house on the island's east end. Sightseers braved the conditions to feel the wind and see the surf that washed up into the dunes.
Shawn Backus said he was ready for storm worries to end. "I'm just ready to go back to normal life," he said. "It really just wears you down after a while."
A family from Tampa, Fla., staying at the Tides hotel said they came here to evacuate from Irma. Some water was leaking into the lobby of the hotel.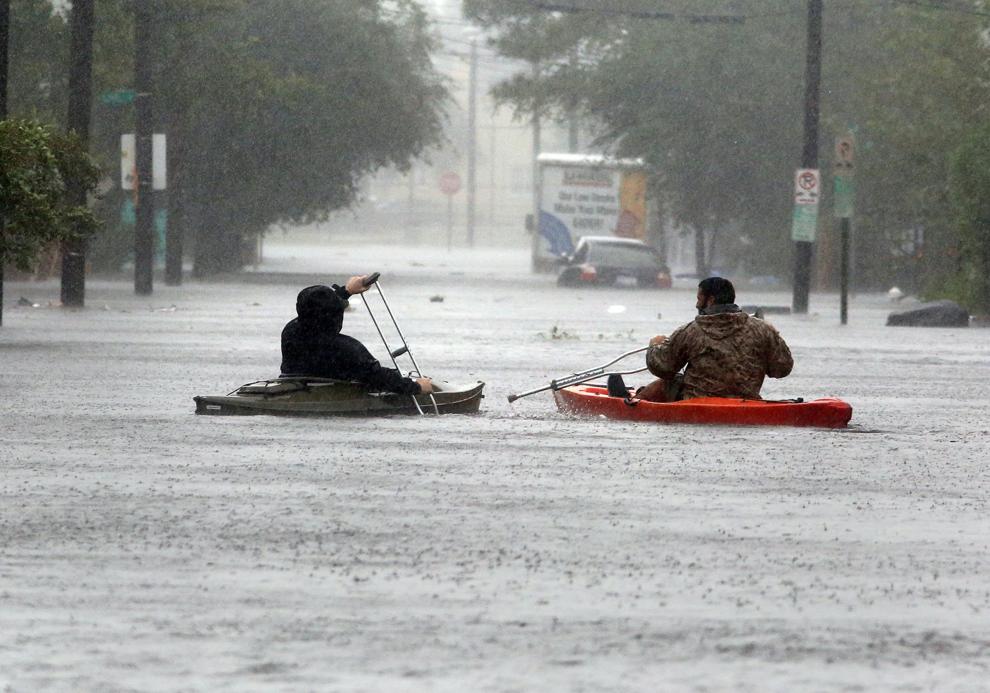 Around 3 p.m., the city tweeted that almost all the islands roads were flooded and advised residents not even to try driving.
On Isle of Palms, Mayor Dick Cronin said he'd "never seen this much water on the island" in his more than 20 years on the barrier island.
Many people had their cars flooded, especially in the Forest Trail area, and several boats lost their moorings in the Intracoastal Waterway. At least one washed up against the IOP connector from Mount Pleasant.
Most roads on Isle of Palms were impassable at about 3:30 p.m., according to city administrator Linda Tucker.
"Most of the water came as a result of the storm surge," said Cronin, wearing white rain boots and a yellow slicker. "We've had roughly 3 inches of rain at this moment, and I keep a rain gauge. But the surge has been the most damaging, with the wind. I haven't had a chance to do a recon on the beach, but we expect significant erosion."
At Breach Inlet, waves pounded close to the parking lot on the Sullivan's Island side. On the front beach of Isle of Palms, waves smashed against the dunes just in front of The Windjammer. Tucker said the storm brought flood waters to places that don't normally flood on Isle of Palms. The city had ordered in extra pumps in advance of Irma, and had them working at 32nd, 46th, 50th, 51st and 52nd avenues.
"We knew we'd get water in areas where it normally floods," Tucker said. "But this has gone above and beyond that."
Widespread effects
Irma's impact was felt across the state.
Charles Saxon, 57, became South Carolina's first recorded death when he was struck by a tree limb while clearing debris outside his home in Calhoun Falls amid wind gusts of about 40 mph, according to a statement from Abbeville County Coroner Ronnie Ashley, ABC news reported.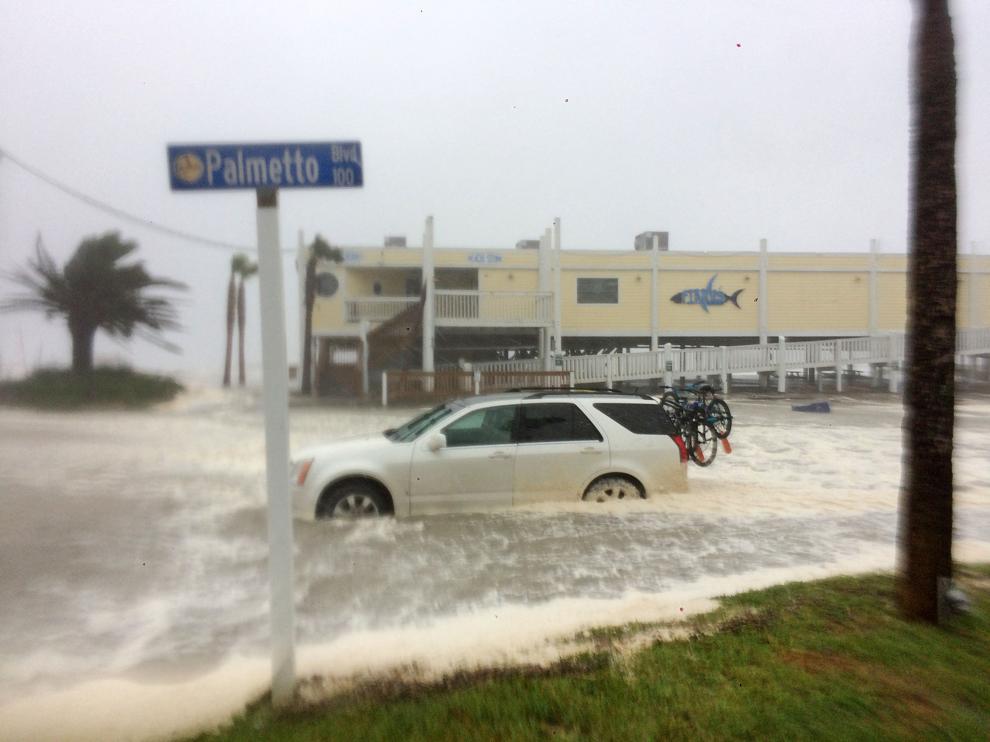 On Edisto Beach, hard-hit last year by Matthew, the Atlantic streamed across the beach, whipping up foam and putting a foot of water on Palmetto Boulevard. Visibility was near zero at noon as a violent swirl and wind pushed through. Beaufort had a nearly 10-foot surge. Hilton Head's surge was even higher at 12.23 feet. Residents on Hilton Head reported the south end of the island under as much as 10 feet of water and some docks submerged. More than 7 inches of rain fell there.
Conditions were were less wild in Myrtle Beach, which had a 2.5-foot storm surge and a relatively low amount of rain.
At 5:30 pm., conditions began to improve. On Folly, Dustin Slowick paddled a surfboard on East Huron Avenue near Center Street. Water made it up to the porch of his home on Third Street but didn't go any farther. Floodwaters rose rapidly and seemed to come from the Folly River, he said.
"It's sad but we all look out for everybody," he said.
By then, across the island, with winds calm, a symphony of frogs erupted.
The storm would leave the area slowly. Forecasters with the National Weather Service in Charleston said heavy rain would continue at times through early Tuesday, along with the potential to generate tornadoes and damaging gusts. Waters would recede, but could rise again with Tuesday morning's high tide.
MK Wildeman, Adam Parker, Bo Petersen, Dave Munday, Thad Moore, Gregory Yee, David Slade, Prentiss Findlay, Andrew Brown, Jeff Hartsell, Andy Shain and Andrew Knapp of The Post and Courier staff contributed to this report.