GREENWOOD — The Southeast's biggest wood pellet producer is seeking to expand its only South Carolina plant, driven by energy demand from across the Atlantic. 
But some neighbors of the Enviva Biomass plant in Greenwood worry about the impact of the plant pumping out tens of thousands more tons of the wood fuel pellets, which are a similar shape and slightly smaller than cigarette butts. The closest residents don't want increased air pollution in the area.
At the same time, there's disagreement about whether European countries should continue to rely on wood as they transition away from coal and battle climate change.
South Carolina has long had a booming forest industry, particularly for paper and solid wood. It contributed $21.2 billion to the state's economy in 2018. Pellets like the ones produced here are a small, if growing, piece of the pie. They account for just 1 percent of the state's forest products, said Tim Adams of the S.C. Forestry Commission, and the S.C. Department of Health and Environmental Control has permitted just four companies to produce them. 
But among producers, Enviva looms large. The Greenwood site is one of nine the Maryland-based firm owns across the Southeast.
In 2018, it took over the plant, where logs are stripped of bark, chipped, milled, dried, milled again into smaller pieces and finally pressed into pellets. The process creates particulate matter and chemical gases, both of which can be harmful to breathe. 
Activists who oppose expanding the plant say it is already putting too much pollution into the air. Alectron Dorfman of the advocacy group Lakeland Citizens for Clean Air said people nearby wake up to find their properties coated in sawdust, and that the many logging trucks that bring wood to the plant are disruptive.
"We don't understand why DHEC is not protecting its citizens," Dorfman said. 
In July, Enviva signed a consent order with DHEC, paying a $13,000 fine and admitting it hadn't kept proper records on its equipment. It also agreed that smoke coming from its smokestacks was too thick and needed a plan to control dust. 
The agency's next step is to issue its final decision on the expansion permit, which asked for a roughly 25 percent increase in production. DHEC had no timeline for when that will happen.
Enviva spokeswoman Maria Moreno said the expansion would upgrade pollution controls and support 30 more "indirect" jobs, though no new ones at the plant itself. She also said that all of the issues identified in the July consent order had been fixed.  
"Every dollar we spend in Greenwood creates an economic impact that generates additional salaries, taxes, revenue for landowners, and spending in our community," Moreno wrote in an email. "The expansion permit will allow Enviva to reduce emissions while moderately increasing production."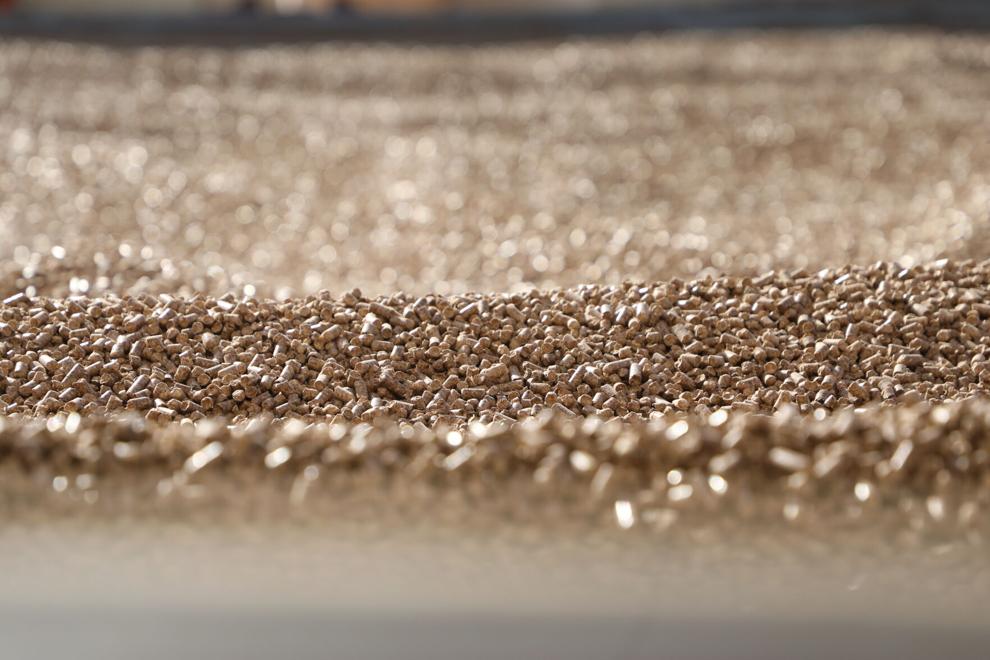 Accounting questions
Demand across an ocean, particularly from the formerly coal-dependent United Kingdom, has been the biggest driver of the wood pellet market so far. 
At issue are clean energy standards aimed at reducing the planet-warming carbon gasses given off from fossil fuels. Rita Frost, a campaigns director with forest conservation nonprofit Dogwood Alliance, said agreements to reduce emissions count wood pellets in the land-use category in countries where trees are cut. To avoid double-counting, emissions aren't counted when the pellets are burned at a power plant.
But that accounting logic only works if the exporter is held to the same rules as the importer, and in 2017, President Donald Trump announced that the United States would leave the Paris Climate Accord that had been penned two years earlier. 

This fact was also highlighted in a recent report by the European Academies Science Advisory Council. The group is an independent consortium of top scientists from around Europe. 
There are further problems, the council found. Replacement trees have to be planted for the ones cut, but because the time for a replacement tree to grow to the same extent could exceed a decade, this method isn't fast enough to meet the Paris agreement's standards. 
The analysis also said that, "Reversing deforestation, reforestation, increasing soil carbon levels and enhancing wetlands remain the most cost-effective and currently viable approaches (to removing carbon from the atmosphere)."
Moreno, by contrast, said that wood is a necessary replacement to fossil fuels like coal if European countries are actually going to be able to meet energy targets. 
Patricia Layton, director of Clemson University's Wood Utilization and Design Institute, said reforestation is an important tool to curb climate change. She said that Europe in particular needs to catch up in restoring forests.
"They're taking their environmental problems, i.e. 'we don't want to use fossil fuels anymore,' and they're pushing them to other countries," she said. 
But she said that in South Carolina forest managers are extremely successful in re-growing trees after they're harvested. The state has generally added forested land since records began in the 1930s, and about 13 million acres of the state are now covered.
Maintaining forests
About 88 percent of South Carolina's forests are privately owned, and there are some programs that incentivize landowners to protect their forests specifically to suck up atmospheric carbon dioxide. But conservation programs don't always work for landowners with smaller plots.
Ultimately, Layton said, forest owners need a revenue source to hold on to the property, and in places like Greenwood, there aren't other plants or mills to consume timber. 
Forest owners "need to have those markets, or (they're) going to not own that land," she said.
Still, activists and some residents in Greenwood are worried about the effects of the Enviva facility. They even organized a car rally to drive around DHEC's headquarters in Columbia in September, honking horns to voice displeasure, according to the Rev. Leo Woodberry, who participated. 
Woodberry, a clean energy activist based in Florence, said that it's a particularly bad time to expand a plant with air emissions because of the COVID-19 pandemic, which often attacks the lungs. 
"Their first objective and mission should be to protect public health," Woodberry said of DHEC. 
Residents closest to the plant, who are disproportionately Black and poorer, have had a hard time engaging with the issue during the pandemic. When DHEC held a public hearing on the proposed expansion at the end of the summer, many people in Greenwood couldn't participate because it was virtual and many lack broadband, said Erniko Brown, an organizer with Dogwood Alliance.
"The community that's affected by what's truly going on didn't even have the access ... to get on this call and speak for themselves," Brown said.