Only time will tell if a proposed memorial to the Emanuel AME Church massacre will become Charleston's most memorable.
But its projected scope and estimated $10 million price tag already makes it among the most ambitious ever attempted here.
The memorial plan, to be unveiled at 11:30 a.m. Sunday just after Emanuel's worship service, will mark the finale of the church's current 200th anniversary celebration.
The design has been in the works for more than a year, a result of a quiet collaboration among survivors, families of the nine deceased church members, the congregation, other civic leaders and Michael Arad, a partner at Handel Architects in New York.
When Arad, one of the architects of the National September 11 Memorial and Museum, was competing for the job, he wasn't asked for any drawings. Instead, he was asked for essays on what forgiveness looks like and on his design approach.
"I think that was very wise," he said. "For me to suggest what should be built here without any knowledge of who is involved and what their feelings are and what their hopes and aspirations are would be beyond presumptuous."
Charleston City Councilman William Dudley Gregorie, an Emanuel leader who served on the design committee, said the plan has been warmly received by the victims' families and should be embraced by the larger community.
"It's not going to be what people expect, I'll just tell you that," he said. "What I can tell you about it is I really think it's going to evoke feelings, and it will take you on a journey from death to survival. It's going to be very personal. I think people will interpret it personally. It's abstract enough for people to do that."
"What I get from it is a warm blessing embrace as I enter."
A landscape, not a sculpture
Arad has visited Charleston more than a dozen times since being selected for the project in June 2017.
He didn't begin work at a drawing board but as a sounding board, listening to victims' families and others describe their hopes for what the memorial would be.
While the specific design remains under wraps, the concept involves a dramatic transformation of the church grounds on the east, north and west. Some parking will remain closer to Henrietta Street, but a path will link Henrietta to Calhoun Street, and the memorial will include two main spaces: a memorial courtyard on the west and a survivors' garden on the east.
Currently, those areas are occupied by several parking spaces, air-conditioning units and a wooden handicapped ramp.
"The design is sort of very much in the world of landscape architecture more so than sculpture or architecture," Arad said. "All the design cues came from growing to appreciate the vernacular architecture of Charleston — the fig ivy-covered walls, the brick walls, the crape myrtles, the live oaks, the lawns. All the elements you will see in the design are really derived from design cues that the city provided.
"They are interpreted in a different way. They are in some ways more modern, but they are very much rooted in this built and planted language of Charleston."
The memorial plan had been going in at least one markedly different direction, and some early focus revolved around a site between the church's southeastern corner and Calhoun Street. Eventually, a consensus emerged around the church grounds plan.
"It took us a few renditions to get where we are, but I do think it's worldly," Gregorie said. "It will attract people from all over the world to come to see it."
Passing the tissue box 
Shortly after the mass shooting on June 17, 2015, Beach Co. President John Darby reached out to the church to offer his help with creating the memorial. The church eventually agreed, and a committee was formed with Darby, church leaders, Charleston Mayor John Tecklenburg's wife Sandy and others.
They wanted something that not only honored those who lost their life and the survivors but also spoke to the journey of forgiveness, racism and the struggle of African-Americans, and triumph of love over hate.
"That was a lot to put into a memorial," Darby said. "We also didn't want the memorial to compete with the church. We feel we've accomplished that."
In a sense, Arad was a logical choice, having successfully made it through the highly collaborative and often difficult process of designing the 9/11 Memorial and Museum.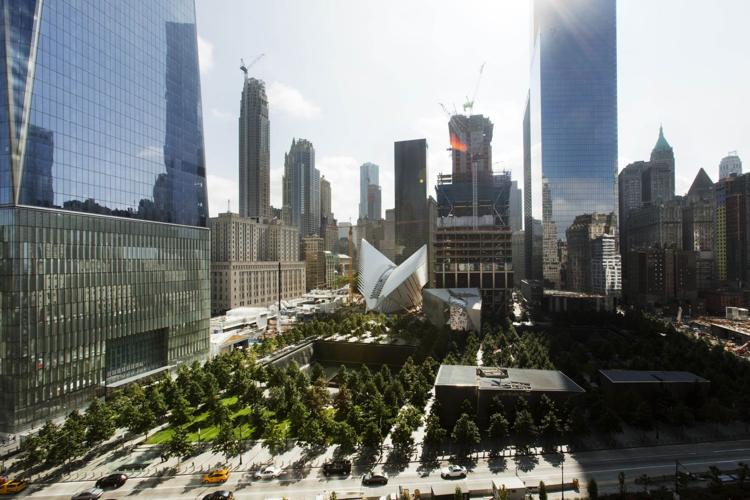 The New York Times did a feature in 2011 about how the 8-year process mellowed and matured Arad, who started that project as a headstrong 34-year-old architect who clashed with some early proposed changes. Even the specific placement of victims' names was fraught and took more than a year.
Arad told the newspaper the process and the years changed him. 
"I'm a little more measured," he said. "That sense of urgency I thought accompanied things — it can take a little longer. You have to take the long view."
In another sense, Arad was an unlikely choice: an architect who was not a South Carolina native or resident, wasn't African-American or even Christian.
"I'm sort of from outside in many ways, but I feel there are many ways that connect all of us," he said. "I felt connected when I heard news of the attack three years ago. When I was asked to participate, I felt incredibly humbled by this and fearful of the enormity of the task."
Arad and the design team met with families and others, often in a public library meeting room just down the street. The meetings weren't easy, but they were worth it.
"They essentially were meetings of strangers asking probing and personal questions to find a way to connect and understand," Arad said. "Without those meetings, I don't think the design of the memorial would have taken the path it has or without us attending services and getting to know congregation and feedback from community."
"There were some days we just sat and passed the tissue box around," Darby added. "Every meeting got better, then you went to work."
Next steps
Those involved in the memorial hope it could be dedicated within a few years, but a firm timetable will hinge mostly on how quickly the money can be raised.
"The only thing I can say is send checks," Gregorie said. "We're going to need as much help as we can."
The construction is expected to cost around $10 million, a sum that would include buying a small piece of neighboring property to offset the lost parking. Darby said the fundraising goal will be more like $15 million, including money for a maintenance endowment and programming.
"It can't be a financial burden to the church," he said. "It should be an asset."
The memorial would be a natural complement to the city's International African American Museum, set to open in a few years about four blocks away.
Darby said a newly created nonprofit has formed and held its inaugural meeting last month. He said it already has received some major donations from people who want to be part of it — even though he had no design to present. While some hope the memorial could be unveiled during the fifth anniversary of the shootings in 2020, Darby said it likely will take longer than that.
While the project at the church in the heart of downtown Charleston will be the largest dedicated to the Emanuel victims, there are other memorials in the area, including recent installations at the Charleston International Airport and at Charleston Southern University.
The Emanuel memorial will join other prominent national memorials to other traumatic events. In addition to the 9/11 memorial, the National Memorial to Peace and Justice opened earlier this year in Montgomery, Ala., to honor enslave black people, victims of lynching and those hurt by Jim Crow.
"We looked at a bunch of stuff to make sure that this is not a replica of anything," Gregorie said, "to make sure that it's new and fresh and of its own."