GEORGETOWN — The camp here doesn't sit in a remote area like most others. Forty miles up the coast from Mount Pleasant, it's also smaller, a compact rectangle of brown classroom trailer-style structures right off busy U.S. Highway 17.
But the biggest difference at AMIkids Georgetown is the age of boys sent here. They are younger, 14 on average, some barely in middle school. One recently turned 11.
They also are the most likely — by far — to get back into trouble when they leave.
Nearly three in four boys who complete the program re-offend within a year, according to an analysis AMIkids commissioned from the Justice Research Center, a Florida-based firm.
Overall, AMIkids' camps in South Carolina had the highest recidivism rates of the company's residential programs nationwide in 2014, the year analyzed in the most recent report.
About 40 percent who completed the camps were convicted of new offenses within a year. Add in probation violations, and that rose to 56 percent in South Carolina compared to 48 percent at AMIkids' residential programs overall. That doesn't include youth who re-offended as adults.
The younger age at AMIkids Georgetown explains why even more — 73 percent— re-offend here within a year, camp officials agreed.
Other AMIkids wilderness camps arm teens with certifications and skills to place them in jobs when they go home, a critical turn from the streets where they got into trouble. The Georgetown camp's kids are too young for that.
They also don't stay as long, giving the staff less time to modify behaviors, catch kids up in school and provide mental health care before sending them home.
"They have to go right back into the same environment where they picked up the charges in the first place," said Rickie Hardy, AMIkids' regional director.
Nearly all kids sent here have experienced trauma. They come from high-poverty areas. Many are way behind in school and qualify for special education services. 
The camp's staff would like to keep the boys longer and work more with families to reduce recidivism, but there isn't the money to do that, said Michael Wright, the camp's director for 22 years.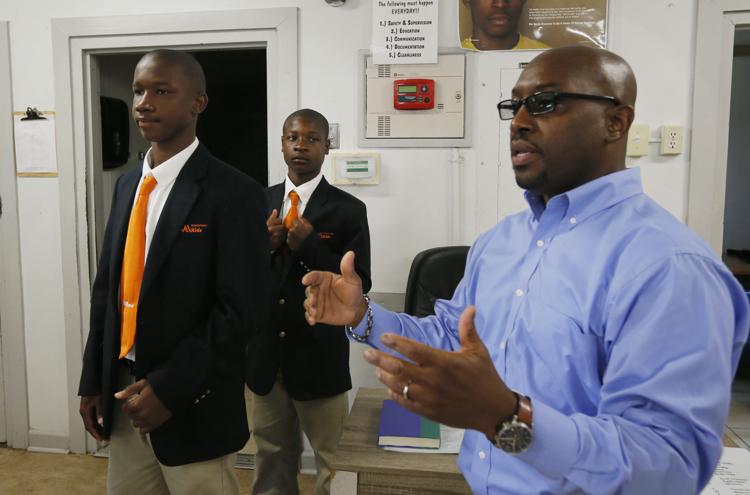 In August, AMIkids officials gave The Post and Courier a tour of the camp. Two staff-selected boys appeared in dark blazers, crisp white shirts and orange AMIkids ties to lead it.
Qua'Shond, an eighth-grader, had been at the camp for five months. He was 13. Ahmeek, his 14-year-old tour guide partner, had been there for a month. Unlike older teens at other camps, they spoke about loving their moms and letting them down.
"Sometimes it makes me want to cry thinking about how I left my mama alone at the house. She needs me, and I need her, too," said Ahmeek, a ninth-grader. He was thankful his mother had moved so he'd go to a new school when he went home.
Qua'Shond had gotten expelled for fighting. He had since taken an anger management class to learn what set him off. "When I first got here, anytime somebody say something to me, I going to fight. Now I learned how to control my anger real good," he said.
He hoped to leave any day. He'd asked his mom if he could go to a different school. He'd asked God to help him know which friends to pick.