The Charleston County School District shelled out serious money to recruit teachers this year — and it worked.
The district's chief human resources officer elicited gasps and a round of applause at a school board meeting Aug. 13 when he reported the results of an aggressive and expensive recruiting campaign: The district of about 50,000 students had just two teaching positions left to fill before the start of classes on Aug. 20, and none of them were in math classrooms.
The HR officer, Bill Briggman, acknowledged there's more to recruiting and retaining teachers than throwing money at them. But it can't hurt that the district now offers a base salary of $37,407, the highest in the state, with a goal of bumping the scale up to $40,000 over the next two years.
For math teaching positions at some high-poverty schools, the district now offers a starting salary of $45,000.
The new pay hikes affect the entire salary scale, which sets a teacher's salary based on education level and years of experience.
"Somebody's got to set the stage for the state," Briggman said in an interview. "If we can set the bar, and if we can get districts to start competing, I think that's great. Statewide, something's got to happen."
With educators quitting in droves statewide every year, veteran teachers retiring with the end of the Teacher and Employee Retention Initiative this year, and not enough new college graduates rising to take their place, Charleston County's spending provides a tidy example of a lesson every high school economics student learns: When demand is high and supply is low, prices tend to rise.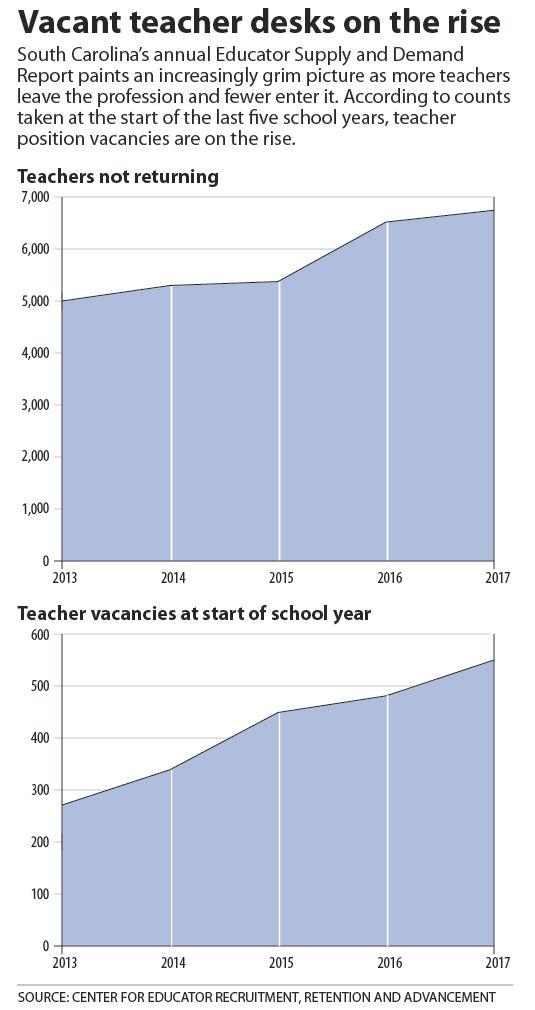 But not every district is able to spend the kind of money Charleston County does. In addition to $11.7 million in state-mandated teacher salary and benefit increases this school year, the district's budget includes $2.7 million in additional spending to ratchet up the teacher pay scale, plus another $1.4 million just for the high-demand math teaching positions.
As a result, neighboring counties are starting to feel the burn of competition.
The Berkeley County School District District has hired 375 teachers for this school year but still had 37 teacher openings as of Aug. 15, according to Chief Human Resources Director Karen Whitley. Some of those positions have been filled, but the paperwork is not yet completed, she said.
"A few offers from other districts have been made to some math teachers," Whitley said. "Some of my math teachers that have left are saying they can make anywhere from $9,000 to $19,000 more, but they're going in those high-needs schools."
Money isn't everything
Salary is just one factor in teachers' career decisions. When the S.C. Department of Education recently surveyed 197 ex-teachers about why they left the profession, the most common reasons they gave were low pay, lack of classroom support, and the burden of assessments and accountability.
For Kim and Gary Colangelo, a married couple who start teaching Monday in Charleston County schools, the decision to change districts wasn't about the money at all. They say they both took pay cuts transferring from schools in Atlanta's northern suburbs.
In the end, their decision had more to do with family ties, personal connections and career goals.
The Colangelos have two sons attending the College of Charleston this fall and wanted to be near them. As the couple started attending school hiring fairs and looking at job openings in the area last fall, Charleston County teacher recruiter Whitney Spain zeroed in on them.
This spring, Spain took Kim on a visit to Mount Pleasant's Whitesides Elementary — and she fell in love.
"It's very welcoming, similar to the school I'm coming from, but a little bit smaller," she said.
Gary, on the other hand, was looking for a change after working at an affluent suburban high school in Georgia. Spain introduced him to school board member Todd Garrett, who represents downtown schools on the county board, and Garrett sold him on the idea of checking out Burke High School. Principal Cheryl Swinton took him on a tour.
Gary starts teaching special education classes at Burke on Monday.
Kathleen Magliacane, a director of teacher recruitment and hiring for the district, said that's the kind of work it takes to reel in teachers like the Colangelos in a competitive job market.
"The recruiters are really trying to develop relationships with individuals that are applying or that we're meeting at recruiting events," Magliacane said. "We can get teachers or hire them for different schools, but if it's not somewhere that they're going to feel comfortable, it's not a win for the district, the students or the teacher."
On top of recruiting efforts and salary increases, the school district has started partnering with the University of South Carolina School of Library and Information Science to train existing teachers as librarians, a perennially difficult job to fill.
The district is also launching TeachCharleston, its own alternative certification program for college graduates without an education degree, and the district's Early College High School plans to launch a Teach Local initiative to recruit prospective teachers starting in 10th grade.
Statewide competition
Elsewhere in the state, rural districts including Dillon 4 and McCormick County have started buying houses to provide discounted housing to teachers. The Allendale County School District has paid teachers for gas mileage to commute in from outside the county. Others have used one-time funding from the state to offer signing bonuses to new teachers and Christmas bonuses to returning teachers.
Last year, Berkeley County schools received about $1.15 million from the landmark Abbeville County School District v. South Carolina lawsuit, which ended in 2014 with the S.C. Supreme Court ordering a sweeping overhaul of the funding system for poor, rural districts. The money has to be spent within two years.
A portion has been earmarked for advertising out of state for certified teachers in critical areas such as special education, math and science. The funds also pay moving expenses and a $5,000 signing bonus for those who accept the jobs.
"It's a good shot in the arm, but it's really not what gets people here and it's not what keeps people here," Whitley said.
Berkeley County had additional openings this year due to the opening of two new elementary schools, Bowen's Corner in Hanahan and Foxbank in Moncks Corner. Some slots are being filled by people who want to become teachers through certification methods, such as the Program of Alternative Certification for Educators, but can't start the three-year program until January. They'll work as long-term substitutes until then, she said.
"We have 47 schools so it's less than one teacher per school," Whitley said. "Certainly we want zero vacancies, but we are continuing to work very hard."
In the past, Berkeley County has also offered incentives to teachers who drive long distances to rural schools, but that was not included in this year's budget. The bonuses ranged from $1,660 annually for certified staff members who drove 20 miles one way to $2,460 for those who drive 60 miles or more.
As of Aug. 13, Dorchester District 2 had nine openings to fill, according to spokeswoman Pat Raynor.
"My understanding is that several candidates have been offered contracts, so we are anticipating that number dropping," she said. "Certainly, to my knowledge, we've always started school with all staffing complete and I expect that to be the case this year, too."
The district had about 200 openings to fill this summer, although not all of them were teaching positions. About 100 employees retired this year, she said.
The district did not offer any special incentives to recruits.
"We don't have the funding to do that," she said. "Our personnel department has been very aggressive in their recruiting. Of course, we feel like a lot of people want to work in Dorchester 2, but we've been going out to colleges and doing out-of-state recruiting and being pretty aggressive. I think we're better off than many districts."