With hunting season open and kicking into high gear, thousands across the Lowcountry will be heading into the fields over the next few months in search of deer, quail and more.
But those numbers have been on a decline for the past couple generations.
"Participation in hunting is down," said S.C. Department of Natural Resources spokesman David Lucas. "We have fewer hunters today than we did 40 or 50 years ago — in raw numbers and as a percentage of population."
Nearly 17 million people across the country hunted in the early 1980s. In 2016, that dropped by 2 million, even though the population grew by 100 million.
Several factors contribute to the decline but one of the biggest is the graying of the hunting population. Aging baby boomers are giving up hunting but they aren't being replaced by new young hunters, said John Frampton, retired DNR director and current president of the Council to Advance Hunting and the Shooting Sports, a nationwide council started in 2010 by the Association of Fish & Wildlife Agencies to look at how to fix the decline.
"I'm optimistic we'll be able to change the tide," he said. "Hunting is an important part of our history. Target sports and shooting go as far back as you can trace."
Because of the array of annual multi-year and lifetime licenses offered, it's difficult to make year-to-year comparisons, but about 200,000 hunting licenses have been sold in S.C. each year since 2014.
Last year, 146,044 deer licenses were sold statewide, a 5 percent increase over 2016, Lucas said.
"License sales have held pretty steady, which is encouraging from our point of view," he said.
Today, youngsters often don't have anyone in the home to teach them to hunt, officials said. Or they aren't interested, live in the city or are afraid of firearms.
And large-scale development has significantly reduced the amount of available land.
"There are a lot of threats like that that come into play," Frampton said. "You have to have somebody to teach you through a period of time. It's a long process of education, experience, developing skills."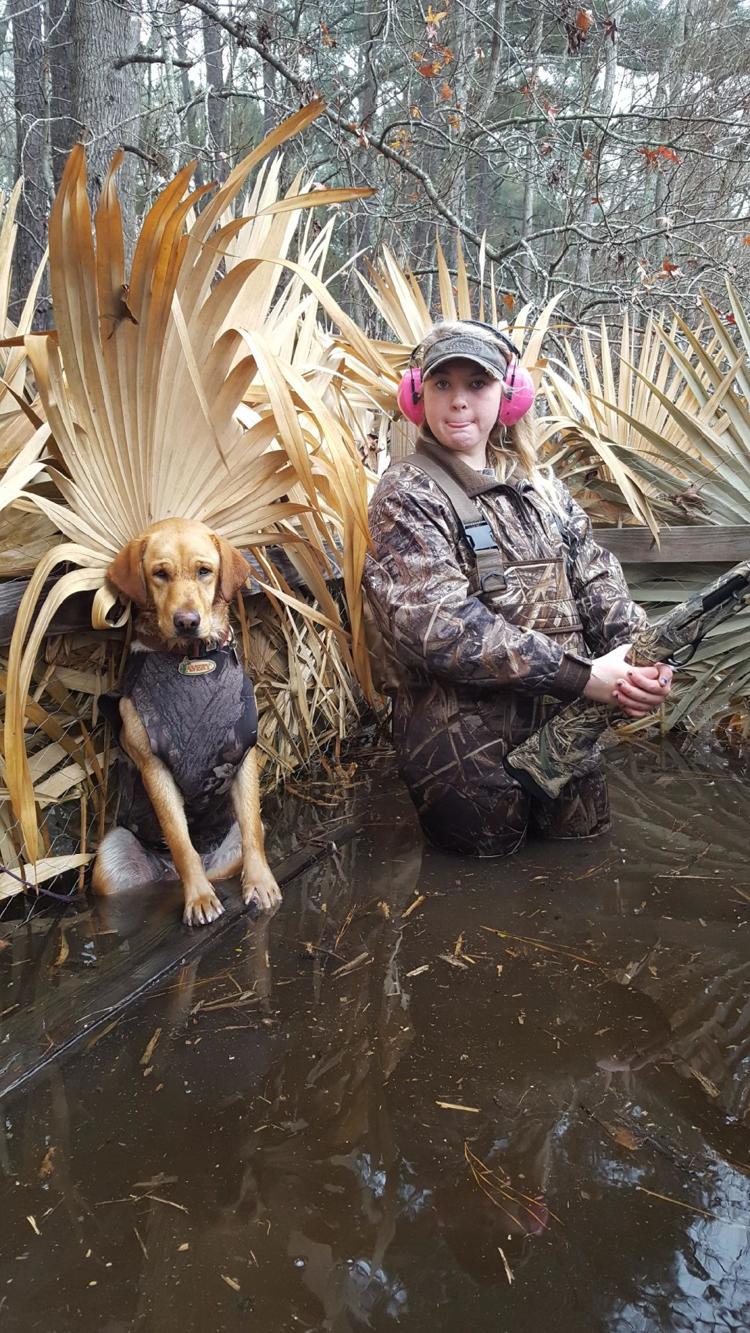 James Island resident Kirk Kirkland's dad taught him to hunt. Now he is passing on his skills to his daughter, Lilli, almost 15.
"She was probably 7 or 8 the first time I took her," Kirkland said. "I've been hunting since I was that age."
Lilli has twice attended Camp Wildlife in Summerton where she earned her hunter's education card. Last summer, she was the only girl in the advanced camp.
"I like hunting just for the fun of it," said the Oceanside Collegiate Academy freshman. "It's really quiet out there."
She'll even get up at 4 a.m. to go duck hunting.
Among her kills are ducks, doves and last November, her first deer, but that's not the main objective.
"I've always preached to her that we go out there for the fun of it," Kirkland said. "We don't go out there to kill but there's nothing better than being in the woods. We've created some memories she'll have for a lifetime."
They often participate in the DNR's kids hunts in the Francis Marion National Forest. DNR put on 50 kids hunts last year.
"We are working very hard to recruit new hunters," said Billy Downer, head of hunter education for DNR. "Just like wildlife agencies across the country, we're looking at ways that we've never looked at before because the traditional hunter doesn't look like they used to. We need to be open to anybody that wants to hunt."
The "Take One Make One" program, for instance, identifies children who don't have access to hunting and gets them interested. It drew 215 kids statewide last year.
The youth and their parents learn basics at a clinic, and those who want to hunt are paired with a mentor for a future outing. A similar program at Clemson University is aimed at college students.
Hunters spend upwards of $500 million annually statewide on hunting-related activities, according to a 2016 report by Clemson University.
About 80 percent of the money spent on land conservation comes from sport hunters, shooting sports and anglers through license fees and taxes on firearms, ammunition and fishing tackle, Frampton said.
"When you have a declining hunter base, that number is going to come down," he said. "That's just one reason to support hunting."
He acknowledges that some are opposed to the sport.
"Hunting has a bad name because certain segments of the media have painted it bad and there have been some organizations that are very critical," Frampton said. "They don't understand hunting takes the place of some pretty cruel activities that occur in nature. Can you imagine what South Carolina would be like today if we didn't have anybody hunting deer? We would be overpopulated throughout the state."
For more information on hunting, visit the DNR website.