GEORGETOWN — Although floodwaters moving at a tortuously slow pace still engorged devastated communities upstream of this historic city on Friday, the mood here in the water's final destination still brightened. 
Business owners along normally bustling Front Street, whose restaurants and shops have been shuttered for days, planned to re-open this weekend. They'd heard the news that revised state projections show the city likely will suffer far less deluge from Hurricane Florence floodwaters than forecast just days ago.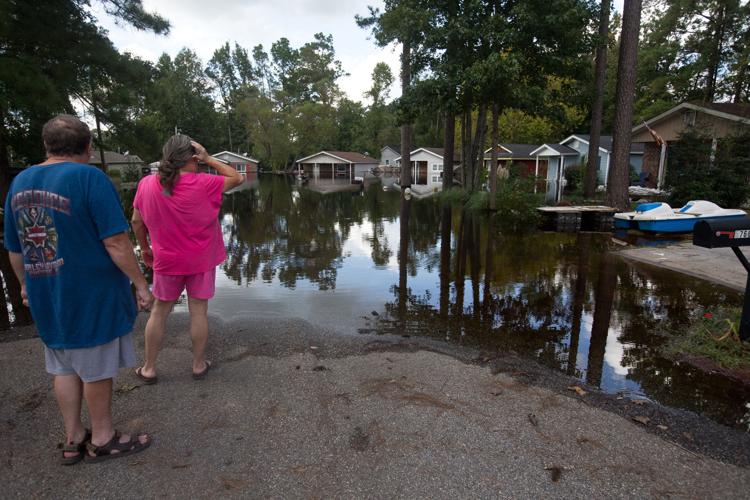 Georgetown County officials announced Friday that they expect the rivers here to crest by Saturday. The two local shelters will close at noon on Saturday. Most county offices and facilities will resume normal operations Monday. So will the county's schools.
The state Department of Natural Resources originally expected 5 to 10 feet of flooding in some areas of Georgetown, but then reduced those projections to 2 to 5 feet in the hardest-hit areas. 
At Graham's Landing in downtown Georgetown, owners prepared to re-open Saturday. Officials had told them that the water wasn't likely to get much higher — and not a puddle formed on Front Street Friday — so they lugged everything back inside.
Yet, vast amount of sluggish floodwaters still sat at or above record levels in areas upstream.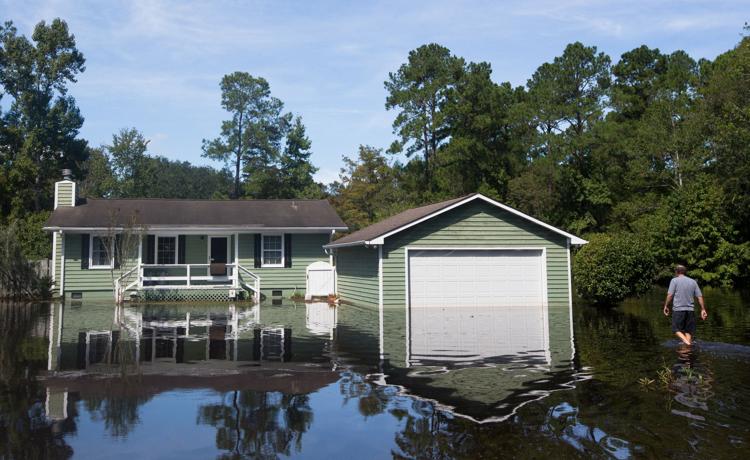 Bucksport and Conway, the Horry County seat, remained severely flooded.
In Conway, where a sewer plant flooded, the Riverwalk area was still under water. The Waccamaw River crested there mid-week. But, as of Friday, it still sat more than 2.5 feet above its previous record — and likely would remain so until early next week. 
Closer to the coast, the Intracoastal Waterway at Socastee near Myrtle Beach crested Thursday more than 2.6 feet above its previous record set after Hurricane Matthew hit two years ago. Severe floodwater lingered there Friday as well.
Among the most devastated communities in Socastee was the Rosewood Estates area, a large neighborhood of mostly ranch houses near Socastee High School, where residents set up a big tent and offered free bottles of cold water and spaghetti and rolls from tin tubs. 
They estimated that about two-thirds of Rosewood, a neighborhood of several hundred homes, sat underwater late Friday. 
Out in one of the most flooded stretches, Jerry and Pat Carver were among the only residents left in the vast expanse of devastated houses, their home an island now, reachable only by boat.
The couple sat on their front porch beside a big American flag, in one of the relatively few raised houses in the neighborhood. They figured that almost 6 feet of water lapped beneath them, about 18 inches shy of their living space. Somehow, they still had electricity, although the HVAC sat underwater.
When the power goes out? They had some Vienna sausages and other non-perishables to get by.
But they weren't leaving.
"We hadn't never left yet," Jerry said. "We're doing fine."
They normally live with a lake on one side, the Intracoastal Waterway on the other.
"We wanted to live on the river, not in it," Pat said.
Hurricane Florence dumped at least 11 trillion gallons of water on the Carolinas. Much of that water then headed downstream into South Carolina where it has displaced about 11,000 people, damaged or destroyed thousands of homes, and set new flood records as the water headed downriver toward Georgetown. 
A few blocks away from the Carvers, Jenny Warden surveyed her house from a high point on her street.
Two years ago, Hurricane Matthew stopped at her front porch. Florence let herself right in.
The red house sat under about 2 feet of water. She's lived there for 13 years and has no flood insurance, given she doesn't live in a flood zone. She and her husband moved out a week ago and are staying with friends nearby. 
The hardest part?
"The long, slow waiting for weeks for it to come," Warden said. "Now, we'll have to wait for it to get down."
Given the maddeningly slow pace of the floodwaters' trek, she figures it will be another week.
On the other side of Rosewood, Robert Peavy surveyed the flooding that stopped just shy of his house. He is 74 years old and moved into his little brick place back in his 30s, when he and a neighbor were the only people who lived out here. A concrete angel stood out front, wings unfurled, near one side of his garage where the water stopped and a duck with fuzzy ducklings splashed.
"I've never seen it this high," he said. "If it gets this high again, I'm going to move and leave it."
That water flows to the Waccamaw River, then toward Georgetown. Despite the enormous amount of flooding that remained upstream late Friday, prediction models showed that the Waccamaw at Pawleys Island, which topped its record there as well, likely would crest by Saturday 1 to 3 feet above that level.
It arrived in Pawleys on Friday mostly only in pools and puddles. Mike Bowen was among the few wading through his flooded yard and drowned garage. It hadn't gotten into his house yet.
He and his wife just bought the place a month ago and moved up from Florida. Angry would not fully describe his mood. Nobody, he said, warned him about flooding like this on his new property.
"I'm now talking to two lawyers," he fumed. "It's awful."
All of that water upstream still must flow toward Georgetown, where the Waccamaw and Pee Dee rivers course right by the city's historic district. Their destination: Winyah Bay.