COLUMBIA — In a rare television interview, an attorney for Alex Murdaugh insisted his client didn't kill his wife and son, shared new details about the disgraced lawyer's opioid addiction and shed more light on the botched assisted suicide scheme that got Murdaugh arrested last month.
Speaking with Fox Carolina anchor Cody Alcorn, Columbia-based defense attorney Jim Griffin said Murdaugh had no reason to kill his wife, Maggie, and son Paul, whose unsolved slayings on June 7 have drawn international attention.
Griffin said he has reviewed years' worth of text messages between Alex and Maggie Murdaugh that show the two had a loving relationship, despite a report that Maggie had met with a divorce attorney in the weeks before her death.
Maggie Murdaugh was spending time in the family's Edisto home that spring, Griffin said, but only because she was working on renovations there. Griffin said the pair would text each other affectionate messages each night before going to bed.
Besides, Griffin said, Alex Murdaugh had a rock-solid alibi in the hours before he returned to the family's Moselle hunting lodge in Colleton County to find Maggie and Paul shot to death near the property's dog kennels.
Murdaugh was visiting with his mother, who has dementia, and watching a game show with her and a caregiver, Griffin said.
"You would think that if Alex was the one who did it, (the State Law Enforcement Division) would have been able to establish that pretty easily that night," Griffin said. "You would think they would have searched his house and found blood somewhere. You would think they would have found the murder weapons on the property. You would think they would come up with something to link Alex to the murders, forensically or independent evidence. To my knowledge, they have not done that."
The case has been the constant talk of South Carolina since the summer, spawning all manner of speculation and discussion over dinner tables and online message boards. But SLED investigators have made no arrests, and the agency has urged patience as it chases leads.
The unraveling of Murdaugh, the scion of a powerful and wealthy legal family in Hampton County, has only heaped more fuel onto the fire. Last month, he admitted to a 20-year opioid addiction, checked himself into rehab and left his law office after his partners accused him of stealing firm and client money.
He was arrested after confessing to trying to orchestrate his own murder in order to leave a $10 million life insurance payout for his remaining son, Buster. He was sued by the sons of his late housekeeper, who have presented evidence that allege Murdaugh swindled them out of a $4.3 million wrongful death settlement they were owed.
And his law license was suspended by the state Supreme Court, which was compelled to act by the avalanche of allegations.
In this week's interview with Alcorn, Griffin made clear he still doesn't have all the answers in this still-unfolding story.
He said, Murdaugh remains in an out-of-state rehabilitation center for his addiction. Griffin said he looks forward to speaking with Murdaugh to "peel back more layers of this onion" and determine if Murdaugh's addiction or financial schemes could have given someone a motive to harm his family.
"We're going to explore that with Alex as soon as he is able to," Griffin said.
Griffin disclosed that Murdaugh had sought medical treatment for his addiction in the past, spending a week in detox while telling his friends and co-workers he was on vacation. But Murdaugh had never stuck with the program and stayed for rehab, his attorney said.
"It was a surprise to a lot of people in how he was able to mask it," Griffin said. "I didn't know. It was a real surprise to me. I know that it has been a struggle of his."
Griffin also shared that he met with his client over Labor Day weekend, on the morning before Murdaugh staged his own shooting.
During that conversation, Griffin said, Murdaugh explained that he had been accused of stealing money and ejected from the Hampton County law office of Peters, Murdaugh, Parker, Eltzroth, Detrick — which his great-grandfather had founded in 1910.
Murdaugh also admitted to Griffin he was addicted to opioids and said he planned to check himself into rehab.
Griffin said he has represented clients before who were contemplating suicide.
"I was concerned," Griffin told Alcorn. "Was this something that would cause him to try to kill himself? And I had that conversation with him. I felt reasonably confident after I left him that he was not in that frame of mind."
Griffin said, Murdaugh tried to meet with close friends that day to come clean. One of those friends refused to see him. At some point that day, Murdaugh "lost his will to live," Griffin said.
Griffin recounted that Murdaugh called a longtime acquaintance, Curtis Edward Smith, and asked him to meet. Griffin has described Smith as Murdaugh's opioid dealer, a characterization Smith and his lawyer have contested.
When the two met on the side of a rural Hampton County road, Murdaugh asked Smith to shoot him with a .38-caliber revolver, Griffin said.
Smith obliged, according to Griffin, hitting Murdaugh in the head from within 5 feet.
Griffin's account is one of several stories that have come out of the shooting, but it's the one SLED accepted in arresting both Smith and Murdaugh in the scheme.
Murdaugh and his lawyers originally told investigators and the public that Murdaugh was shot by an unknown assailant as he stopped to inspect a flat tire.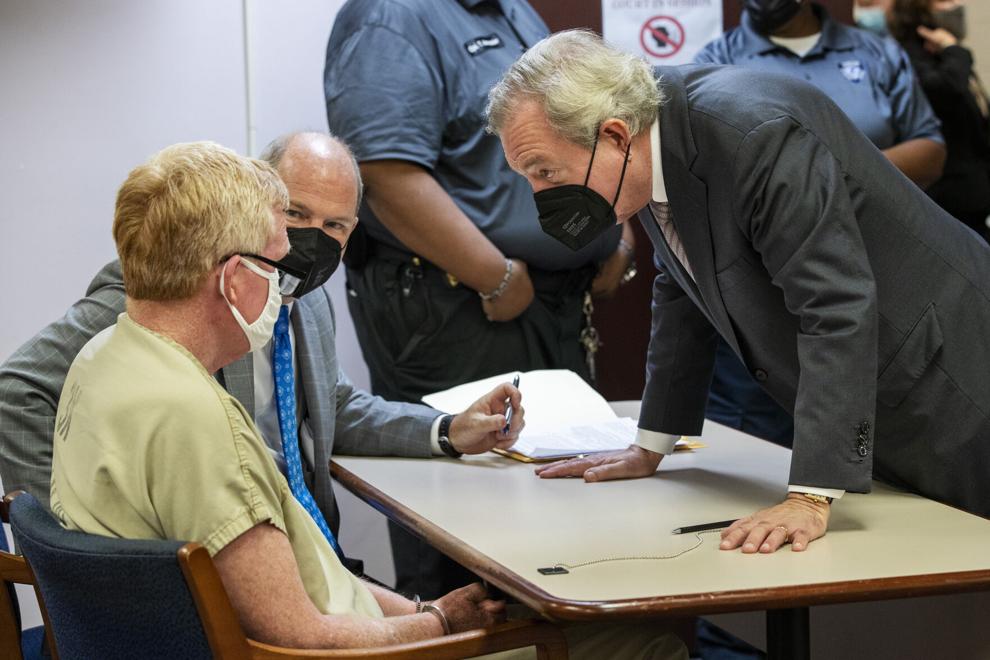 Smith and his lawyer have told news outlets Smith refused to kill Murdaugh that day. The gun went off as Smith tried to stop Murdaugh from shooting himself, they have said.
The inconsistencies have sparked questions about the shooting, including speculation that Murdaugh's wounds were not as serious as his attorneys have claimed. Griffin and his partner on the case, Columbia lawyer Dick Harpootlian, have said Murdaugh suffered entry and exit wounds from the bullet, along with a possible skull fracture and significant bleeding.
Some skeptics have wondered whether Murdaugh was shot at all.
They note Murdaugh was released from the hospital after two days and appeared in court less than two weeks later without any bandages or visible head wounds.
Murdaugh's lawyers have said those wounds are visible when pulling back the attorney's close-cropped hair.
Speaking to Alcorn, Griffin said he has received medical records documenting Murdaugh's condition as he was airlifted to a Savannah hospital after the shooting.
"They clearly document massive head bleeding," Griffin said of the records, which Alcorn also reviewed. "There is blood through the bandage. There is blood around the neck brace. There is blood on the stomach. And they open up the headwrap to try to evaluate the extent of the trauma and they can't see it because there is so much blood matted in his hair."
Griffin said he is still working to obtain Murdaugh's records from the Savannah hospital. He pledged to release those documents, along with the airlift records, once he gets them and obtains permission from Murdaugh.