In a gesture that often signals an end-of-career victory lap, Trident Technical College recently renamed its main campus in honor of President Mary Thornley after 45 years of service.
But go ahead, ask her if she's retiring. She'll tell you she's not going anywhere.
"I really feel better now than I've felt in 10 years," Thornley said Tuesday. Seated in a conference room at the North Charleston campus that now bears her name, she tapped a FitBit tracker on her wrist. "I'm doing my 10,000 steps every day. I'm blessed with good health, and I'm grateful."
Described by friends and enemies alike as a strong-willed leader, Thornley has served the state's largest technical college as president since 1991. At age 75, she has defeated some of her critics simply by outlasting them. And she is well aware of her critics.
She starts the fall semester Monday with a firm conviction about one of the most controversial decisions in her long career: The move to a seven-week "compressed" schedule for most classes at the college. She pushed the change through in 2014 over loud objections from faculty and students, who said the long class hours and tight timetables were not workable or practical. She maintains that the change will yield stronger academic results for the students who stay.
Fans of Thornley's leadership style praise her for being forthright.
John Read, CEO of the Tri-County Cradle to Career Collaborative, said he first met her when he was interviewing for his current post at the nonprofit organization, and Thornley bluntly criticized his presentation. He has come to admire her style.
"She can be relied upon to be absolutely straight in the way she views things and really a breath of fresh air in a higher-ed community that tends to be obtuse and indirect," Read said.
Climbing the ranks
Thornley grew up in Concord, N.C., a daughter of mill workers who learned at an early age that education could be a ticket to a better life. She says she found out her class rank in first grade and fought to stay on top, knowing that a man in her town gave a scholarship to the top two local high school graduates every year.
Trident Tech opened in 1964 under the name Berkeley-Charleston-Dorchester Technical Education Center, a product of Gov. Fritz Hollings' push for regional training centers across the state. Thornley joined the college in 1973 as a part-time English and speech teacher.
In those days, she had a 6-week-old and a 4-year-old child to provide for, and she taught three courses at night at the old Palmer campus in downtown Charleston, which is now the Avery Research Center. Most of her students were police officers, she said, and her main task was to teach technical writing so they could write incident reports more clearly.
She said she loved those students, even though most of them didn't want to be in class. She motivated them with a simple carrot: This could be your best shot at a promotion.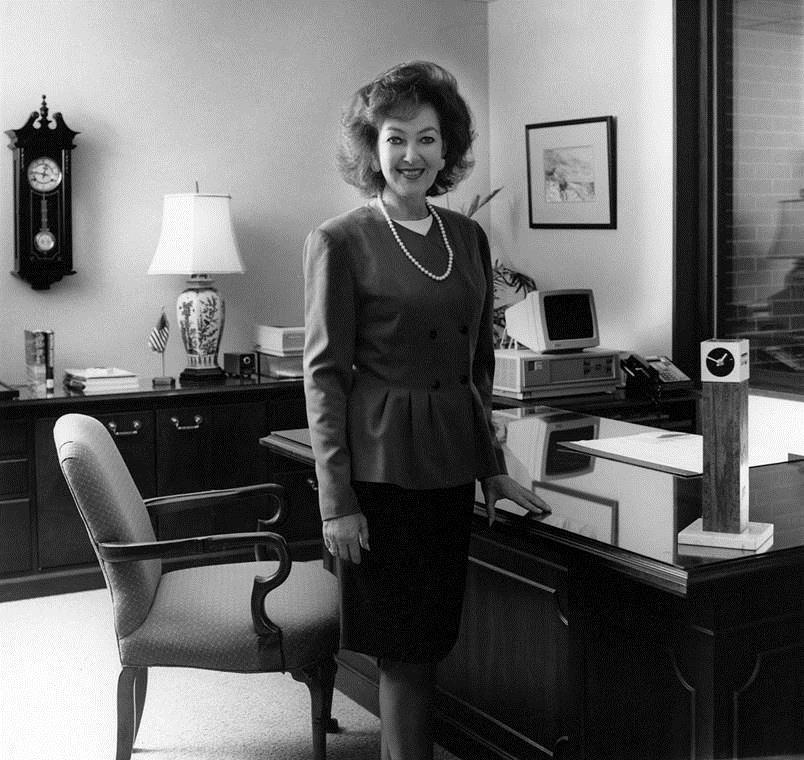 Thornley gradually climbed the ranks at Trident, becoming a department head, dean of arts and sciences, and finally vice president for academic affairs before taking over as interim president in 1990. She became president in 1991.
While women presidents remain a rarity at large technical colleges as well as four-year colleges, Thornley said she is not sure what impact her gender has had on her career.
"When you are what you are, you don't know what you would have been if you weren't what you are," she says deadpan.
In her time as president, Trident Tech has expanded its reach into high schools through youth apprenticeship programs and the establishment of Berkeley Middle College and Charleston County's Early College High School.
The college launched its influential Culinary Institute of Charleston at its main campus on Rivers Avenue in 2005 and opened a $30 million Nursing and Science Building in 2014. Next up is the $80 million Aeronautical Training Center, set to open in 2019 at the Thornley Campus. It will serve as a hub for training in advanced manufacturing.
There is one policy of Thornley's that shapes the experience of every Trident student today, and it is also likely her most controversial.
'I'm the system'
Anecdotally, some students say they left Trident because of the switch to seven-week class schedules in 2014. And while technical colleges as a whole have seen their enrollment numbers decline since 2013, Trident's fell more precipitously, dropping 24 percent compared with a 15 percent drop statewide. That dip also may reflect a relatively lower unemployment rate in the Lowcountry.
One student who quit was Cory Bazzle, a former Marine who left a plane-assembly job at Boeing to pursue a degree at Trident in 2015. She left the school after a year-and-a-half, frustrated by the breakneck pace that she said didn't allow her to absorb and retain the material. She also felt that the school's academic advisers were overloaded and unable to work with students.
"It was absurd. I had a 1-year-old at the time, and I almost lost my mind," said Bazzle, 31. She has since used her GI Bill funds to enroll at The Citadel, where she said the schedule is much more manageable.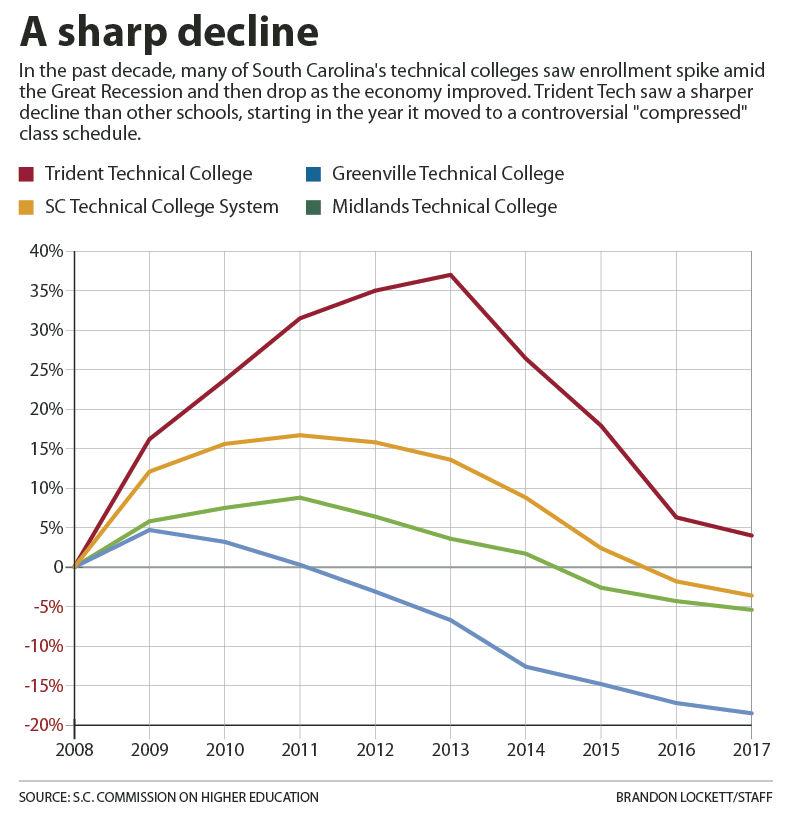 Thornley takes the long view when it comes to losing students like Bazzle. She has watched enrollment rise and fall in cycles, often in step with the unemployment rate.
Enrollment climbed in the late 1990s after the devastating closure of North Charleston's Navy Yard, a top employer in the area. Students surged into the classrooms again during the Great Recession of the late 2000s. As is the case with many technical colleges nationwide, those numbers tapered off as the local economy improved and joblessness dropped.
But Thornley said that amid all the focus on growth and contraction, the college lost focus on a more important goal: student success.
She traces the college's academic woes to 1992. Prior to that year, the college had operated on a quarter system, but she said state education leaders were pushing technical colleges to mimic four-year universities by adopting semester schedules. She made the change to semester schedules shortly after taking office.
"Nobody wanted to do that, either," Thornley said.
As soon as the school made the change, student course passage rates started to fall: From a high of about 77 percent in 1991, the rate hit an all-time low of 62 percent in 2011.
Thornley takes the blame for not noticing and fixing the performance problem sooner. In meetings with faculty leading up to the 2014 schedule change, she stressed that she didn't believe Trident's students or instructors were any worse than their counterparts in other areas. Barring that, she said, the problem had to be a systemic one.
"I'm the system," Thornley said.
Poring over historical data, Thornley had analysts at the college compare the success rates of the seven-week "Fast Forward" courses the college already offered (80 percent), quarter courses (70 percent) and semester courses (64 percent). The trend held true across every subject area, age group and demographic category.
"I don't care if you were black, white, purple or speckled. The shorter the term, the more successful the student," Thornley said.
She didn't have an explanation at the time about why shorter courses correlated with higher passage rates — and she still doesn't. According to data provided by the college, the course success rate started rising 2012 and peaked at just over 75 percent in 2014. It has plateaued since then.
Planning ahead
On the most recent employee satisfaction survey from 2015, workers rated the college poorly for communication between faculty and administration; fair pay; and involvement of employees in planning.
Respondents wrote about low morale, exhaustion and grade inflation following the change in class schedules. One instructor wrote that students were going on anti-anxiety and antidepressant medications to deal with the stress.
Thornley bent to pressure from some instructors who said their courses were simply impossible to teach on a compressed schedule. Today, some classes in welding and agriculture are now offered in semester form.
But for the most part, she has no plans of going back to semester-long courses. She's sticking to her guns on this one, and Read gives her credit for that.
"Was it the right decision? I think it was a courageous decision at heart, and she had at heart the interests of the students," Read said.
Thornley is planning years ahead now, looking forward to completing the school's Aeronautical Training Center and moving onto the next big capital project, a renovation of the aging Berkeley County campus. 
She continues to avoid mincing words, whether it's about the S.C. Education Lottery — which she sees as a gross upward distribution of wealth from poorer families to richer ones — or about for-profit colleges, which have proliferated and at times floundered in the Charleston area.
"The Art Institute went out of business? Good riddance," Thornley said.
She maintains a belief that she picked up from her earliest days teaching night courses to cops: A technical college can and should be a place for all people.
"The whole technical college system was designed to take the state from one transition to the next," Thornley said. "It was agriculture, then it was knowledge. The state has really transformed. Trident Tech and the technical college system still provide that role of providing workers as the state comes into the modern age, however that's defined. And that benefits everyone."