In the wake of last year's killing spree at Lee Correctional Institution, South Carolina corrections officials wanted to send a message. 
Two months later, they transferred 48 inmates to a private prison in Mississippi, saying the men were "problematic." They said little else. 
At least eight were at Lee prison when deadly violence broke out on April 15, 2018, a melee in which seven died and more than 20 were severely wounded. The majority were from other facilities across the state. 
Most remain in Mississippi. 
The Post and Courier sent letters to all of the men still incarcerated who in June 2018 were shipped to the Tallahatchie County Correctional Facility in Tutwiler, Miss., in the state's northwest corner.  
One, Clinton McCallum, said he and the other men were first sent to Kirkland Correctional Institution in Columbia. He was not at Lee during last year's rampage.
McCallum, who has been in prison since 2008, said he and others did not know where they were going and why. He said he had to send home documents related to his legal case because officials ordered the inmates to take only a small box of items with them. 
The men were then loaded on a bus to Mississippi.
The move has caused a burden on his family members, who don't have the money needed to travel the 14 hours away to come see him, he said. 
"I want to know how can I get back," McCallum wrote. The S.C. Department of Corrections has space to house the men, he continued, "so why are they using South Carolina Taxpayers money to have us housed in Mississippi?"
In a recent interview, Corrections Director Bryan Stirling said the decision to move inmates to Mississippi was done to relieve pressure on the prison system. Wardens and members of the agency's Police Services division helped decide who should be sent. 
"We felt, at the time, with what happened, that we needed to get the people that were calling a lot of shots, or causing a lot of issues, out of state," to give prison staff and other inmates a break, Stirling said. 
When asked to respond to inmates who say they don't know why they are there, he said: "I'm sure they're quite aware of why they were moved." 
Of the 48 men sent to Mississippi, 26 were either verified gang members or suspected of being in such a group, according to a Corrections Department spokeswoman. 
South Carolina has agreements to send inmates to other states if needed, but those pacts have traditionally been used for an inmate or two. At the time the transfer was announced, Stirling said officials had considered shipping out inmates before the killing spree at Lee. On April 23, 2018, in an executive order, Gov. Henry McMaster declared a state of emergency due to contraband and staffing levels within the prisons that made it easier to move the inmates.
The state has spent more than $1.6 million in housing costs and medical bills for the inmates in Mississippi, according to numbers provided by the Corrections Department.
The cost for housing an inmate at the Mississippi prison is $70 per day, which is comparable to what it would cost to keep the men in South Carolina. In 2018, it cost South Carolina $64.96 per day to hold an inmate. That number rose to $70.78 in 2019.
A handful of inmates who responded to The Post and Courier did so with an identical two-page letter. In it, the men said their mail, property, medical and grievance rights were not being respected at the Mississippi facility, which is owned by the Tennessee-based private prison company CoreCivic.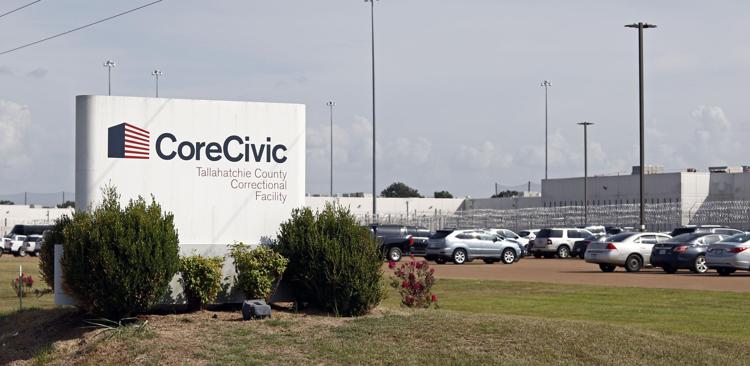 A spokeswoman for the company said in a statement that CoreCivic is "committed to the safety and dignity of every individual entrusted to our care."
She added: "We have a zero-tolerance policy for all forms of abuse and harassment, and every allegation of this nature is reported to our government partner and investigated fully."
Although the inmates are in Mississippi, they are housed together and subject to South Carolina's policies and procedures, Stirling said. Inmate grievances are still handled by his agency.  
Not all 48 of the men sent to the private prison last year remain there. 
One, Kenneth Harris, died at a hospital earlier this spring after he had seizures in his cell, according to the Corrections Department. He was serving a 22-year sentence for voluntary manslaughter and was not at Lee during the April 2018 violence. 
At least three of the originally transferred inmates are back in South Carolina prisons and others have been released, inmate records show. Others have since replaced them in Mississippi. 
One man, Nicanor Perez Rodriguez, who was moved to the Mississippi prison in November 2018, was one of 54 people indicted by a South Carolina grand jury in a drug trafficking case known as "Prison Empire."
The investigation by the S.C. Attorney General's Office accused current and former inmates of facilitating drug trafficking using contraband cellphones and associates outside of the prisons. 
Rodriguez is accused of drug trafficking, burglary, conspiracy and kidnapping charges, which the Attorney General's Office announced last month.  
Joel Anderson, deputy director of operations for the Corrections Department, said that as long as inmates in the system keep behaving as they are now, officials aren't planning to increase the number of people held in Mississippi.
But transfers, Stirling said, are still an option.